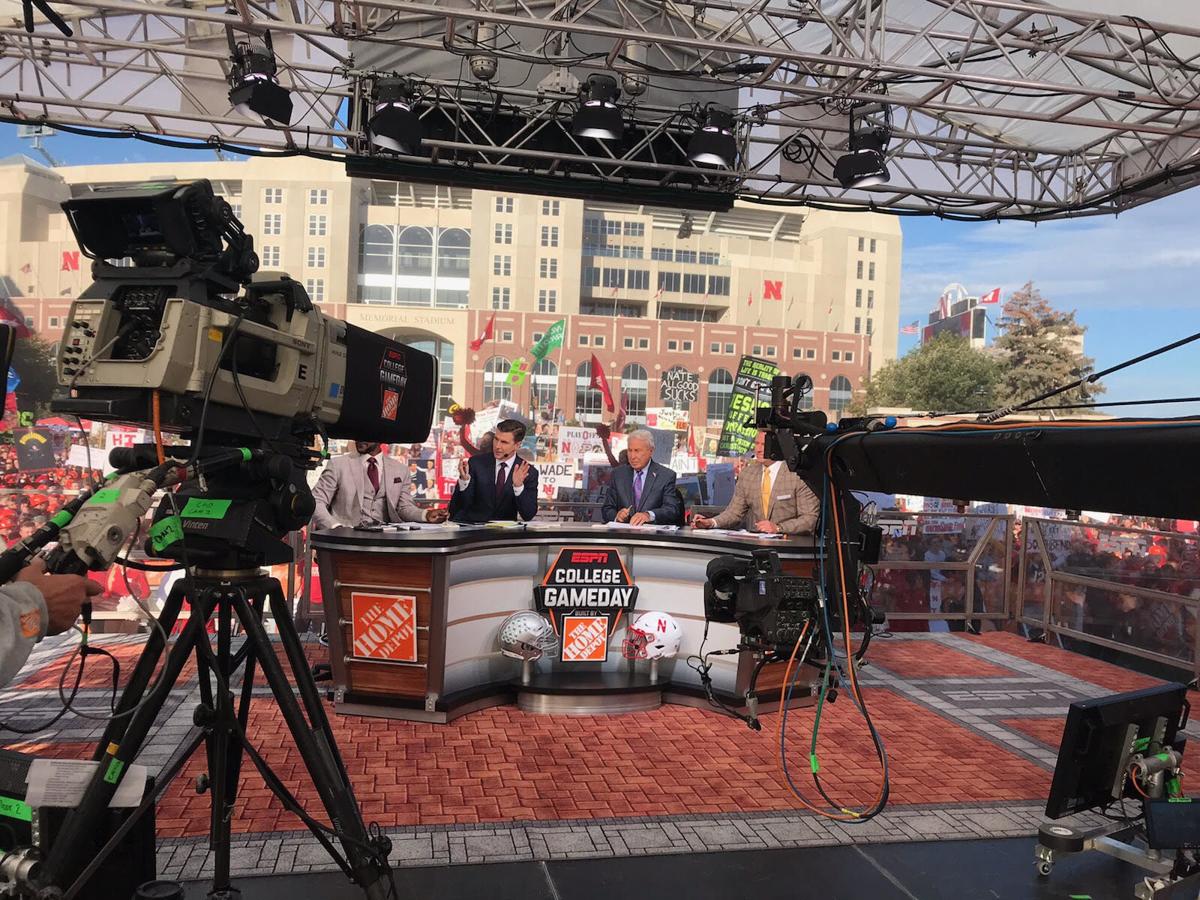 ESPN's "College GameDay" program came to Lincoln and, not surprisingly, brought a massive crowd along with it.
Nebraska fans started lining up Friday afternoon for the three-hour show, which set up shop on the East Stadium Plaza with Memorial Stadium as the backdrop.
Here are some running highlights from the show:
Celebrity guest picker Gabrielle Union, the actress, Omaha native and Husker fanatic, threw the bones with her husband Dwyane Wade on their way toward the stage.
Union donned a special number on Saturday morning, too. She wore a red No. 65 jersey, the number of senior Husker left tackle Christian Gaylord. Gaylord's father, Scott, was killed in a car accident last week. Christian reached out via social media to Union and said he would be honored if she wore the jersey that his dad wore to NU games.
Union said on the set that she was "honored and humbled," to wear Gaylord's jersey.
Union and Wade threw some shade at Wade's former teammate LeBron James, a big Ohio State fan and an Akron, Ohio, native, when they picked Akron to beat UMass on set.
"That's the only win LeBron's going to get today," Union proclaimed.
The pair also picked Iowa State over Baylor because Fred Hoiberg coached there before coaching Wade with the Chicago Bulls. "Keep it in the family," Wade said.
They picked Wisconsin over Northwestern even though Wade, a Marquette alum, said he normally doesn't like the Badgers, and they picked Utah over Washington State for no reason at all, drawing laughs.
Union, of course, picked her Huskers to beat Ohio State and made her case with passion.
"Listen, we're going to have a monster day from Adrian (Martinez), a monster day from Wan'Dale (Robinson)," Union said. "An insane day from Mo Barry, it's going to make it mo' better."
Desmond Howard, a friend of Union and Wade and a fellow Miami resident, picked the Buckeyes and joked, "Does this mean I can't get a ride back home on the jet to Miami?"
Corso also picked the Buckeyes, donning the Brutus head as fans booed and Union stuck her tongue out at him.
* NU head coach Scott Frost sat with Maria Taylor and smiled often as the crowd behind him roared. Davis, the host, said Frost told ESPN that he finally raised his voice last week during the game against Illinois and yelled at sophomore quarterback Adrian Martinez to run the ball.
Martinez, of course, rushed for 99 yards in the second half of that game.
Taylor asked Frost about what he wants to continue to see from Martinez as he progresses through his sophomore season.
"I think with Adrian and me and all the coaches, we kind of have the weight and expectations of all these people on our shoulders because everybody wants it to be what it should be again," Frost said. "We're headed that direction, but Adrian can't think about that too much. He just needs to be a college student, he just needs to be a teammate and go out and play the best he can. The rest will take care of itself."
* ESPN's Maria Taylor interviewed Jack and Andy Hoffman during the 9 a.m. hour. Jack, of course, is a brain cancer survivor who ran for a touchdown in the 2013 Red-White spring game.
Jack now is an eighth-grade center. He told Taylor he didn't know if he'd ever get to play full contact football.
"It's just been a dream come true," Jack said.
A cool deal for Jack and Andy Hoffman to be on the show and also some good publicity for the family's Team Jack Foundation.
This year, he was back with the same sign but also one that said, "OG Sign Guy" with an arrow pointing straight down.
* Just before Frost came on, Tom Rinaldi voiced a short feature about the Blackshirts, closing it by saying around NU, black, "Isn't a dress code, it's high fashion."
* As the camera panned over an empty Memorial Stadium and the crowd at the show's open, host Rece Davis welcomed television audience to the show, "just outside one of the great cathedrals in college football."
The show's four mainstays — Davis, Kirk Herbstreit, Lee Corso and Desmond Howard — played off the crowd's energy right from the start. Said Davis, "Ohio State's played on the road, but they haven't played here. No disrespect to our friends at Indiana."
Be the first to know
Get local news delivered to your inbox!