It's warm enough to put the top down on a Tuesday drive. Let's get our work done and enjoy.
1. Nebraska football picked up what could be a sizable addition — in more than one way — with the verbal commitment of 2019 junior college defensive lineman Jahkeem Green. Green told Husker coaches of his decision on Sunday while driving back to Highland (Kansas) Community College, and one of that program's assistant coaches, Judd Remmers, confirmed the pledge to the Journal Star on Monday night.
It took a confluence of factors — and some heads-up work by NU's staff — to make it work. Green had widespread interest from SEC schools, including the likes of Alabama, before his sophomore year began, but eventually he committed to South Carolina. Green is from Sumter, South Carolina, which is just an hour from Columbia.
As it turns out, though, the 6-foot-4, 300-pounder isn't going to qualify there (or at any SEC school) because of a quirk. Green is taking a math class online but through an outside party rather than through Highland itself, and SEC schools don't take credits that are earned online via a third party. NU doesn't have the same restriction, meaning it's free and clear to take a commitment from Green and get him enrolled as soon as he graduates later this spring.
Had the Husker staff not done its due diligence, it may not have figured out the particulars of Green's situation. Let's not count too many chickens before they hatch, but Green's not the type of player Nebraska is just going to regularly find within a two-hour drive. He's got a redshirt year at his disposal if he needs it and two years of eligibility remaining.
2. Green hasn't signed a national letter of intent and he likely won't before arriving on campus because of the late nature of the addition. Assuming he signs, NU has a maximum of two spots remaining for the 2019 class.
Counting Green and subtracting Lightbourn, Nebraska has 160 players on its roster, according to Huskers.com. The exact roster cap is somewhere in the low-to-mid 150s, said athletic director Bill Moos.
Figure that NU could add up to two more scholarship players between now and August, and it figures that at least a half-dozen or more players — walk-on or scholarship — will leave the program before preseason camp begins.
We're coming into a busy stretch in that regard on the calendar, now that spring ball is over and the end of the semester is getting close.
3. Senior defensive lineman Darrion Daniels has been an interesting figure since he first arrived on campus this winter. He earned what seemed like almost instant respect and credibility from his teammates and has become a leader in a veteran position group — and on defense in general — in a few short months.
This quote from after Saturday's spring game on what he's seen of the culture was interesting.
"I just know that at Oklahoma State (offense and defense) interacted with each other, of course, but it was also, the defense, we really stuck with defensive players and same with the offense," he said. "Here, even in the locker room, there's not a D-line section or a cornerback section. Everybody in the locker room mixes and mingles. Here, the one thing that's really special is how everybody is so close.
"You've got DBs hanging out with linemen, you've got offensive linemen hanging out with linebackers, and I think it's beautiful."
4. On his Monday night radio appearance, Moos again talked about the new golf facilities that NU is working on.
Moos talked earlier this month about the conversations around the facility — with an estimated $15 million price tag — that's being discussed for the Innovation Campus, and he emphasized the urgency Monday night.
"(Men's golf coach) Mark (Hankins) is doing such an incredible job and we've got to get him that golf facility and we're working on that very hard and I see that coming to fruition," Moos said. "Mark is a competitor, he's won Big Ten championships, he's been to NCAAs many, many times. Highly regarded in college golf."
Moos said Hankins is an adept fundraiser himself and will have input on the new facility and dropped an interesting note on why the new building is important.
"Really, golf is our only program where we don't have a home. We don't have a facility," Moos said. "We've got the great people of Lincoln and the golf courses and country clubs that are very, very helpful for us, but we don't have a place to call our home. …
"We lost a very, very good recruit that had committed to us — I can't name names — because we did not have a home like that, so we don't want that to happen again."
Moos can't name names, but he's referring to Luke Kluver, the Norfolk native and two-time Nebraska state champion, who was verbally committed to Nebraska before changing his commitment to Kansas in March.
5. Much of the discussion around Fred Hoiberg's now-official basketball staff is about all of the ways in which it's constructed. Three guys with head coaching experience in Hoiberg, Doc Sadler and special assistant to the head coach Bobby Lutz. An offensive mind in Hoiberg and a defensive mind in Sadler. Two young, accomplished recruiters in Matt Abdelmassih and Armon Gates.
But Gates on Monday revealed what he thinks might be the secret sauce. With a nod and wink, of course.
"Around the country, we're going to have the funniest accents in college basketball with this staff," Gates said. "Bobby Lutz has the country accent from North Carolina. Doc has that Southern slang, Southern swing, whatever you want to call it. Our ops guy hasn't been in place yet, but he's supposedly from Italy and you'll hear that as well. Then my Chicago deal. That's' what I love."
Well, maybe it's productive to have different backgrounds for reasons that stretch beyond intonation.
"We're all cut from different cloths but Coach (Hoiberg) assembled a really good staff and we're looking for some really good things in the future," Gates said.
6. It's not easy to pull prospects that are coveted by SEC schools such as Alabama, LSU, Auburn and others out of the Deep South, but one to at least keep an eye on for Nebraska fans is outside linebacker Quandarrius Robinson.
The 6-foot-4 220-pounder out of Birmingham, Alabama, enjoyed his visit to Lincoln earlier in the spring and Nebraska might just be a real threat. It's not going to be easy, of course, but it's a safe bet NU will continue recruiting Robinson as hard as anybody on its board.
The Jackson-Olin High standout is ranked the No. 39 player in the country for 2020 by 247Sports, and is a four-star prospect according to Rivals as well.
QUARTERBACKS
What we knew going in: Sophomore Adrian Martinez clearly is the starter. In fact, Scott Frost on Saturday said Martinez "is clearly a top player in the entire country." No argument here.
Saturday's star: Noah Vedral, who was 13-for-19 passing for 144 yards while guiding the Red team after Martinez left the game for good early in the second quarter. "You know, if we had to play again today he'd be number two," Frost said of Vedral, a sophomore from Wahoo. "But like I said, every position competition is going to stay open through fall. The other guys have done good things, too, so nobody's safe in their position until we hit the first game." Vedral, though, looks like he'll be tough to overtake.
Saturday intrigue: Fans wanted to get a good look at incoming freshman Luke McCaffrey. Although he struggled with his passing — 3-for-13 for 14 yards and an interception — he flashed speed in the run game and seemed to have good command of the offense. Keep in mind, he took snaps on both teams and played with lower-unit players.
Question for the offseason: Can anyone push Vedral for the No. 2 job? Andrew Bunch, a junior walk-on, didn't have great passing numbers Saturday, but he shows poise and has a strong grasp of the system.
RUNNING BACKS
What we knew going in: The Huskers were severely limited at the position this spring given Maurice Washington's absence while his legal proceedings play out in California and the summer arrival of three more scholarship backs.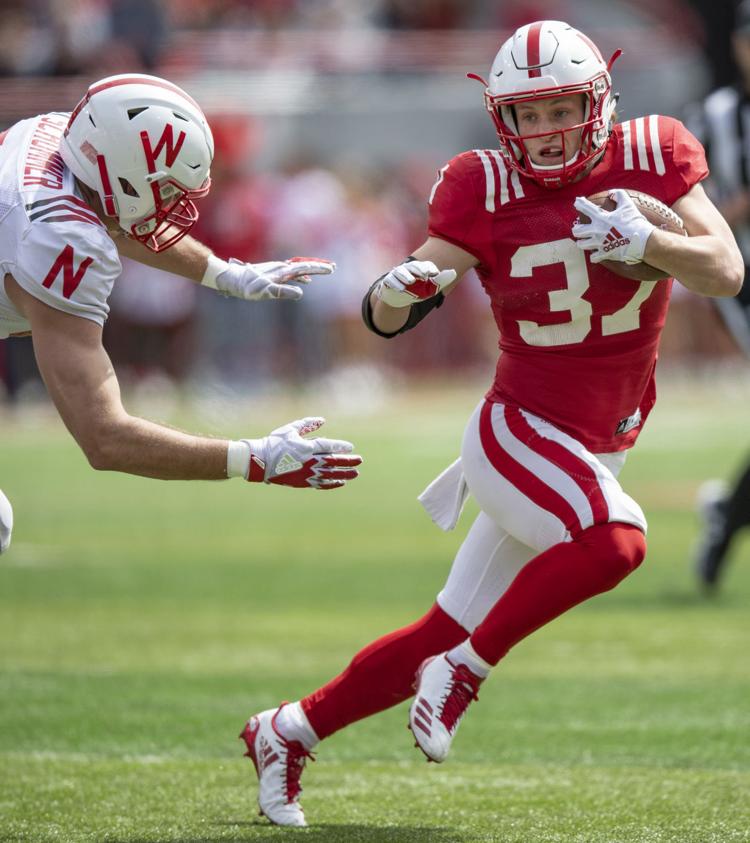 Saturday's star: Let's split the award between White team backs Jaylin Bradley and Miles Jones. Bradley had 12 carries for 57 yards and added three catches for 13, while Jones had three catches for 44 and 12 more on the ground. Keep in mind that those 126 yards of offense came against the Red defense, which featured most of the players who will contend for roles on the two-deep.
Saturday intrigue: Redshirt freshman walk-on Brody Belt earned praise all through spring for his work with the top offense, so many were curious to see how he'd handle the Red-White Spring Game. He acquitted himself well, finishing with 53 rushing yards (4.1 per carry) and two catches for 19.
Question for the offseason: The questions are twofold and as simple as they are critical to NU's offensive success: What impact does eventual resolution in Washington's legal situation have on his playing time and how fast can the trio of Dedrick Mills, Rahmir Johnson and Ronald Thompkins get up to speed once they arrive on campus?
WIDE RECEIVERS/TIGHT ENDS
What we knew going in: This was going to be a day to see how the depth looked behind NU's stars on the outside, and it turned out that way. Seventeen players caught at least one pass. Jaron Woodyard and Wyatt Liewer scored touchdowns. Nebraska needs some guys to step up here, and several players made their case Saturday.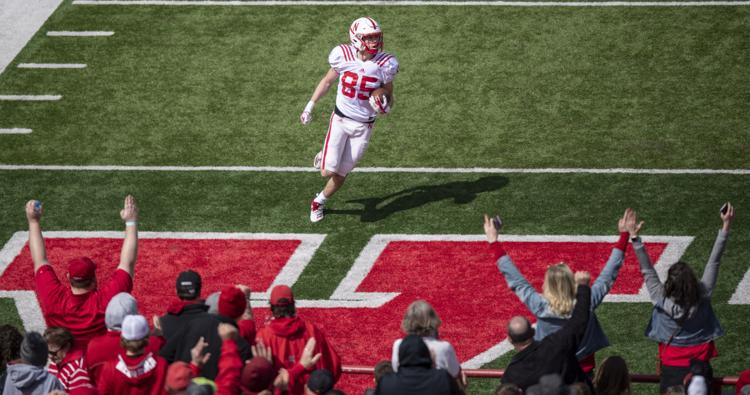 Saturday's star: Kade Warner had the day's longest play, catching a 57-yarder from Adrian Martinez on the game's opening drive to wake up the crowd. The one regular from last season who played in this year's spring game showed he could make an explosive play when called upon, even if it was against his own teammates.
Saturday intrigue: Aurora sophomore Austin Allen showed he could be a valuable tight end weapon along with Jack Stoll, who sat out. Allen made a nice grab on a corner route for a 30-yard gain, and also caught a 24-yarder. That 6-foot-8 frame is going to present some issues to opposing defenses.
Question for the offseason: How quickly can Nebraska's stars return to full health? JD Spielman and Wan'Dale Robinson will undoubtedly play huge roles in this offense come the fall. Nebraska needs them fully healthy and ready to roll.
OFFENSIVE LINE
What we knew going in: That Nebraska has to replace two starters in Tanner Farmer and Jerald Foster, and one of the leading candidates to replace Farmer at center is Cameron Jurgens, a redshirt freshman who has never played O-line at the high school or college level.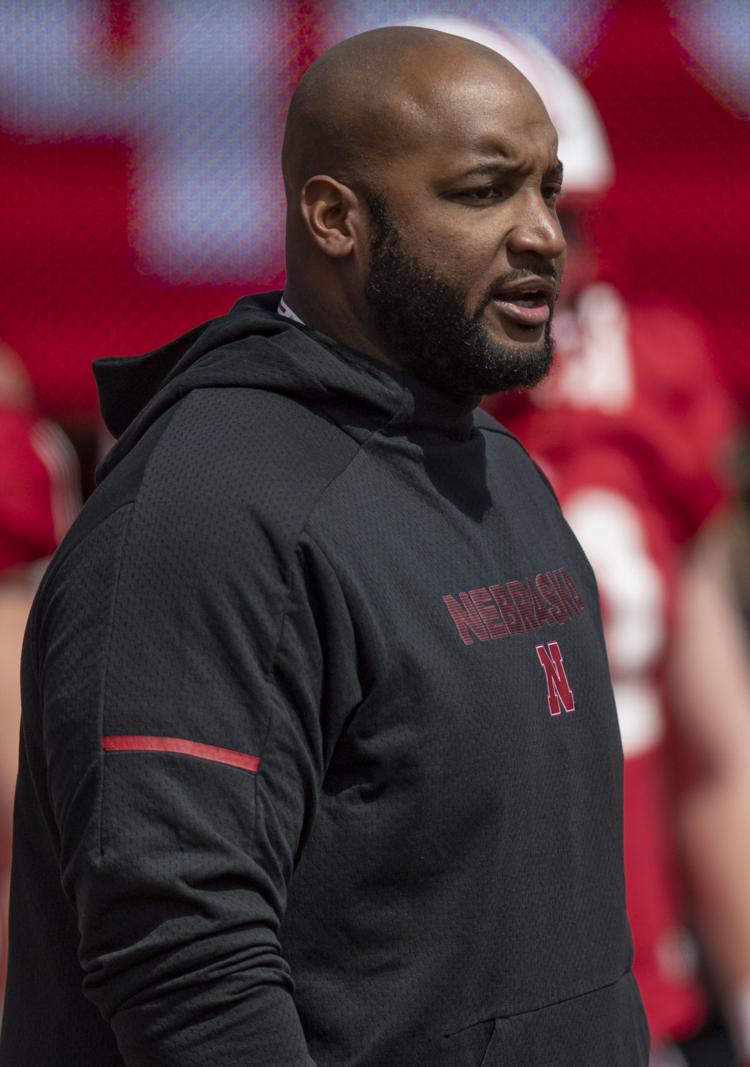 Saturday's star: Brenden Jaimes. Anytime you don't notice the left tackle is a good day — even if the QB isn't allowed to be sacked due to spring game rules. Redshirt freshman walk-on center AJ Forbes also got a lot of playing time with the top O-line.
Saturday intrigue: This was the first chance for fans to see Jurgens, in what would be an impressive story if he can go from tight end to starting center in less than a year, and then help the Huskers be better on the line.
Question for the offseason: The offensive line had some rough moments Saturday, with penalties and giving up "sacks." Scott Frost says the gap between the 1s and the 2s on the O-line is too big, so can they close it? This summer, freshman Bryce Benhart will join the group as one of the best line recruits in the country. Can he quickly become one of the 1s or the 2s?
DEFENSIVE LINE
What we knew going in: It's the most veteran group on the roster and was widely considered the most improved position group over the course of the spring.
Saturday's star: Reserve defensive lineman and former Navy SEAL Damian Jackson had two sacks for the White Team, including a fourth-down stop of Adrian Martinez early on when he came unblocked through the right side of Red's interior offensive line.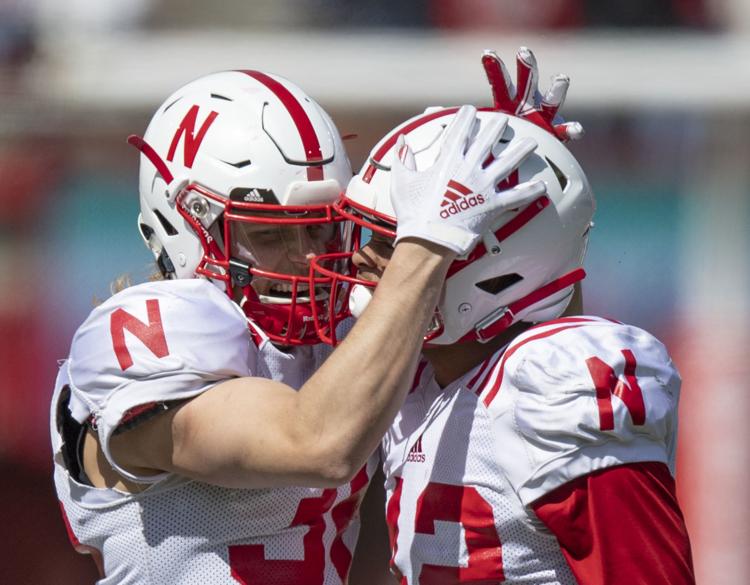 Saturday intrigue: Everybody who's talked about the defensive line this spring has noted the impact graduate transfer Darrion Daniels has had since arriving from Oklahoma State this winter. He backed it up Saturday with consistent play on the Huskers' interior.
Question for the offseason: Do the Huskers add anybody else? Junior college prospect Jahkeem Green was on hand as an official visitor this weekend. Then, can the disruption that the group caused this spring carry over when the rubber hits the road this fall? NU needs it to.
LINEBACKERS
What we knew going in: We knew the Huskers were thin at inside linebacker and that a trio of redshirt freshman walk-ons would see heavy playing time given that junior Will Honas is still rehabbing an October knee injury and Nick Henrich had shoulder surgery this week.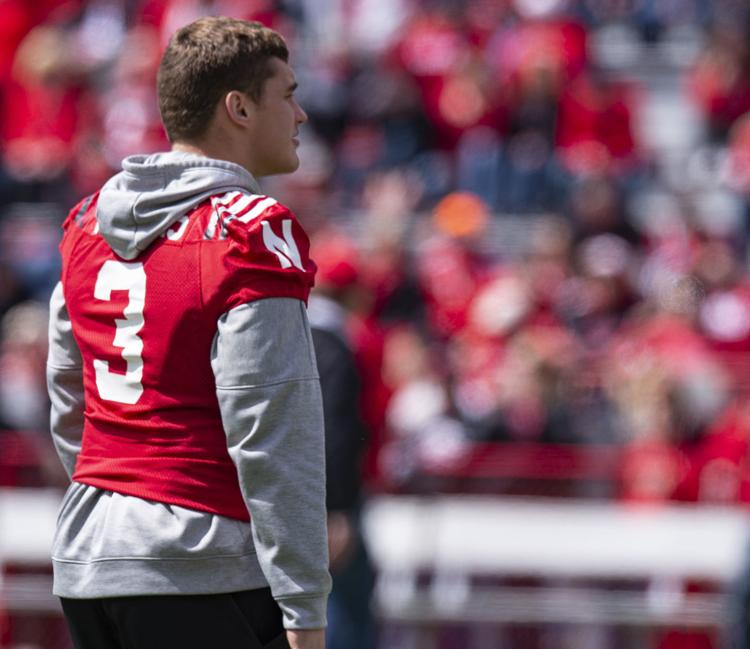 Saturday's star: Senior inside linebacker and captain candidate Mohamed Barry finished with six tackles and a sack, but it was this post-scrimmage thought that earns him the nod as the day's star: "I have to make critical plays for my team. I have to make those plays that are going to win us big games and put us in Indianapolis in December. That's what matters. That's the player I have to be each and every game. That's the pressure I put on myself and that's what counts."
Saturday's intrigue: Senior outside linebacker Alex Davis earned praise throughout the spring for improved pass-rush and aggressiveness. He was credited with a sack on Saturday and played extensively in the first half with the top group.
Question for the offseason: Where does a consistent pass rush come from? Can either of last year's high-profile additions — Breon Dixon and Caleb Tannor — make a big impact in 2019?
DEFENSIVE BACKS
What we knew going in: Lamar Jackson, Dicaprio Bootle and Cam Taylor are clearly the top three cornerbacks, but there is a bit more to clear up at safety. Make no mistake, though, defensive backs coach Travis Fisher feels good about the talent in the safety group, which is led by junior Deontai Williams.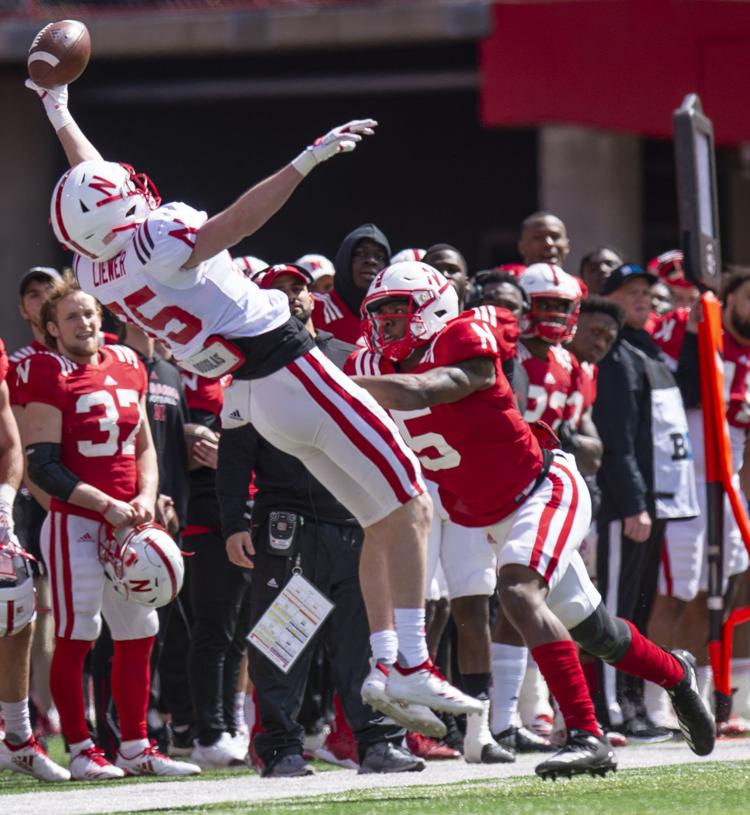 Saturday's star: Junior safety Marquel Dismuke, who intercepted an Andrew Bunch pass and returned it to the White team's 18-yard line. Martinez capitalized with a 21-yard touchdown pass to Jaron Woodyard. Dismuke finishes the spring season in prime position to win a starting job alongside Williams. 
Saturday's intrigue: Bootle, a junior, put a scare into the crowd (and probably his team) when he was attended to on the field by medical staff. But he walked off the field under his own power and apparently wasn't seriously injured.
Question for the offseason: Fisher really likes the incoming freshmen defensive backs: Myles Farmer, Quinton Newsome, Noa Pola-Gates and Javin Wright. Can any of them get themselves ready to play prominent roles for the defense in 2019?
SPECIAL TEAMS
What we knew going in: Sophomore Barret Pickering, who made 14 of 18 field goals last year, has a strong hold on place-kicking duties. Punting duties belonged to Lincoln Southwest grad Isaac Armstrong during the second half of last season, but former starter Caleb Lightbourn is hoping to make a push, and Michigan State transfer William Przystup could be in the mix if he's immediately eligible.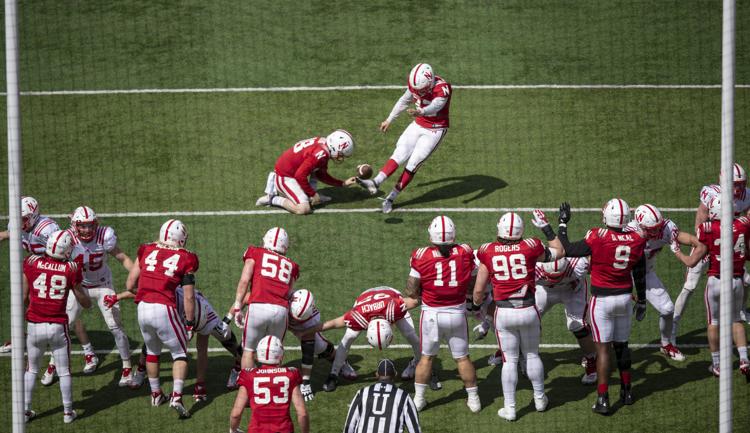 Saturday's star: Pickering knocked three field goals down the pipes during the first half, including a 45-yarder into the wind to end the second quarter. The Birmingham, Alabama, native had plenty of charge in all three.
Saturday's intrigue: Sophomore Cam Taylor, who did a little bit of everything on the football field in high school, was in as punt returner, though he didn't he return any.
Question for the offseason: What big names can we expect to hear when it comes to the return game? Wan'Dale Robinson, JD Spielman and Maurice Washington are likely to factor into the fall camp conversation, and they didn't suit up Saturday.