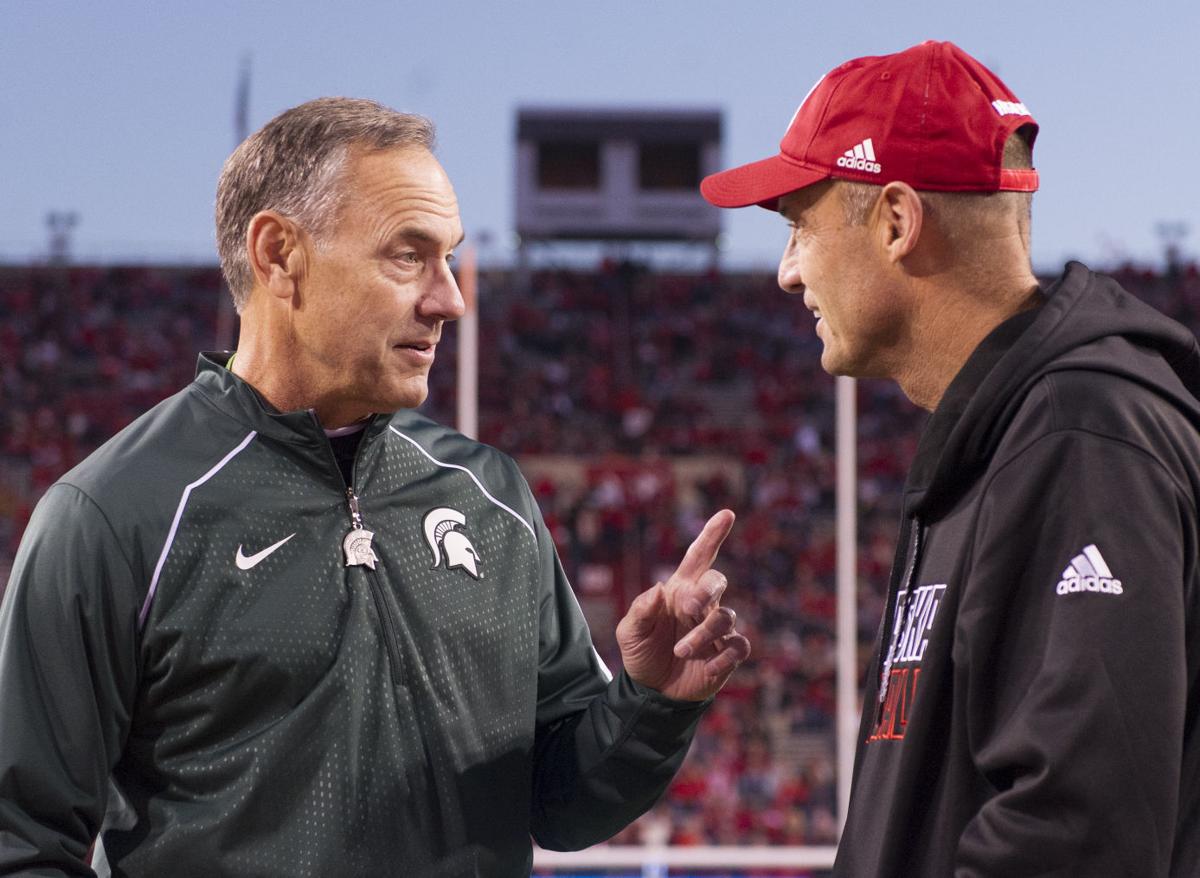 Hey! Did that exclamation point get your notice? Exclamation points are overused in text messaging, aren't they? But we've got to show people how much we care!
Anyway, let's take a Thursday drive using periods as the main form of punctuation from here on out.
1. The guys at the CBS website ranked all the Power Five coaches in college football. I often roll my eyes at these summer lists, but it does drive home exactly how good of a coaching league the Big Ten is.
This particular list had six Big Ten coaches in the top 20.
Here's the list of coaches ranked 26-65. You'll see Mike Riley there at No. 38. He was up five spots from where they had him ranked last year.
About Riley, they wrote: There was a marked improvement in Riley's second season in Lincoln, as the Huskers went from 6-7 in Year 1 to 9-4. It was Riley's first nine-win season since 2012, and only his third since 2008. Another step forward and I wouldn't be surprised to see him pushing into the top 25 next year.
Ohio State's Urban Meyer was at No. 2, behind Nick Saban.
Michigan's Jim Harbaugh was No. 5.
Michigan State's Mark Dantonio, despite last year's train wreck, was No. 11.
Northwestern's Pat Fitzgerald was No. 16.
Penn State's James Franklin was No. 18.
And Iowa's Kirk Ferentz, who was on the occasional hot seat list a few years back, was No. 20.
One thing I will say as a credit to this particular list is that they didn't just move guys around dramatically based off last year's results alone. For instance, Notre Dame's Brian Kelly, who has an impressive resume over many years was still ranked at No. 22 despite last year's disaster.
But it reminds that even head coaches who are perceived as being among the best in their craft can get humbled in a hurry in this game.
The line can be thin as a string of floss between being ranked as one of the top 15 to 20 coaches and being the subject of columns and radio discussion about how you might be better suited coaching at any place than where you're at now.
2. A photo op, maybe. I don't know for sure. But Mike Riley and the Husker athletic department social media crew again showed some savvy on Tuesday night.
Maybe not all of you are familiar with Chance the Rapper, but every 17-year-old recruit knows about him. And while a picture of a coach standing next to Chance isn't going to be the reason a recruit picks a school, it doesn't hurt to show to those prospects far away that, yes, stuff does go on around those "cornfields" they picture.
There are indeed concerts here. Concerts with big names attached. Big names standing right next to the coach who was in your room talking to you and your family. Those little things add up. (Now we'll have to see if Riley has a photo next to Kendrick Lamar when he comes to Lincoln.)
It also shows how small our world is now. Riley tweets out a picture, and then it's all over, traveling through the Twitter cables from California to Florida. It got to touted Husker cornerback commit Brendan "Bookie" Radley-Hiles, who tweeted:
You see how many times that Radley-Hiles tweet of Riley's tweet was reweeted and liked? Answer: It was retweeted 125 times and liked more than 1,400 times.
And some of those are from recruits Riley is still trying to land. It's not something worth making an overly big deal about it, but it does show how well Nebraska's head coach understands his desired audience.
You don't hear his name as much as I'm sure you see his work -- especially if you're on social media. He's a critical part of what's going on in Husker athletics. I heard NU athletic director Shawn Eichorst say on the speaking tour this that Mosier is as good at what he does as anyone in the country.
That's sure a powerful weapon to have behind the scenes in this day and age.
3. Quincy Enunwa just may be the New York Jets No. 1 receiver in 2017.
I'm not surprised Enunwa is in the NFL, but I admit I didn't see him having the impact he's had. Prior to Enunwa's junior year at Nebraska, he had 22 catches total. Prior to his senior year, he had three touchdowns total.
Then his senior year he had 51 of his 115 career catches, and found the end zone 12 times.
"Last year I didn't want to come out and say I was going to be the No. 3," Enunwa told New York reporters. "This year I don't want to come out and say I'm being the No. 1. I really just want to go out and compete and be a playmaker any way that I can."
4. Riley and  Eichorst were both asked in a tour stop in McCook if there was anything that could be done to keep seniors from sitting out bowl games.
"I don't know exactly how to prevent that... If you're talking to a guy heading into his last game, he can pretty much make his own decision about that I believe," Riley said. "My guess is that most of the time guys want to play for their team in a game. Their may be times that either or family or agents get into somebody's head and maybe deters them from playing in a ballgame. So it's going to be personal I think."
Eichorst feels it'd be hard to regulate someone's personal preference.
"But like Mike said, I don't see a proliferation of players making that move," he said.
5. A quote from Ohio State's Urban Meyer stuck out to me, because it lines up with what I have found when interviewing Husker athletes over the years.
Even guys with all the talent in the world, who are high on the depth chart, usually have those moments where they ask themselves, 'Do I really want to do this every day?'
Meyer brought this up while talking on the Dan Dakich Show. He was discussing first-round draft pick Malik Hooker. He pointed out Hooker almost stopped playing for him at Ohio State as a freshman.
"I always tell people, every kid's tried to quit at some point," Meyer said. "At least in their minds, 'I don't want to do this anymore.' He fought through it with the help of a great family, and the rest is a nice history for him."
We've written stories about guys who have almost quit but didn't, and were proud to have stuck it out. But there are so many untold stories like this we don't know.
And they would come from guys fans wouldn't expect.
6. Exciting times for Husker true freshman wide receiver Jaevon McQuitty.
JUST GOT OFFICIALLY CLEARED !!!!

— Jaevon McQuitty⚡️ (@Yaboyjae19) May 9, 2017
The latter of those photos is a high school graduation photo. I'm forever impressed by not only the work it takes to enroll in college early like McQuitty did, but also the sacrifice of leaving behind friends and family seven to eight months earlier than the average high school senior.
It's cool when guys like that still get to go back home and take in some of those memorable senior moments like prom or walking across the stage with classmates for graduation.
And that first tweet? That's good for Nebraska football. It's McQuitty telling everyone he's good to go after having to forgo contact this spring due to shoulder surgery prior to his arrival in Lincoln.
Of all the true freshmen wide receivers, and this even includes Tyjon Lindsey, who is showing up to Lincoln very soon, I'd put my bet on McQuitty having the best chance to make the biggest impact this fall. While he didn't take hits in practices, he did get to run routes this spring, and he looked very good doing so.
"He looks good on air, for whatever that's worth," his position coach Keith Williams said. "He catches the ball well. He's into it. He's learning the offense as quick as he can. He does look good running around and catching the ball. He's fluid."
Not saying he's going to take fall camp by storm like Stanley Morgan did as a true freshman, but the 6-foot, 195-pound receiver has a similar maturity and attention to his craft that Morgan had. I think NU needs one or two of those true freshmen receivers to help depth this fall. So McQuitty being cleared, even if it was expected, isn't a small thing.
Extra Point: Jerry Seinfeld is playing in Omaha tonight. I'm going and thinking about wearing a puffy shirt.
At one point the former president is talking about how much money Seinfeld has made, to which Jerry dryly responds, "So much more than you."
Be the first to know
Get local news delivered to your inbox!