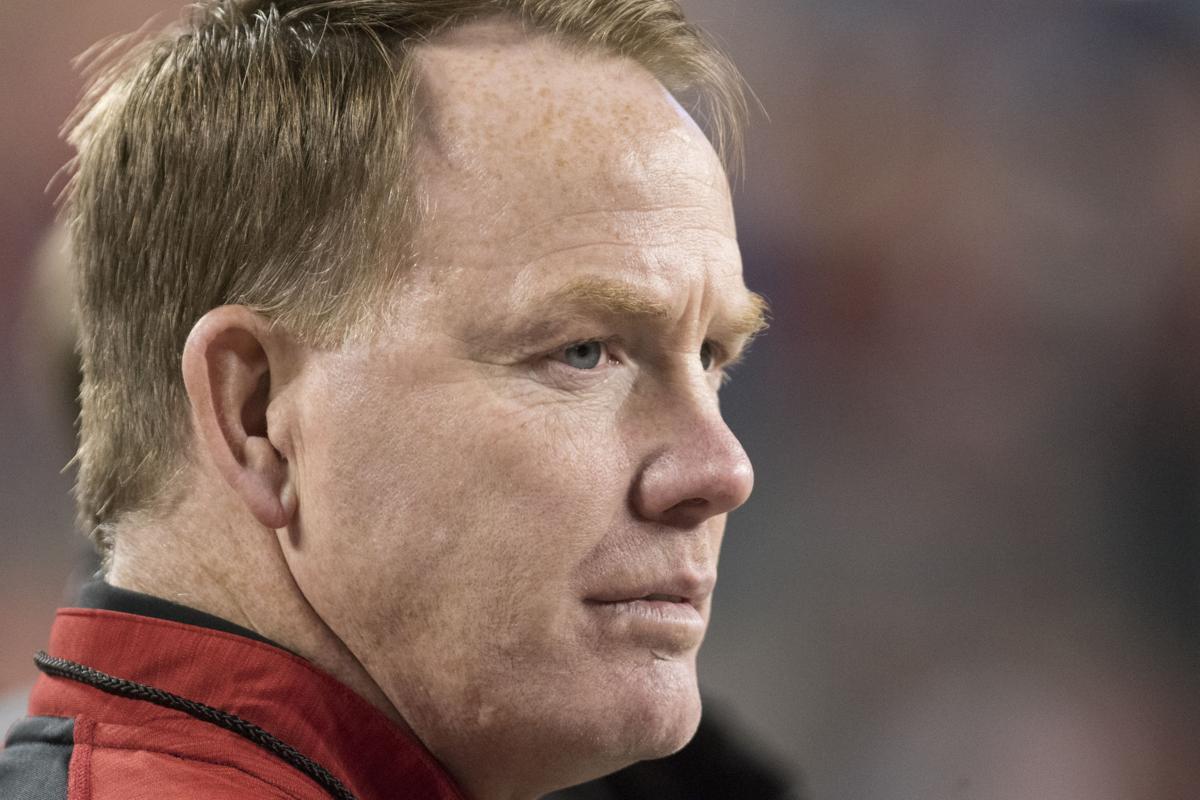 1. Billy Devaney squirmed in his chair, uncomfortable with my question:
If there's something about the Nebraska football program that says "Billy Devaney" -- a stamp, if you will -- what would he want it it be?
"Oh, man, I've never thought about it ..." said the second-year Husker executive director of player personnel.
The 61-year-old Devaney has become a prominent figure in the Husker football realm. Head coach Mike Riley has described him as a "confidant" on whom he leans for opinions on key program decisions.
A native of the New Jersey shore region, Devaney leaned back in his chair and thought some more about the question.
"OK, it's just one thing -- did everything possible to win," he said.
He quickly added, "But that's not just me. That's Mike Riley. That's Shawn Eichorst (athletic director). That's Hank Bounds (NU system president). That's Ronnie Green (chancellor). That's what I love about coming into this place every day. Everybody here is just hell-bent on doing whatever they have to do to get this thing back to where we all want it."
Devaney spent 30-plus years as a scout and front-office executive in the NFL. He noted he's been in NFL organizations that lacked commitment to winning championships.
"I've been in too many places where you come into the office Monday after getting your ass kicked Sunday, and it's hard to tell if you won or lost the game," he said. "Everybody's like, 'We're getting paid.' It's not so much the players I'm talking about, but people in the organization. They would be like, 'We've got jobs. It's all good.'
"But no, it wasn't all good. When it's like that, it becomes a depressing place to work."
It's interesting to hear him say that. As a sports fan, I've wondered if certain franchises had that sort of attitude. Sometimes you can't help but wonder.
"There's a reason why you know certain organizations are going to be playoff teams every year," Devaney said. "And there are certain organizations you know are going to be crappy."
In his current organization, Nebraska, he strongly feels there's complete commitment. I've said it before: With all its inherent geographic disadvantages, NU can't afford to have too many key people pulling in different directions. We've seen that scenario too often in the last 15 years or so.
2. Lincoln native Josh Banderas led Nebraska in tackles last season with 93, and he's a physical specimen.
Nobody can dispute those facts.
Even so, the 6-foot-3, 240-pounder is far from a lock to be selected in the upcoming NFL Draft. But Todd Worly of herosports.com, in this article, places both Banderas and ex-Husker receiver Jordan Westerkamp in the "sleeper" category -- that is, players that likely will be selected in the sixth round or later but have a realistic chance to make some noise in the NFL.
Worly's thoughts on both players:
Banderas: "If he were coming out of college 15 years ago, Banderas' stock would be significantly higher. Instinctive, explosive and very physical with a high motor, Banderas has the skill-set to wreak havoc in the box. Perhaps the biggest key to whether or not he can stick in the NFL is if the former Husker can prove that he has the range required of inside linebackers these days."
Westerkamp: "Hauled in 38 receptions for 526 yards and five touchdowns in 10 games for the Huskers in 2016. While the third-team All-B1G receiver may not have the size or top end speed of some of the receivers in this draft, he is an outstanding route runner that has the feet and suddenness to create separation, and has the hands to become a reliable target for his quarterback and find a role in an NFL team's wide receiver rotation."
Both players would represent an organization extremely well. And both players, in the right situations, could help NFL teams win. That's the bottom line.
3. Let's take this NFL "sleeper" discussion to another level.
Devaney mentioned Brad Simpson -- a walk-on from Ralston who made 10 special-teams tackles last season -- as someone NFL teams might consider as a free agent.
"He's a core special-teams player," Devaney said of the 6-foot, 230-pound Simpson. "But I think he's got a chance to be a long-snapper also. He doesn't have any film as a linebacker. But I'm going to call every special-teams guy I know and say, 'Just bring this guy in a for a look during mini-camp or after mini-camp.'"
Devaney considers lobbying for draft-eligible Huskers to be an important part of his job.
"I need to help our kids make sure they have an opportunity to play pro football – do everything possible to put them in the best place," he said.
Yes, he said, players need to prove themselves physically. But he can help them prepare for the interview process with NFL teams and help them pick an agent. He knows "the game" well.
He's went over it with Nebraska's 2016 seniors already.
"I take all that as a personal responsibility," he said.
4. I really enjoyed Chris Basnett's story on Nick Fuller (click here).
No way Nebraska wins at Ohio State without him.
A 6-foot-7, 213-pound junior, Fuller told Basnett that a preseason ankle injury affected him "pretty much the first half of the season."
Keep Fuller in mind. Coming out of Sun Prairie (Wisconsin) High School, he was rated by 247Sports as one of the top 150 players in the nation. ESPN rated him as the No. 21 small forward in the country for the class of 2013.
Yeah, pretty strong credentials for a role player...
5. As one might expect, I received plenty of feedback for the Sunday column entitled, "Devaney says Nebraska 'not conceding an inch' to Big Ten powers" (click here).
Many fans appreciated his confident tone.
Others thought it was a bit much.
There was this tweet: "Have to love how he thinks he's competing with Ohio State and Michigan...when he keeps losing to Iowa and Wisconsin. #overinflatedego"
And this one: "Try not to lose by 30 against Iowa first"
So, some context. His comments about Nebraska going full-force against Ohio State and Michigan in recruiting were the result of this question: Because it might be difficult to consistently out-recruit the monsters (Ohio State and Michigan), what other ways might the Huskers gain ground on them?
Devaney obviously didn't agree with the nature of the question.
"Three years from now, you may say, 'You idiot, I told you so,'" Devaney said. "But we're not conceding an inch."
Nebraska recruiting analyst Mike Schaefer of 247Sports (@mikejschaefer) made a strong bid with this:
"Les Miles, Rick Spielman, Keyshawn Johnson and Kurt Warner walk into a stadium ..."