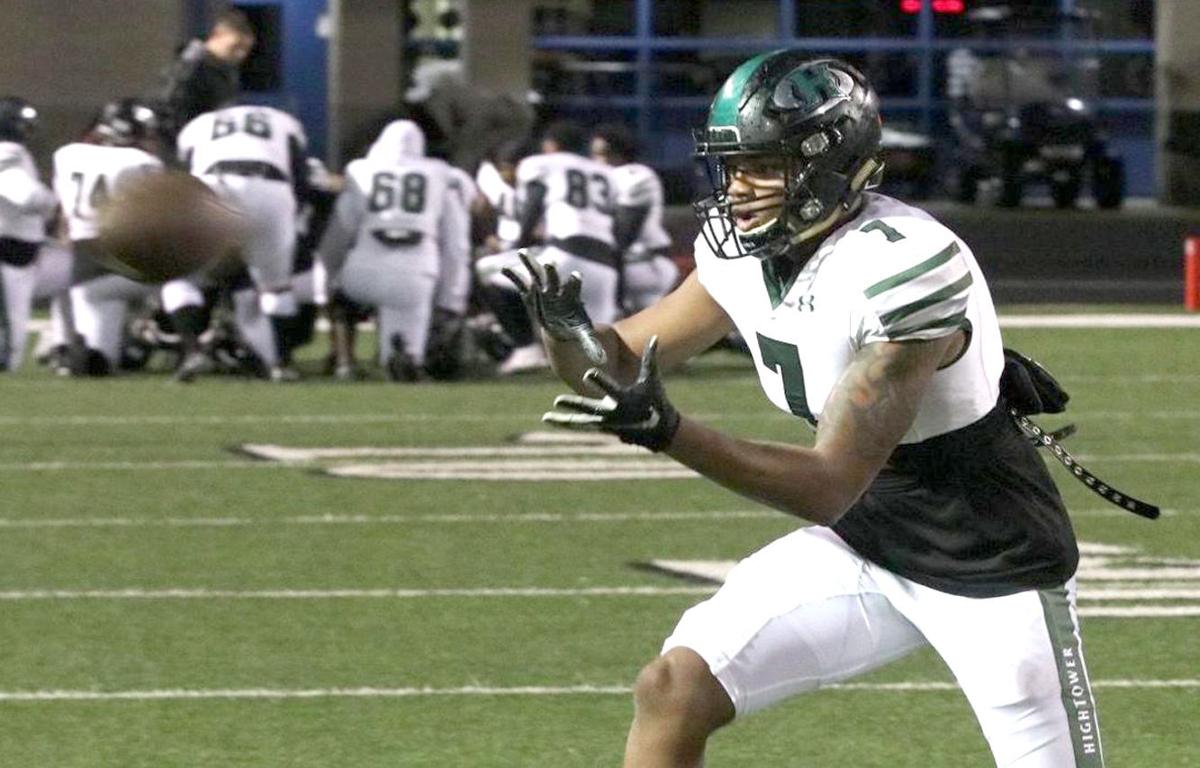 Let's take a midweek drive.
1. Touted 2021 wide receiver prospect Latrell Neville is set to make his college decision public on Saturday and Nebraska is hoping for some holiday cheer.
Neville, a 6-foot-3 and 190-pound pass-catcher from Missouri City, Texas, has been a top target of the Huskers and offensive coordinator Matt Lubick since before he decommitted from Virginia Tech.
Neville's head coach at Hightower, Joseph Sam, told the Journal Star this week that he's been impressed with what he's seen from the receiver over the course of the offseason and since teams have been allowed to work out again in recent weeks in Texas.
"He's got a contagious personality. He's very, very personable," Sam said. "His work ethic, he's got a drive about him. He wants to be great. …
"Now he's damn near winning every sprint in our summer workouts. He pretty much wins every sprint. He's leading it. He's leading our workouts, he's one of the first ones to come to workouts all the time."
2. Nebraska could be done adding true receivers if it lands Neville over the weekend, but there are still plenty of offensive targets remaining.
Primary among them is four-star tight end Thomas Fidone (Council Bluffs, Iowa) and probably another tight end out of a group that includes in-state three-star A.J. Rollins (Creighton Prep).
3. The Huskers are still in the mix for several players on each level of the defense, too.
NU is already at four linebackers in the class and appears likely to try to add at least one more. At outside linebacker, Nebraska has recruited hard three-star Christian Burkhalter (Spanish Fort, Alabama). Burkhalter has an impressive offer list and it continues to grow — Mississippi State offered him earlier this week.
Inside, NU could look at several prospects, including a pair from opposite ends of the United States in four-star Wynden Ho'ohuli (Honolulu) and Mikai Gbayor (Irvington, New Jersey).
The Huskers don't yet have a defensive lineman in the class and could take two, three or even more, so expect that to continue to be a focal point for the staff over the coming months. NU doesn't have any secondary members in the class either, though Ervin's teammate, Malik Williams (Buford, Georgia) put the Huskers at the top of his list and NU is in on several others.
A reminder, too, that Nebraska, especially without kids coming to campus for visits, has landed several players this cycle who came as surprises. There will likely be plenty more of those between now and National Signing Day.
4. While the 2021 class builds, Nebraska continues to put out a steady stream of scholarship offers in the 2022 and 2023 classes.
Among the latest to earn offers: 2022 lineman Ty Chan (Groton, Massachusetts) and defensive back Avery Powell (Jersey City, New Jersey) and 2023 offers to Virginia lineman Nolan McConnell, New York defensive lineman Tyriq Blanding and Florida athlete Lewis Carter.
Nebraska doesn't have any known verbal commitments for those future classes at this point.
5. Nebraska football landed 10 players on the Big Ten's list of distinguished scholar-athletes for the recently completed school year.
The list is made up of student-athletes who make a 3.7 grade-point average or better for the year.
NU football's honorees: sophomore lineman Colton Feist, sophomore linebacker Joey Johnson, senior defensive back Reid Karel, junior offensive lineman Hunter Miller, sophomore long snapper Cameron Pieper, junior offensive lineman Matt Sichterman, senior defensive lineman Ben Stille, junior quarterback (and subsequent Rutgers transfer) Noah Vedral and sophomore defensive lineman Tate Wildeman.
According to a school news release, the 10 football players is a program record.
Among all sports, NU had 100 recipients — also a school record — amid more than 1,500 total in the Big Ten.
6. MLB players are reporting to Spring Training 2.0 and opening day is just more than three weeks away. Let's all hope baseball — and hoops and football among other sports close behind — really is back soon.