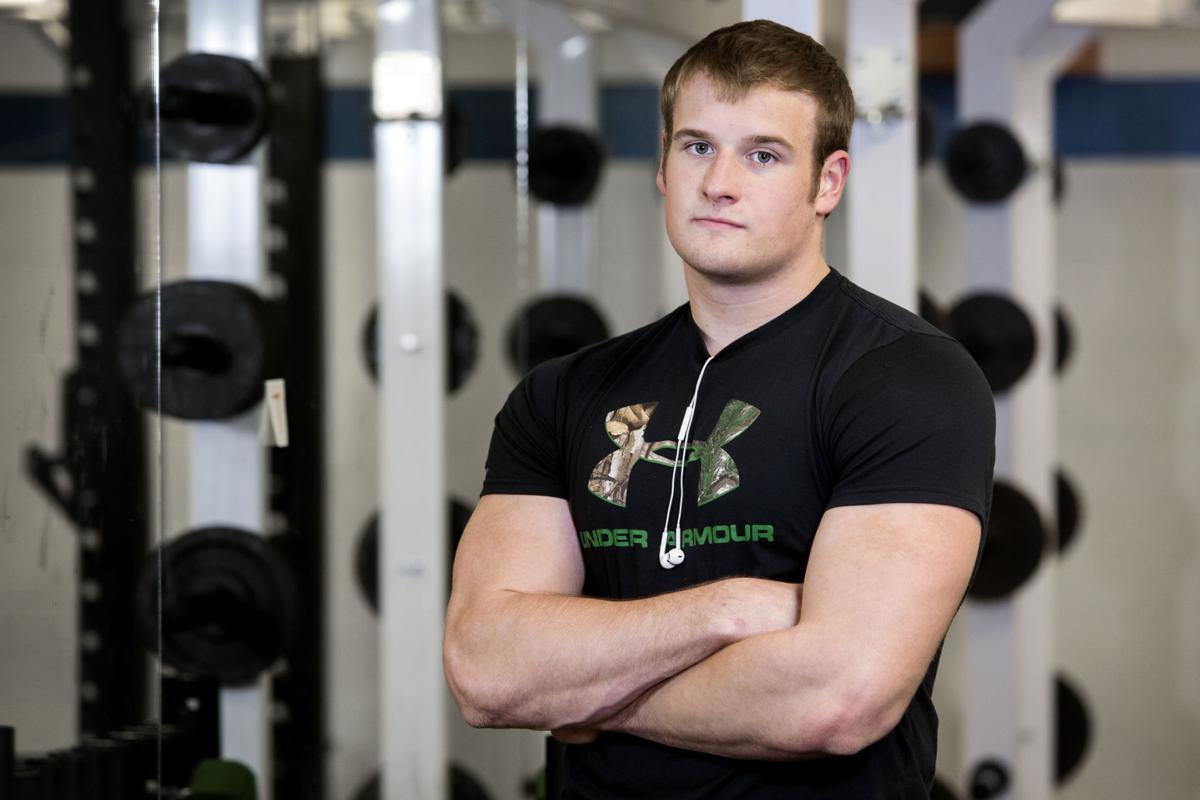 Let's put some oomph into it.
1. It had to be daunting, the prospect of trying to bench-press 425 pounds.
After all, I'm guessing fewer than 2 percent of males worldwide could bench-press that amount.
But we're talking about Chris Walker here.
What was the incoming Nebraska freshman lineman thinking Friday as he lay on the bench in the moments before attempting to eclipse the Lincoln East record for that particular lift?
"Screw it. I've got all my buddies watching me," Walker said Monday. "It was my last day to get the school record, so I just kind of said screw it, let's do it."
"It felt pretty good afterward," he said.
The 6-foot-6, 275-pound Walker said he surpassed the school record of 420 pounds that had stood since 1988. Earlier in the week, he had put up 405 pounds. 
Come Friday, he decided to go for the big mark because the school was going to close down the weight room this week for final exams.
He's obviously a driven individual. Folks who saw Walker watching Nebraska's practices from the sideline this spring noticed his surprisingly lean frame. He takes pride in staying in shape. He wants to be a Marine and has that sort of mentality.
By the way, folks also noticed that in Walker's tweet, he tagged Nebraska defensive coordinator Bob Diaco and defensive line coach John Parrella -- even though Walker will begin his Husker career as an offensive lineman.
Why did he tag the defensive coaches?
"I never get to talk to them," Walker said.
Walker told me in January, "I want to get in the best physical shape possible and do everything I can to become a Blackshirt."
That said, he's mindful that Husker offensive line coach Mike Cavanaugh wants him to start his college career on that side of the ball.
"We'll see what happens at (preseason) camp," Walker said Monday.
Nebraska's incoming freshmen report to campus the first week of June. At that point, they can begin lifting in the spacious Husker weight room.
Yes, Walker has eye-balled his new training digs.
"Very impressive," he said.
2. Three of Walker's 2017 scholarship classmates -- Elijah Blades, Deontre Thomas and Deiontae Watts -- must clear academic hurdles before officially joining the Huskers next month.
According to Huskeronline.com, Blades, a four-star cornerback from Pasadena, California, is awaiting grades in four classes, and there is a possibility he will need to take an online or summer class before being able to report to NU.
Thomas, a three-star defensive tackle from Mustang, Oklahoma, has graduated, but won't know if he's fully qualified until he gets his final GPA in early June, he said.
Watts, a three-star defensive tackle from Plano, Texas, needs to improve his SAT score "a few points" to qualify, according to his coach.
3. Let's continue with the "put some oomph into it" theme.
You'll find few running backs who carry the ball with as much passion and determination as Ameer Abdullah.
So, no wonder the former Husker great felt depressed last season, when he missed all but two games because of a foot injury.
Thing is, he had gotten off to a hot start for the Detroit Lions, rushing for 101 yards on 18 carries before leaving a Week 2 loss to the Tennessee Titans in the first half with his injury.
"Sometimes you need to miss the game to realize how much you love it," Abdullah said in this Detroit Free Press article. "And I've always been passionate about this game, but missing last year was huge for me. I got a lot of time to sit down and think and watch a lot of football. A lot of times I was depressed, not being out there with my teammates, feeling like I'm letting them down even though it was something out of my control."
The good news? Lions general manager Bob Quinn anointed Abdullah the starter for 2017 after the organization passed on running backs completely in the draft and declined to sign anybody in the offseason.
Look for a big year from Ameer.
4. Jordan Burroughs' performance at the 2016 Rio Olympics -- he failed to medal -- devastated him at the time. After all, he was regarded as a favorite to capture the gold, as he did in 2012 in London.
The ex-Husker great is in the midst of a strong comeback as he trains for the June 9-10 World Team Trials, which will be held at the Bob Devaney Sports Center.
"Internally, I've changed a lot of things -- my perspective, the way I approach the sport, the way I view myself and my abilities," he said last week. "And really for me, it was staying focused on the task more than what accompanied the victory.
"As my (stature in international wrestling) grew, and as I became more popular, and as more was at stake, I wanted what was at stake more than I wanted to just be the best wrestler in the world."
There's a fine line there.
"I think you can lose the essence of what it truly means to you sometimes."
We'll have more on Burroughs as the Trials near.
5. It obviously makes sense for college football programs to market their tradition to recruits.
But how much it matters is debatable.
He notes that if you're a recruit in the class of 2018, January of 2000 is roughly the average of when you were born.
The writer also tells of chatting up the college position coach of an All-Pro linebacker and making the comment that it has to help him in recruiting.
Surprisingly, the coach said not much.
"They don't know sh--," he said of current recruits. "And I don't think they read about the past greats, or watch replays of them like we did, either. They don't watch as many games going on now, either. If we don't tell them, they don't know."
6. Well, then perhaps they could do what I did last night and check out a fabulous Twitter account.
Ladies and gentleman, I give you @Super70sSports.