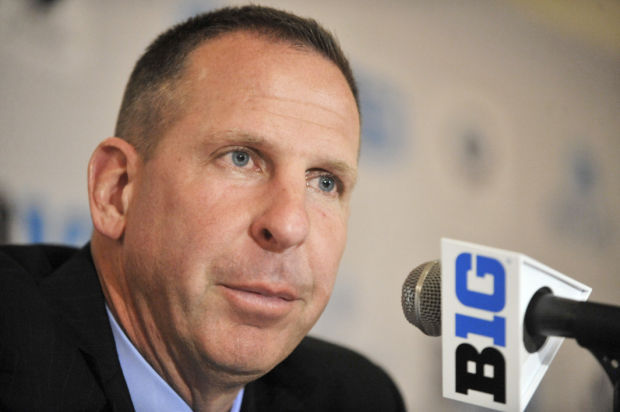 Greetings from Omaha, several hours after new Big Ten member Rutgers got an impressive victory over Washington State. Mike Leach is an angry pirate today.
Closer to home, it's Big Red Breakfast season. And the opening speaker is ... Bo Pelini.
Some quick hitters with a fuller notebook coming later:
* Interesting news flash: Kenny Bell will get the first shot as punt returner, Pelini says. "I don't want to see a lot of fair catches. I want to see us return the ball."
Bell, a serious weapon as a kick returner, had one chance to return a punt in his career, fumbling it against Northwestern in 2012.
* Pelini said turnovers will be the No. 1 decider in how this football team does. "We can talk about it all we want. We got to do it on Saturday. If we don't do it you're going to the bench."
* Two true freshmen who we thought might play but now know for sure: Wide receiver DeMornay Pierson-El and cornerback Chris Jones. Pelini said both are expected to burn their redshirts.
* Pelini likes his defense a lot, but said he also wouldn't call it a veteran group, joking: "People look at our defense and say, 'you have a a bunch of veterans on defense.' Yeah, we have a bunch of sophomores."
* The coach feels the gap between the twos and ones on his depth chart is closing, but laughed when he said: "My blood pressure might go up if I see a certain player walk into the game out of necessity, but what are you going to do?"
* Pelini said fans should expect to see 8-10 guys play on the offensive line.
* About Alex Lewis working against Randy Gregory: "Playing against Randy Gregory is going to make anybody better … He's an unusually good pass rusher. He can do some things you just can't teach."
* Tommy Armstrong is the clear starter, no questions asked. "We're not thinking about rotating guys or anything."
Pelini said Ryker Fyfe is the clear No. 2. "I wouldn't be afraid to put him in as I wouldn't be able to put in Johnny Stanton."
Pelini likes Stanton's upside, and that the QB sometimes looks like the No. 1 QB, but is still inconsistent, with just as many plays that look like the No. 3 QB.
* Daniel Davie will start at corner opposite Josh Mitchell, but Jonathan Rose will also play a lot. Expect Chris Jones and Boaz Joseph to also see game reps at corner.
* Pelini on his defensive system: "People act like it's complicated. It's not complicated but it requires discipline."
* Pelini: "I'm not a big numbers guy. I kind of go by feel a lot of time. But the numbers on the field told me Drew Brown would be the guy."
* The coach repeated his opinion that national signing day should be eliminated. "That, to me, is the A1 thing that would slow things down."
About the possibility of paying players, he said: "I've been on record that I think they should get paid to play. It shouldn't be significant, but there should be a stipend."
The breakfast hit on a wide array of subjects, even Pelini's opinion on legalizing marijuana, which he's fully against. He said it is a major issue in society and on college campuses.
* Moving along, Pelini on grad assistant Joe Ganz: "If we had an opening on our staff, I wouldn't hesitate for a second to hire Joe Ganz."
* About Marcus Newby: "I think you guys are going to have fun watching him play (though) sometimes he makes me hold my breath."