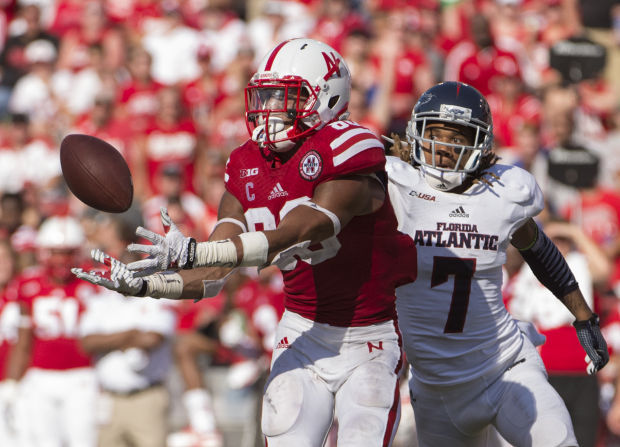 There are thousands of offensive coordinators in Nebraska on any gameday.
But there's only one who truly owns the title as the Huskers' OC, and he happened to be talking about his playcalling philosophy during Friday's Big Red Breakfast.
When it comes to run/pass ratio and all that, Tim Beck says it's most important to him that players have comfort in whatever he's asking them to do on a Saturday.
"Just because I like it, doesn't mean it's any good," he said. "If they can't execute it, if they don't feel comfortable with it, I'm not calling it, no matter what it is."
Beck brought up the option. Said he likes running it. Feels it's a great offensive play. That doesn't mean he's going to run it if he doesn't feel his personnel can't make it work.
"If we don't have a quarterback that's not very good at running it, we're probably not going to run it very much. It's like a pitcher in baseball. If a catcher keeps signaling for a curve ball and the guy can't throw a curve back, he's going to keep going, 'No, give me the heater.' So why would you keep giving him the curve ball so he can keep (shaking you off) all day long? Calling a game is similar."
Beck said his game plans are also formed with extensive breakdowns of how opponents respond to down situations and field position.
You have free articles remaining.
And every team responds to each of those categories differently.
For instance, the coach said: "When you break down a team on (how they respond) to second down-and-7-to-10 yards, you're going to find some kind of tendency of something: They play Cover 2, they blitz. 'How do they blitz?' 'Oh, they always blitz one linebacker.' They do this, they do that. ... So here's the calls I need to make in this situation.
"So if your game plan tells you that on second-and-8, based on the coach that's coaching the defense, what his philosophy is, if it's to blitz you, well, you don't want to run up inside if they're all blitzing inside. You want to go outside or throw it. You change the style of your call based on the coaches' philosophy and what you've evaluated and what you've broke down as an opponent.
"So calling the game isn't just calling the game. It's, 'What is he thinking at this time?'"
Beck compares it to a chess match ... with headsets.
"The game plan isn't just because we're running the ball well, that we're going to keep running it. We also have to break tendencies. If we line up on first down and we run the football, and we're 91 percent run on first down, guess what? The whole team and every one in the stadium knows you're going to run on first down. They're probably going to play some kind of defense that is going to stop your run game. So you have to make sure you have enough passes, that you have enough runs in certain situations, that throws off your tendencies."
Keep them on their toes, Beck says. You have to keep them on their toes.
That includes sometimes testing a team with a deep ball even after several successful running plays, as far as the offensive coordinator is concerned.
"Even though it might be incomplete, that's OK sometimes," Beck said. "The idea is to say, 'Hey, I got that weapon. Don't forget it. Because the minute you do, I'm going to do it again. So make sure you back up and cover those guys.' Because I do want to run the ball, and we're going to run it, because you better cover those guys, because I'm going to keep launching it over your head until we complete one of them."