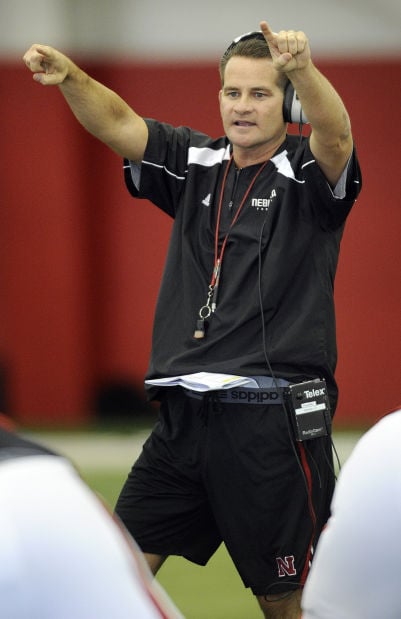 Whether any of them can rise to the point of a redshirt burning, we shall see. But Husker offensive coordinator Tim Beck likes the early impression some of his true freshmen are giving off.
Let's start with wide receiver Demornay Pierson-El, a 5-foot-9, 175-pound bolt of energy that has, at times, had reps sprinkled in with the top offenses early in fall camp. He's also one of the several trying his hand as a punt returner.
"He's a very electrifying player," Beck said. "He's helped us. He's overwhelmed a little bit as a freshman, as most freshman are, but he's coming. He's shown signs."
Beck mentions Glenn Irons and Jariah Tolbert as other freshmen wide receivers who have caught his notice at times this August.
"Really three of those young guys have shown signs they're going to be good football players for us. So we're just plugging away and giving guys a lot of reps and seeing who keeps rising to the forefront."
How about true freshman running back Mikale Wilbon? Is he an option to play after the injury to Adam Taylor as a fourth guy?
You have free articles remaining.
Maybe. Beck said the new arrival Wilbon is in the company of older walk-ons Jordan Nelson and Graham Nabbity right now.
"All those guys possess good things and I like what they're doing," Beck said. "Those guys will be battling for that fourth spot."
If Nebraska's top three backs can stay healthy, however, you'd think the Huskers would steer clear of burning a shirt on Wilbon this year for what could be a limited number of touches. As always, a lot of these decisions come down to how many injuries happen.
Speaking of likely redshirts, quarterback A.J. Bush is certainly that, given that there's Tommy Armstrong, Ryker Fyfe, Johnny Stanton and Zack Darlington in the fold.
But the left-hander, who stands 6-3, 210, has presented himself the right way in his beginnings at Nebraska. Beck called Bush "a pleasant surprise" during camp's first week.
Among the things Beck likes is how fluid the QB looks in the passing game. If nothing else, you figure he can be beneficial on the scout team and give the top defense a nice look at a very athletic quarterback.
"He's got a lot of zip," Beck said. "You can tell he played in an offense where they threw the ball quite a bit, got good mechanics, a good drop."