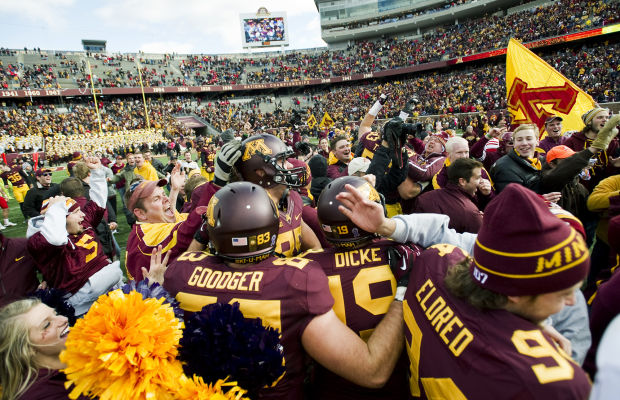 Husker coach Bo Pelini said he told his team there needs to be "some soul searching" after Saturday's upset loss to Minnesota.
The Huskers are now 5-2. And the road only gets harder.
"I don't know whether we think we're better than we are or what it is, but at the end of the day, we didn't have the type of approach you have to have on the road to go win a football game,' Pelini said.
He was perhaps most disappointed in how the Gophers "out-physicaled" his team in the 34-23 loss, with Minnesota running for 271 of its 430 yards.
"We had way too many breakdowns ... I'm talking basic football. Basic football that we couldn't execute and we didn't execute," Pelini said.
The Husker offense struggled itself, gaining 328 total yards in a limited 60 plays.
Pelini had the hope going into the game to insert Tommy Armstrong at some point, but said he didn't consider pulling Taylor Martinez, who ended up completing 16 of 30 passes for 139 yards.
Offensive coordinator Tim Beck spoke about a pre-game plan to play Armstrong in the fourth series but didn't like where the momentum of the game was heading at that point and stuck with the senior.
Martinez wasn't much of a running threat, carrying it eight times for 16 yards. He did have one 35-yard run where he showed some of his old form, but that was his only big run.
The blocking in front of him didn't help matters.
"Taylor was the least of our problems," Pelini said. "You talk about the inconsistency we had up front. We didn't get into a rhythm. We weren't very good on early downs, which hurt us, and the amount of dropped passes we had is inexcusable. Those kill drives. It kills you."
The quarterback said in the postgame his injury is not turf toe, as it's been oft describe, though that has conveyed the general idea. Martinez's injury isn't to his big toe but to the second and third toes on his foot.
He also said he's been dealing with a left shoulder injury. The injuries go back to the Wyoming game, Martinez said.
While the quarterback wasn't dynamic, the O-line play left something to be desired.
"Let's not go there and act like Taylor Martinez lost this football game for us," Pelini said. "Our problems today were far beyond who our quarterback was."