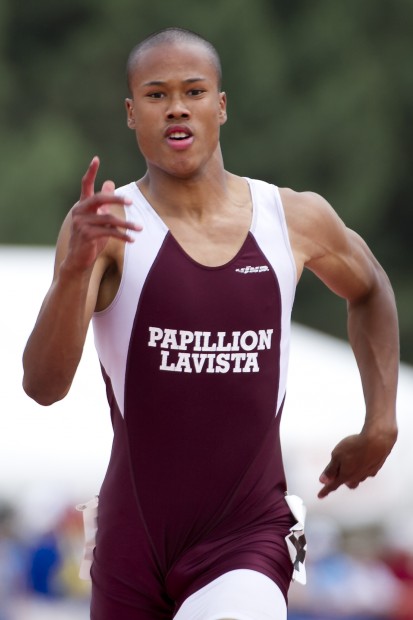 Kenzo Cotton doesn't need your help wind.
A year ago the Papillion-La Vista track star ran the 100 meters in 10.41 seconds at the state track meet. It would have gone in the record books. Alas, it was wind aided.
Well, on Saturday Cotton was back for more, putting down another 10.41 time. This one will stand in the books as an all-class state meet record.
He later won the 200 meters with a time of 21.54. He set a state record at that distance last year at 21.31.
Cotton was also on his school's 400-meter relay team that shattered a state record with a time of 41.4.
And ... he's only a junior.
Aside from his track talents, the son of former Husker Curtis Cotton is also quite the interesting football recruit because of that speed.
So far the 6-foot-1, 190-pound Cotton has football offers from Kansas State and Ohio. He could be a wide receiver or defensive back.
While he hasn't received an offer from Nebraska yet, Cotton is one of those in-state kids to keep a close eye on.
There are some tough decisions for Husker coaches to make. On a year when there's more top-tier local talent than past years, Nebraska has to take a relatively small recruiting class.
"Hopefully they will offer because they'd definitely be in my top three," Cotton told HuskersIllustrated.com. "I know they only offer a few players every year. To be one of those few people would make me feel special."
Some describe Cotton as still being raw as a football player, but such speed can be tough to resist.
And while the examples aren't a complete match, it's worth noting Bo Pelini has seen up close a success story of an athlete doubling in both track and football. The 5-foot-5, 160-pound Trindon Holliday competed for two seasons at LSU while Pelini was there.
We shall wait to see how it plays out with Cotton on the football field. What we know without question is that he knows how to steal a show on the track.