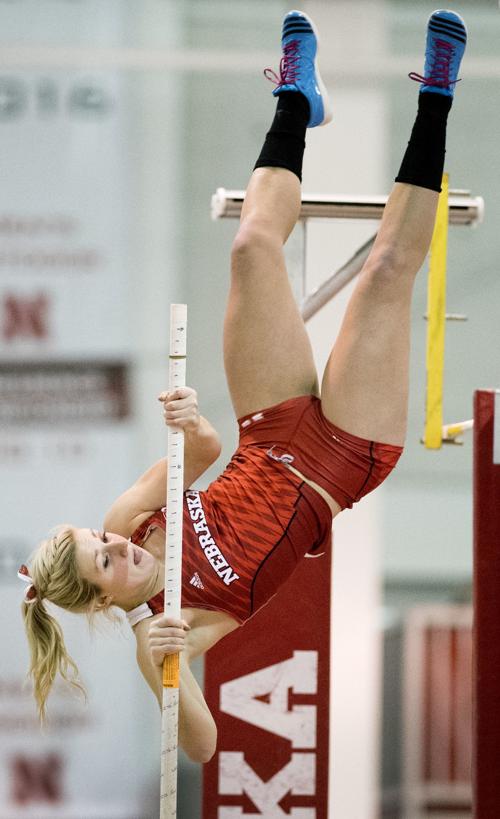 The Big Ten Conference recognized 116 Nebraska student-athletes as Academic All-Big Ten selections Wednesday.
The Husker track and field programs had 55 athletes honored (31 women, 24 men), the most of any program. Andy Jacobs, Maddie Holland, Givon Washington and Simon Wiedel each finished with 4.0 GPAs. Women's tennis player Marina Cozac also had a 4.0.
To be eligible for Academic All-Big Ten honors, a student-athlete must have been enrolled full-time at the school for at least 12 months and have a cumulative grade-point average of 3.0 or higher.
Nebraska spring and at-large Academic All-Big Ten
Women's track: Alice Akers, Nicole Baker, Jasmine Barge, Kate Birchmier, Gabrielle Boucher, Emma Bresser, Shelby Brown, Rachel Brush, Nicole Colonna, Candice Dominguez, Elsa Forsberg, Erika Freyhof, Maddie Holland, Matty Hoskins, Kristina Insingo, Andy Jacobs, Kaitlynn Johnson, Taylor Johnson, Judi Jones, Petra Luteran, Angela Mercurio, Alex Meyer, Leah Meyer, Catherine Mick, Lara Omerzu, Madi Scholl, Ally Talpash, Ieva Turke, Brittni Wolczyk, Chase Wolinski, Madison Yerigan.
Men's track: Jace Anderson, Bryce Barrett, Ryan Bates, Kevin Cahoy, Jordan De Spong, Mark Freyhof, Eric Garner, Mason Hericks, Eric Karl II, Karson LeComte, Tyler Loontjer, Noah Lukz, Ryan Martins, Wyatt McGuire, Cody Mroczek, Vincent Ohlman, Dalton Peters, Zach Podraza, Spencer Powell, Luke Siedhoff, George Siliman, Bailey Timmons, Givon Washington, Simon Wiedel.
Baseball: Joe Acker, Connor Curry, Reece Eddins, Nate Fisher, Ethan Frazier, Jaxon Hallmark, Gunner Hellstrom, Alex Henwood, Chad Luensmann, Robbie Palkert, Luke Roskam, Max Schreiber, Kennet Sorenson, Paul Tillotson.
You have free articles remaining.
Beach volleyball: Hayley Densberger, Jazz Sweet, Anezka Szabo.
Bowling: Alexa Fernández, Michelle Guarro, Allison Morris, Raquel Orozco, Estefania Prieto, Cassidy Ray, Meghan Straub.
Men's golf: Patrick Clare, Cameron Jones, Tanner Owen, Daniel Pearson, Jackson Wendling.
Men's tennis: Micah Klousia, Jon Meyer.
Rifle: Elizabeth Ewert, Kayla Gadeken, Maddie Korthas, Samantha Peterson, Nina Radulovic, Sarah Sutton, Hannah Virga, Rachel Yager.
Softball: Bree Boruff, Bri Cassidy, Tristen Edwards, Olivia Ferrell, Lexey Kneib, Regan Mergele, Ally Riley, Alyvia Simmons, Madi Unzicker, Rylie Unzicker, Sarah Yocom.
Women's golf: Noor Ahmed, Kirsten Baete, Kate Smith, Haley Thiele, Hannah Thiele.
Women's tennis: Marina Cozac, Elizabeth Gould, Hayley Haakenstad, Jeannie Lozowski, Claire Reifeis, Emma Worley.