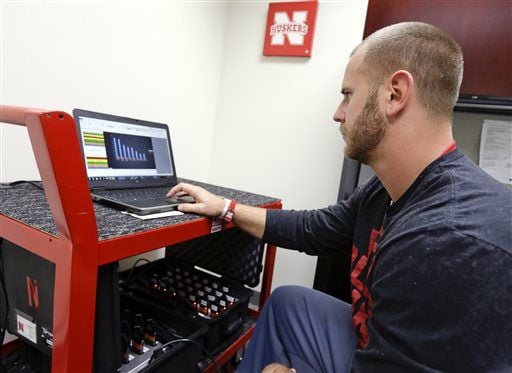 How, exactly, will a man in his 20s with a doctorate in statistics help improve Nebraska's sports teams?
Nobody knows for certain, but Tucker Zeleny may soon be setting a trend in college athletics.
Nebraska announced Wednesday it's hired Zeleny, a Carleton native, as director of sports analytics and data analysis.
It's a newly created department, one that Steve Waterfield, Nebraska's senior associate athletic director for performance and strategic research, doesn't believe exists at any other NCAA Division I institution.
"He's my Billy Beane, I guess," Waterfield said, referring to the Oakland Athletics general manager who became famous for using applied statistical analysis — or sabermetrics — in evaluating players.
What Zeleny and his staff (yet to be determined) will do exactly is still being developed, Waterfield said.
Collecting, analyzing and summarizing data could involve anything from delving into individual player statistics to studying Nebraska's success rate on certain third-down plays to helping athletic performance to, yes, even recruiting.
"We're still trying to figure out which direction this is going to take," Waterfield said. "But we see a lot of different areas, and one of them is looking at it from a macro-athletic sense of what trends for each of our sports is indicative of overall success, or current success for those teams that are deemed successful from a won-loss standpoint."
Zeleny has already met with some coaches to find out what information those coaches seek. What skill sets do they value, and how can statistics be used to generate information those coaches will find usable?
"We're just trying to walk before we run and find out what the folks here want or need," Waterfield said. "It's always been an area that we've wanted to build and hopefully be a trendsetter in use of data analytics to inform and drive decision-making. You see it a lot in professional sports now."
Zeleny earned his bachelor's degree in mathematics from Nebraska in 2010, his master's degree in statistics in 2012 and his doctorate in statistics in May. His dissertation involved multivariate time series on multiple time scales with applications toward weight lifting data collected by Nebraska football players.
Zeleny was also involved in the Catapult GPS-monitoring systems worn by football players last season to track data on each player as he practiced.
"Sports analytics is becoming a hot area," Zeleny said in a statement. "There is a ton of data out there right now, and with new sport technology being made available seemingly every day, there will only be more. Any additional information or advantage we can provide to the various coaching staffs, and to the department in general, is a huge positive."