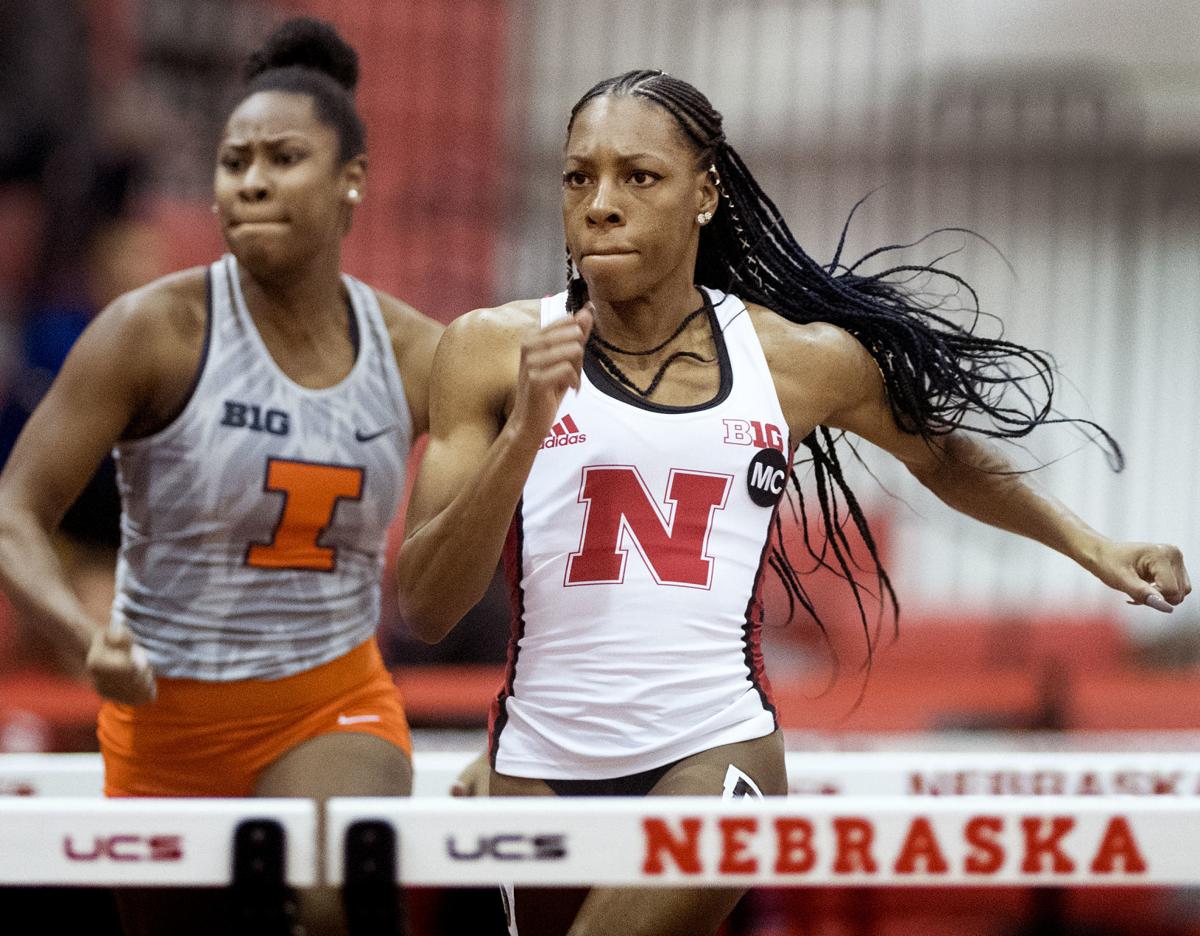 Jasmine Barge waited a long time to reach the top spot on the Big Ten podium.
The Nebraska senior hurdler won her first conference title, crossing the finish line first in the women's 100-meter hurdles at the Big Ten Outdoor Track and Field Championships in Iowa City, Iowa, on May 12.
There was joy, and there was relief. Barge also had her biggest fans there to help her celebrate.
"It actually meant a lot to me, not only because that was my first time winning, but it was Mother's Day and my mom got to come, and my grandma," Barge said. "That was the highlight of the day, doing it for them."
Barge is creating a lot of highlights this season, and she's hoping to create more this week at the NCAA West Regional in Sacramento, California.
For Barge, her first and only Big Ten championship was the latest triumph in her most complete season as a Husker. The Florissant, Missouri, native had been on the wrong side of close calls and injuries.
She missed reaching NCAA regionals by one spot as a freshman. Barge's junior season was going well until she pulled a hamstring two weeks before the Big Ten meet. The injury came after Barge ran the third-fastest time (13.14 seconds) in school history in the 100 hurdles.
"Last year I thought I was pretty close, at least being in the top and then I got hurt," said Barge, who still managed a pair of top-eight finishes at the 2018 Big Ten outdoor meet. "I pretty much just went there (to Big Tens) to try to do something for the team."
Barge's junior season didn't end the way she had hoped, but she learned to listen to her body more when pains and aches started to arise. She also worked on finding that extra gear. That meant more sprint training, working with the short-distance sprinters and less time on the longer workouts (400- and 600-meter repeats).
You have free articles remaining.
Barge finished second in the 60 hurdles at the Big Ten indoor meet in February. She had her mind set on victory, so the runner-up medal motivated her even more entering the outdoor season.
Though Barge is a Big Ten champion in the 100 hurdles, she'll be the first to tell you that her best — and favorite — event is the 400 hurdles.
"I don't have to sprint," Barge said, laughing. "People would say that I'm a better 100 hurdler than I am a 400 hurdler, but I just really don't like sprinting.
"The 400 hurdles, it's a lot more relaxed, it's not so stressful trying to focus on technique and hitting a hurdle and messing up a whole race."
Barge finished second in the 400s at the Big Ten meet. She ranks sixth in the region in the 400s and 14th in the 100s. Her season-best times are :57.80 (400s) and :13.13 (100s).
Those marks and Big Ten finishes have Barge thinking she can do big things this weekend.
"First year at regionals, I didn't think I had a shot," she said of reaching nationals. "I've always just stuck with the 400 hurdles, but now, 'Oh, I got a shot in both,' and I'm taking it.
"I don't know if I'm more nervous than excited, or more excited than nervous. Probably because nationals is on the line."
Nebraska secured 48 bids for the regional meet, which begins Thursday.
Eight Huskers are seeded 10th or better in their respective events: George Kusche (men's 1,500, sixth), Mayson Conner (men's high jump, sixth), Elijah Lucy (men's long jump, eighth), Jonathan Miller (men's triple jump, ninth), Chase Wolinski (women's javelin, fifth), Barge (400 hurdles, eighth), Brittni Wolczyk (women's javelin, eighth) and Candice Dominguez (women's high jump, ninth).
The top 12 finishers in each event advance to nationals.