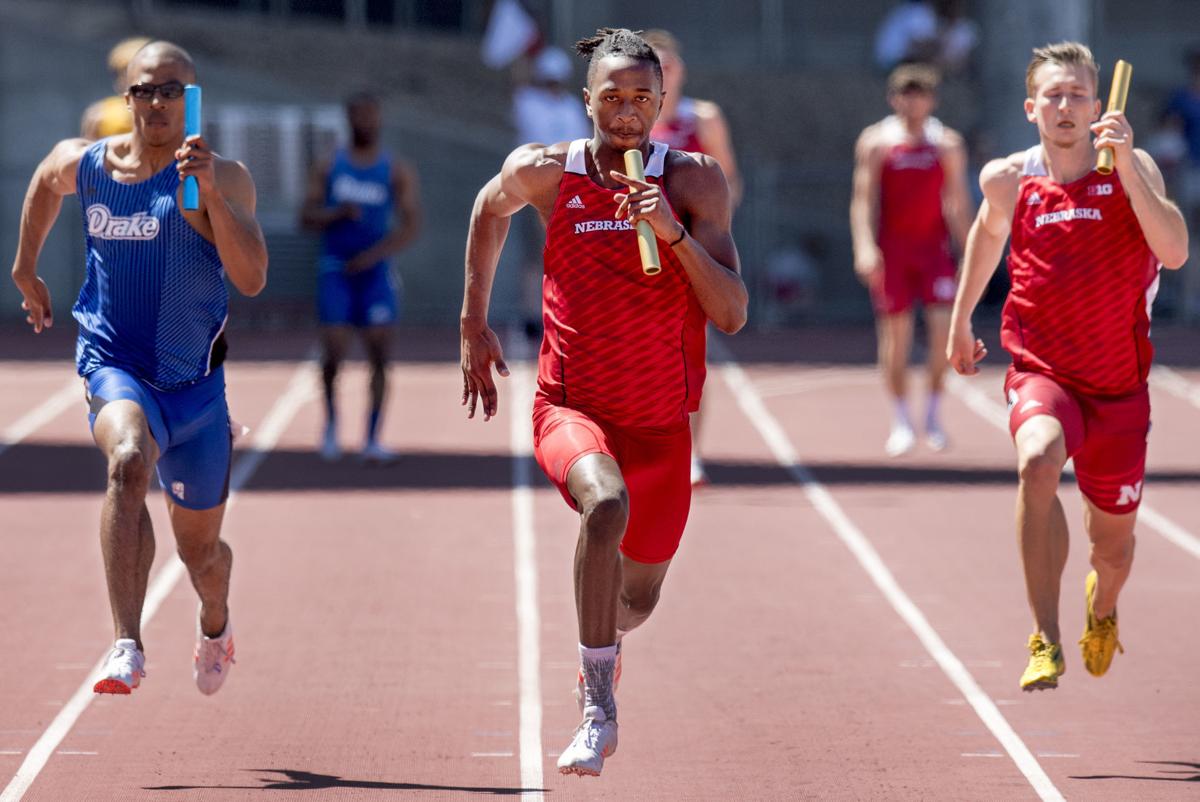 Freshman season on the oval was an eye-opening experience for Antoine Lloyd.
A high school hurdle champion in Michigan, suddenly Lloyd was the chaser and not the chased.
"You go from being the No. 1 guy, the first person up for your high school team, then you get here and you got people like Cody Rush setting a school record, Jake Bender and Drew Wiseman and all these crazy 400 runners," Lloyd said Wednesday. "And then you have (Oladapo Akinmoladun) in the hurdles and everybody else in the hurdles and I'm just like, 'How am I supposed to beat these guys? How am I supposed to get better?'
Lloyd did get better. In fact, he's the one being chased by most hurdlers.
The Nebraska senior was the 60-meter hurdles champion at the Big Ten indoor meet, and named Big Ten indoor athlete of the year. He followed that with a school-record time of 7.60 seconds and a second-place finish at indoor nationals.
Matching Lloyd's speed is his level of confidence heading into this week's Big Ten outdoor championships in Bloomington, Indiana.
"I'm guaranteeing that I'm going to win the hurdles," he said. "I can't go out there thinking I'm going to try to win. I have to guarantee that I'm going to win the hurdles."
Some of that confidence likely stems from good health. Outside an illness that sidelined him for a week early on, Lloyd has been healthy throughout the outdoor season.
His 2017 indoor season was riddled with injuries. "And then coming out for (2017) outdoor season, not being able to run 100 percent for the entire time felt kind of annoying," said Lloyd, who still managed to set a personal record in the 110 hurdles (:13.52) as a junior.
You have free articles remaining.
"This year being able to come out and actually run feels like a weight off my shoulders; actually feeling like I can get faster, get faster and get faster."
Several coaches have helped Lloyd get there.
He's quick to thank his high school coaches, including Stephanie Stevenson, who "forced" a tall, skinny kid who didn't like hurdling to enter hurdle events at East Kentwood High School as a freshman.
For three years at Nebraska it was assistant coach Billy Maxwell pushing Lloyd. He told Lloyd to watch film, and what times to shoot for. Run a 400. Run an 800.
"Billy basically made it so I had to do it all myself," said Lloyd, who was named NU's male athlete of the year. "Billy's just the guidance for me and he told me that nobody else is going to give it to me, so I might as well go out and get it myself."
Now Lloyd is learning from Dusty Jonas, who assists with sprinters and hurdles after Maxwell's retirement. Jonas is more technique-heavy, Lloyd says, and it's gone a long way in cleaning up his starts.
"If anything, you can say Billy gave me that foundation and Dusty polished it off," Lloyd said.
Lloyd is determined to finish strong. His season-best time in the hurdles is :13.65, which ranks third in the Big Ten behind Illinois' David Kendziera (:13.46) and Purdue's Justin Veteto (:13.67). Because he's at full health, Lloyd can compete in a full slate of events, giving the Huskers a chance to score more points. He'll run the 100 and be part of the 4x100 and 4x400 relay teams this weekend.
"For Big Tens, I've been thinking that since this is my last year for this team, I've made so many friends, so many people that are like my family now … at this point I'm just here running so I could have one last good moment with my team, and together as a unit trying to score and win a meet," Lloyd said.
The Big Ten Championships start Friday and run through Sunday.