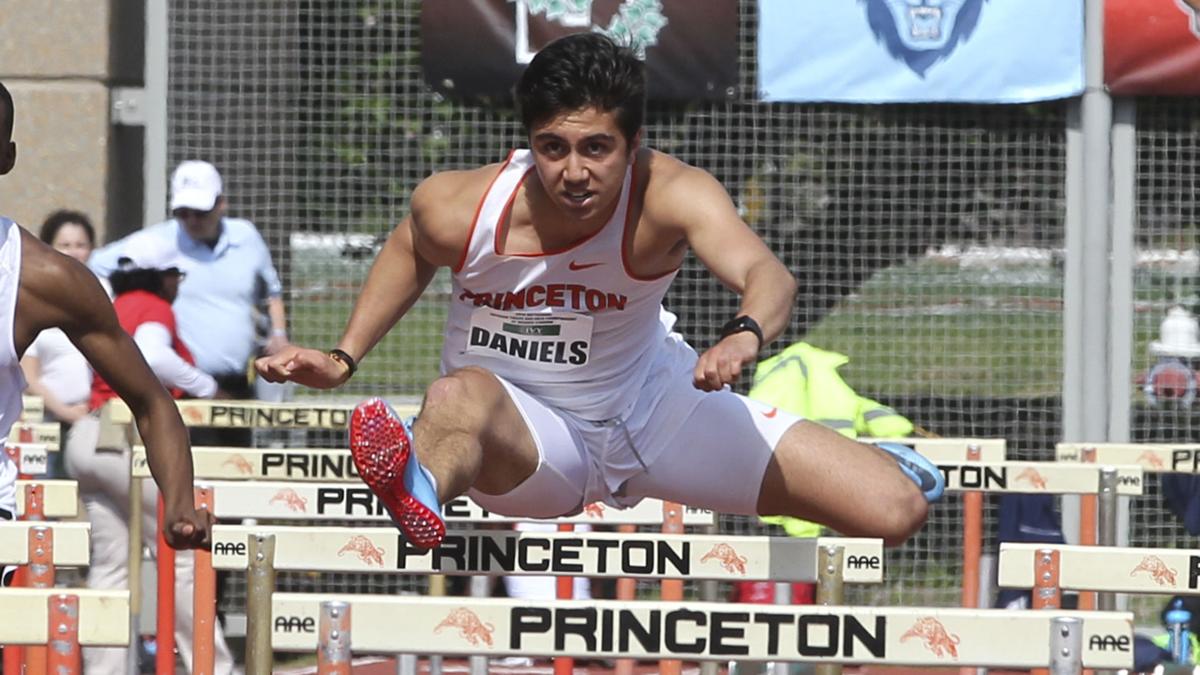 Before Joey Daniels arrived in Lincoln as a graduate transfer, before he competed at Princeton and before he raced to a silver medal at a world youth championship event, he was a hockey player.
He grew up in Canada, after all.
One of his best attributes on the ice? His speed.
"People would always ask my parents what my 100 time was," Daniels said.
Mom and dad didn't know. Their son never competed in track. But it piqued Daniels' interest enough that he started doing speed training on the side.
"And then it just turned out that I loved it and my passion grew for (track) and my passion faded for hockey," he said.
Turns out Daniels is pretty good at the hurdles, too, which landed him a scholarship to Princeton, where he was a six-time Ivy League champion. Wanting to continue his pro aspirations, he arrived at Nebraska on Jan. 9 as a graduate transfer, and will take aim at conference gold in the 110-meter hurdles at this weekend's Big Ten outdoor championships in Champaign, Illinois.
Daniels is trying to make the most of a very brief stint with the Huskers.
"Not too terribly often do they (grad transfers) really come out of the gates and make a mark like he has," NU hurdles coach Dusty Jonas said. "He's done a phenomenal job. Seems like he just fit in about as smoothly as anybody ever could fit in."
COVID-19 prevented Daniels, a native of Kitchener, Ontario, from competing during the outdoor season last year while at Princeton. Ivy League schools only allow athletes to compete in sports as undergraduates and Daniels was scheduled to graduate with a degree in economics and finance. He was given the option to defer his last semester and return, but ultimately Daniels decided to graduate on schedule and transfer.
"I'd known from my past years that Nebraska has a had a history of top-caliber hurdlers, so it was one of the first places that I was looking at," said Daniels, who also turned to former Husker jumper Angela Mercurio, who is from the same city and track club as him. "It turned out to be a great fit."
After all his success at Princeton — second-team All-America honors, three Ivy League indoor titles in the 60 hurdles and two in the outdoor 110s — what kept Daniels from leaving track?
"Since the moment I came into NCAA … I've had this deep confidence in myself that I could make a career out of this, and go to the Olympics, and not just once. Just keep competing as a pro athlete," Daniels said. "It was never really an option for me in my head to just get my education and get going on."
That's a big reason why Daniels chose to continue his college career at Nebraska. The resources at NU are great, he says, and it's allowing him to expand his training tools. He's also benefited from practicing next to teammate Luke Siedhoff, who ranks fifth in the Big Ten in the 110s.
In order to qualify for Team Canada's Olympic track team, Daniels must hit the world qualifying mark of 13.32 seconds. He's getting closer. Daniels recorded a career-best time of :13.57 in the Huskers' last regular-season meet at Indiana on May 1. Daniels ranks third in the Big Ten.
"It's always good to be at your best going into a big meet like the Big Ten championships, so I'm happy we were able to progress and bring some momentum into this next weekend," said Daniels, who ranks No. 1 in Canada in the 110s.
Daniels' Olympic dream came to light when he arrived in Colombia for the 2015 world youth track and field championships. He entered the meet ranked 30th in the hurdles, then won a silver medal.
"It was on that day that I realized … I could take this all the way to the Olympics if I continue to train hard, if I did the right things, made the right decisions," he said.
Jonas said there is room for Daniels to go faster, and the two have been talking a lot about rhythm in prepping for the Big Tens and NCAAs.
"Joey is very in tuned with his body, maybe more so than anybody that I've ever worked with, and I feel like he's ready to run fast," Jonas said. "How fast? I couldn't tell you, but it wouldn't surprise me if he popped off a :13.3."
Big Tens — which run Friday through Sunday — and the NCAA regional meet will give Daniels some more opportunities to hit :13.32. If not, he'll seek out some world-ranking meets to compete in ahead of the Tokyo Games.
But Daniels' focus this weekend is not :13.32.
"Conference championships is different," he said. "This is an individual sport, but this weekend it's a team sport, so the goal this weekend is just to play my role in our championship fight and get as many points on the board as I can."