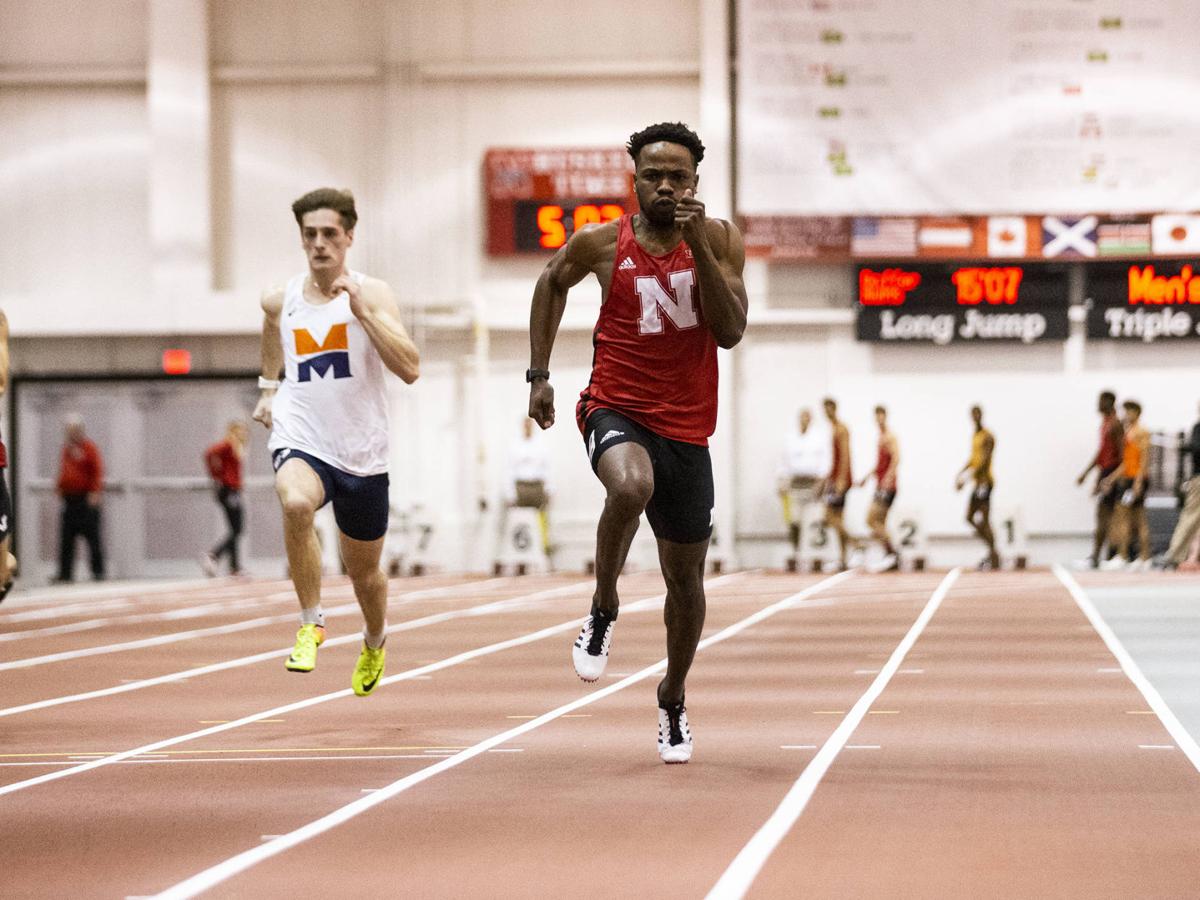 A few years ago this isn't where Isaiah Hutchinson would have imagined himself, running track at Nebraska on a scholarship and looking like a promising talent in the sprint events.
"I ran high school track one year, my junior year," Hutchinson said. "I did like (22 feet, 11 inches) in the long jump. The 100 (meter dash) wasn't anything special. I've always been a football guy, but this is how it's worked out right now."
Hutchinson is just beginning his NCAA Division I track career, but it's started really well. He joined the rest of the Huskers in opening the season this weekend at the Graduate Classic at the Devaney Sports Center.
In Friday's 60-meter dash qualifying he ran a time of 6.80 seconds, which was the fastest qualifying time and the fastest 60-meter time by a Husker since 2016. Then he improved on Saturday in the 60-meter finals, running :06.77. That time ranks third in the Big Ten Conference this season.
Hutchinson finished second in the race to professional runner Seth Boomsma.
As something of a newcomer in the sport, Hutchinson would seem to have plenty of room for improvement while at Nebraska. He'll have two years to compete for the Huskers.
His interesting path to being a Division I sprinter began as a Division II football player at Central Missouri. The running back and wide receiver redshirted his first year, but then transferred to a junior college in California in hopes of reaching his goal of playing Division I football.
He played in only a few football games at College of the Sequoias, but found more success on the track at the school.
"I just ended up running track," Hutchinson said. "I ran :20.80 (in the 200) and :10.28 (in the 100) and got on the national radar for track. They got me right in track, and now everybody thinks I'm a track star."
You have free articles remaining.
Hutchinson ended up having several Division I schools recruit him for track. He chose Nebraska over South Carolina, in part to be close to his home in Kansas City, Missouri.
"I'm a mama's boy, so I'm like, 'All right, mom,'" Hutchinson said. "And everything UNL has to offer is great."
This was actually the first time Hutchinson had competed in an indoor track meet.
"It's fun," Hutchinson said. "The track is fast, too. I can't wait to open up in the 200 (meters) next weekend."
Hutchinson also anchored Nebraska's 4x400 relay team that finished first on Saturday.
His favorite event is the 200.
"I'm a long stride, and it just gives me more time to get back in the race," said Hutchinson of the 200. "And in the 100 you can't make any mistakes. If you make a mistake in the 100 you're done. In the 200 I get some recovery time, and I'm a strong finisher, so in the 200 I can finish strong in the last 100."
Also on Saturday, Nebraska freshman Mayson Conner, a York graduate, opened his college career in a big way with a winning high jump of 7 feet, 3 inches. That tied for fourth nationally this season.
Redshirt freshman and Central City native Vincent Ohlman won the 60-meter hurdles with a personal-best time of :08.12, as the Husker men went 1-2-3-4 in the event.
In the women's pole vault, Andy Jacobs, a sophomore competing for the first time after missing all of last season with an injury, won the competition with a mark of 13-3 1/2.
The Huskers finished the two-day event with 14 titles.