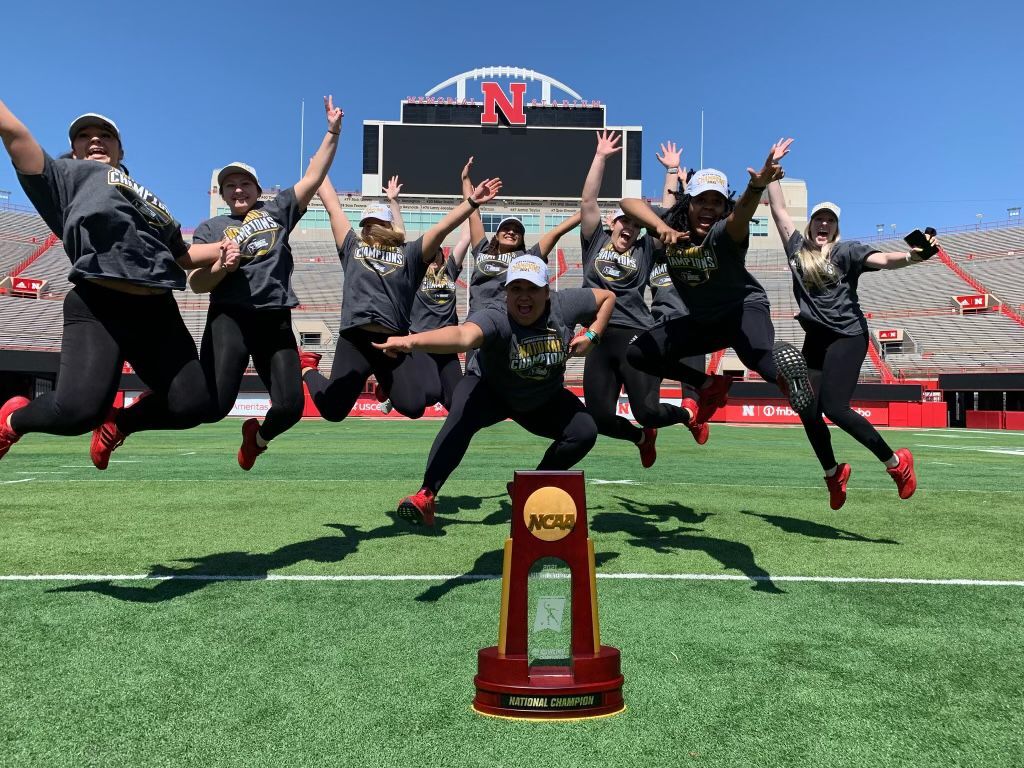 Nebraska's first morning of the NCAA bowling championships was dampened by an upset loss and then rain.
But former Husker bowler Shannon Pluhowsky, now an assistant coach at Nebraska, found the sunny side of it all.
"I just kept telling them it makes for a great story," she said. "It's always fun to win when there's a story behind everything, and that helped our story."
Nebraska had a storybook finish. On Saturday it defeated Arkansas State to capture the program's sixth NCAA championship and eighth overall since bowling was elevated to a varsity sport at NU in 1998.
The Huskers' tale in Kansas City, however, didn't start how it finished.
Seeded No. 2 in its region, Nebraska was stunned by 15th-seeded Medaille College in the opening round of the double-elimination tournament. But that was only the beginning of a "comedy of errors," coach Paul Klempa noted.
There was a miscommunication with the team bus driver, so the Huskers had no ride to pick up lunch. Instead, they walked in rain to find food, and then they had to sit on the wet concrete and eat fast before heading back to the lanes.
"I told the team, 'I don't know why things are the way they are at the moment, but we don't deserve it to be this bad,'" Klempa recalls. "It's got to be a joke, the universe's joke on us.
"It wasn't just losing to the 15th seed. Everything was going wrong."
The rest of the story ...
Nebraska dried off and rolled six straight victories, beginning with a hard-fought battle against Mount St. Mary's later in the afternoon, to claim the top prize.
The universe flipped, Klempa said.
"Coming back after the first loss and winning the next four, it was like nothing ever happened," NU junior captain Cassidy Ray said. "We went back to doing what we normally do and it felt really nice to be able to finally pick up the trophy and be like, 'This is ours.'"
There was no panic for the Huskers after the opening loss. Only motivation.
"Something that stood out to me was the coaches pulled us aside and said, 'Your season is on the line,' and that was really big," Cassidy added. "I kept telling myself I didn't want to go home, and we didn't."
This year's national championship run was a special one, the Huskers say. COVID-19 shortened the season from about nine or 10 regular-season tournaments to five, and Nebraska didn't win any of them.
NU went fourth, third, third, second and second at those events. The wins weren't coming, but Klempa, in his second year running the program, sensed the Huskers were about to peak.
"We had been dominant in our last two tournaments," he said. "We knew we had to pop at this one because we just kept getting better every tournament, and so we went into the national championship real confident in our group."
This one was special for Klempa, too. Bill Straub built the Husker bowling program with Klempa by his side.
When Straub retired after the 2018-19 season, the keys were handed to Klempa, who was tasked with keeping one of the nation's top programs rolling.
He's now 1-for-1 in national championship tournaments.
"This is my first full season," Klempa said, referring to last year's shortened season. "To be able to win it in the first (full) year is a real blessing and probably a monkey off the back, too. There's probably going to be people wondering, is the program going to stay as good as it was without Bill because that guy was good.
"I feel that kind of validates that we're on the right track."