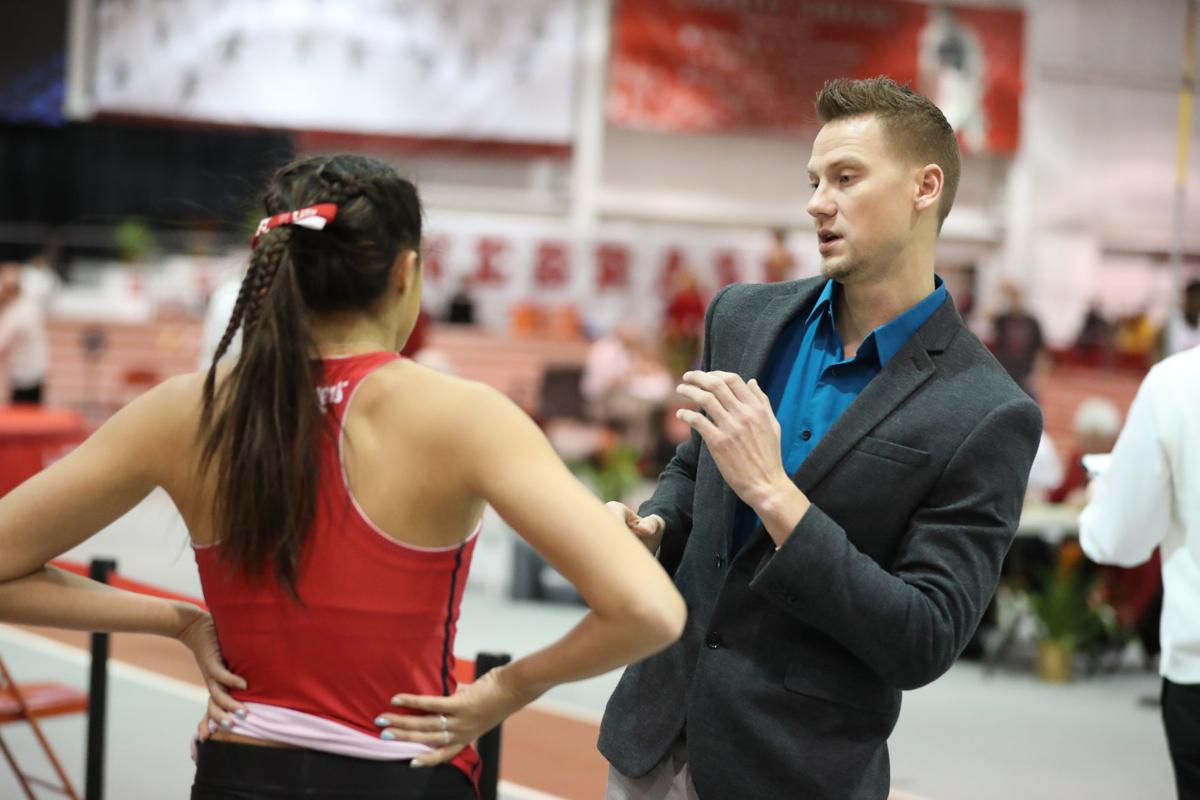 Being a college track coach must be a pretty good job, right?
You get to work with some elite athletes, and you aren't busy teaching classes all day before practice, like the hundreds of high school and middle school track coaches across Nebraska.
Being a college coach also comes with some pressure, like when you're at the conference track meet and it's the last event of the meet and your team still has a chance to win the championship. And it's one of the events you coach that will decide if you win. That's the situation Nebraska assistant track coach Dusty Jonas was in last month at the Big Ten Indoor Championships.
"I can tell you this, I almost threw up before the (men's 4x400 relay)," Jonas said this week. "I knew we had a good team, and we were probably even better than that 3:09 we ran. But the leadoff leg gets bumped and he stays back. We didn't get a DQ, but that slowed him down a little bit. But here I'm thinking, 'These are my horses.'"
Soon Jonas was able to relax and celebrate. Nebraska's relay team beat the one team it had to, finished in fifth place, and that allowed the Husker men to win the Big Ten championship by two points.
And the events Jonas coaches had a big part in the Huskers' win. He also coaches the high jump, and Nebraska finished 1-2-6 in that event. Mayson Conner, Miles Griffith and Michael Hoffer each had a season-best that day.
"To pull 21 points out of an event, that's hard to do," Jonas said.
Now Nebraska shifts to the outdoor track season, which begins for the Huskers on Friday at a meet in Wichita, Kansas.
This is the second year Jonas has been a full-time assistant coach for the Huskers, after being promoted from a volunteer coach when Billy Maxwell retired.
Jonas has been a part of Nebraska track for about 15 years. Jonas was one of the best athletes the program has had while competing in the high jump for the Huskers. He was the NCAA indoor champion in 2008 and is the high jump school record holder for indoors and outdoors. He had the No. 2 jump all-time by a collegian (7 feet, 8¾ inches).
As a pro Jonas made the 2008 Olympic team, and earned bronze at the 2010 World Indoor Championship.
Jonas was a volunteer coach for eight years. Since rejoining the Husker program as a volunteer coach, Jonas has coached 11 Big Ten high jump champions.
Jonas did not plan to be a coach, and studied landscape design in college. But he was always interested in knowing more about track and field. And when Jonas was doing pro track from 2008 to 2017, he was usually his own coach.
"(Nebraska head coach Gary Pepin) always said if you want to be really good at something, you have to understand what you're doing, and be a student of your sport. So I became that," Jonas said.
As a pro, Jonas still trained in Lincoln, and Pepin asked Jonas if he wanted to help coach. Jonas said he would help if he didn't have to coach the high jump. So he coached the long jump for one year before going back to coach the high jump.
It was because of the money Jonas had made in pro track that he was able to be a volunteer coach for so long, even after he had retired in 2017. Jonas said at some meets you can earn $10,000 by winning the high jump.
"I was jumping for Nike, they were my sponsor up until 2012," Jonas said. "So prize money, bonuses, things like that. I was relatively smart with my money and didn't go blow it all in one place."
Now Jonas is the primary coach for 25 athletes, coaching the men's sprints, hurdles and relays and the men's and women's high jump. There are some days he's at the track coaching from noon to 6 p.m.
Be the first to know
Get local news delivered to your inbox!