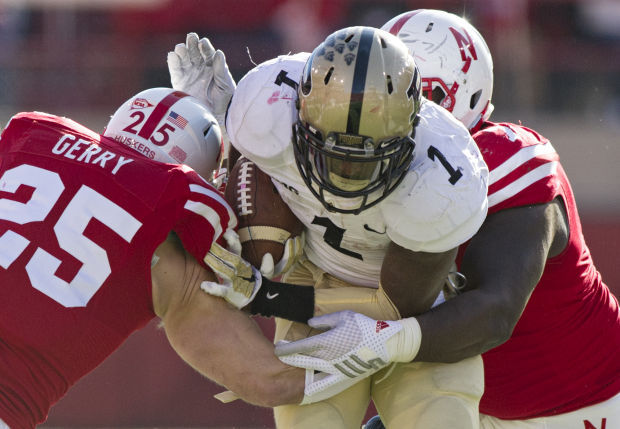 The school that had offered Maliek Collins a scholarship a few weeks before was playing for a chance to go to the Rose Bowl.
So he turned on his TV and watched.
"To be honest, it was an embarrassment," said Collins, who has a way of saying a lot in just a few words.
Collins was a senior at Kansas City (Missouri) Center High School in December 2012, when Nebraska allowed Wisconsin to speed down Interstate 70. He was not on the Husker roster. He was not even committed to NU.
He also was not dispirited by a game that caused curse words to fly across the state of Nebraska.
"I didn't really know what was going on in the game, or why that happened," Collins said. "I just knew this is where I was coming and I was going to try to make the best of it."
A month later, he committed to NU while in the midst of a 48-0 season as a heavyweight wrestler.
Baby-faced wrestlers found out what college offensive linemen would soon learn — Collins is a 6-foot-2, 300-pound man who moves faster than a man that size should move.
"He is just so quick," explains Husker safety Nate Gerry. "When you look at Maliek, you don't see a quick person, but then you tell me that 17 guys forfeited against him in high school wrestling and I wouldn't want to wrestle him either. Maliek is a great player. He brings it every day. He is not the type of dude that is lackadaisical throughout the week. You see why Maliek makes plays if you watch him throughout the week."
That's one true sophomore playing at an all-conference level complimenting another true sophomore playing at an all-conference level.
Just like Collins, Gerry was a senior in high school when the Huskers last played the Badgers. Gerry can't say for sure if he even watched the 2012 Big Ten Conference Championship Game. He had just finished a football season in which he played safety, running back, receiver, punter and kicker for Sioux Falls (South Dakota) Washington.
After football, Gerry ran track and set a state record of 21.52 seconds in the 200-meter dash.
Put them on FieldTurf, grass, a mat, a track: Collins and Gerry expect to win.
That was clear this week, when a reporter prodded Collins about Saturday's game against Wisconsin's offensive line, with its reputation as a human bulldozing company. It's the ultimate test of manhood in the trenches, right?
"We won't back down from nobody," Collins answered.
OK, you want a little more? He'll give you a little more.
"I think definitely, yeah, it's a statement game," he said. "We haven't gone against backs like this yet. Their offensive line is good, too. They're a well-coached group. ... A lot of those guys have experience. It's just another chance for us to go out there and prove ourselves."
It's another chance for two Blackshirts who showed up on campus a year and a half ago to prove that their immense promise can translate to a mid-November game with everything on the line.
Already they've done things few peers have.
Not many safeties have seen the field as sophomores in Bo Pelini's defense, but Gerry has started every game this season and leads the team in interceptions (four) and is second in tackles (50).
Not many defensive tackles play as a true freshman (even Ndamukong Suh redshirted) and are starting by the bowl game, but Collins did and was drawing comparisons from his head coach to former All-America great Glenn Dorsey before his sophomore season even began.
Gerry: "I don't really like to talk about myself that much. I just try to do what I have to do. I try to do my job to help the defense. The type of defense we play is where you do your job and count on who's on your left and right to do their job."
Collins: "I just keep trying to improve my game and keep getting better every day."
Pelini said he knew Collins could be special the first time he saw him, even though the defensive lineman wasn't recruited near as heavily as he should have been. The coach as much liked what he saw from Collins on the mat as on the field.
"I think you have to have a certain mentality to be a wrestler. … You've got to be a little screwed up to be a wrestler," said Pelini, telling a half joke/half truth. "You've got to have some explosion, good feet. … Obviously, the competitive nature he brings to the table. He's just the total package."
And Gerry? Senior cornerback Josh Mitchell calls him "one of the most athletic guys I've ever been around."
A play against Purdue comes to mind. The Boilermakers were driving and ready to take a shot to score. It would, in hindsight, look like a dumb decision, with Gerry running step-for-step with a receiver, turning at the perfect time, picking off the pass in the end zone like it was the easiest thing to do.
It was a tough play. He just didn't make it look that way.
When veterans watch the film, they notice Collins does the same — making hard stuff look easy.
"I wouldn't be surprised if you hear their names in consideration as possible guys that can come out as juniors," Mitchell said. "But I expect both of them to come back as seniors and be guys that are drafted in the top rounds, because they're supreme talents and they work really hard."
Plenty of time before that. There's always room for sophomores to grow.
Saturday provides another opportunity. But revenge? Not for them. They weren't in Indianapolis, but here they are now. Impossible to miss.