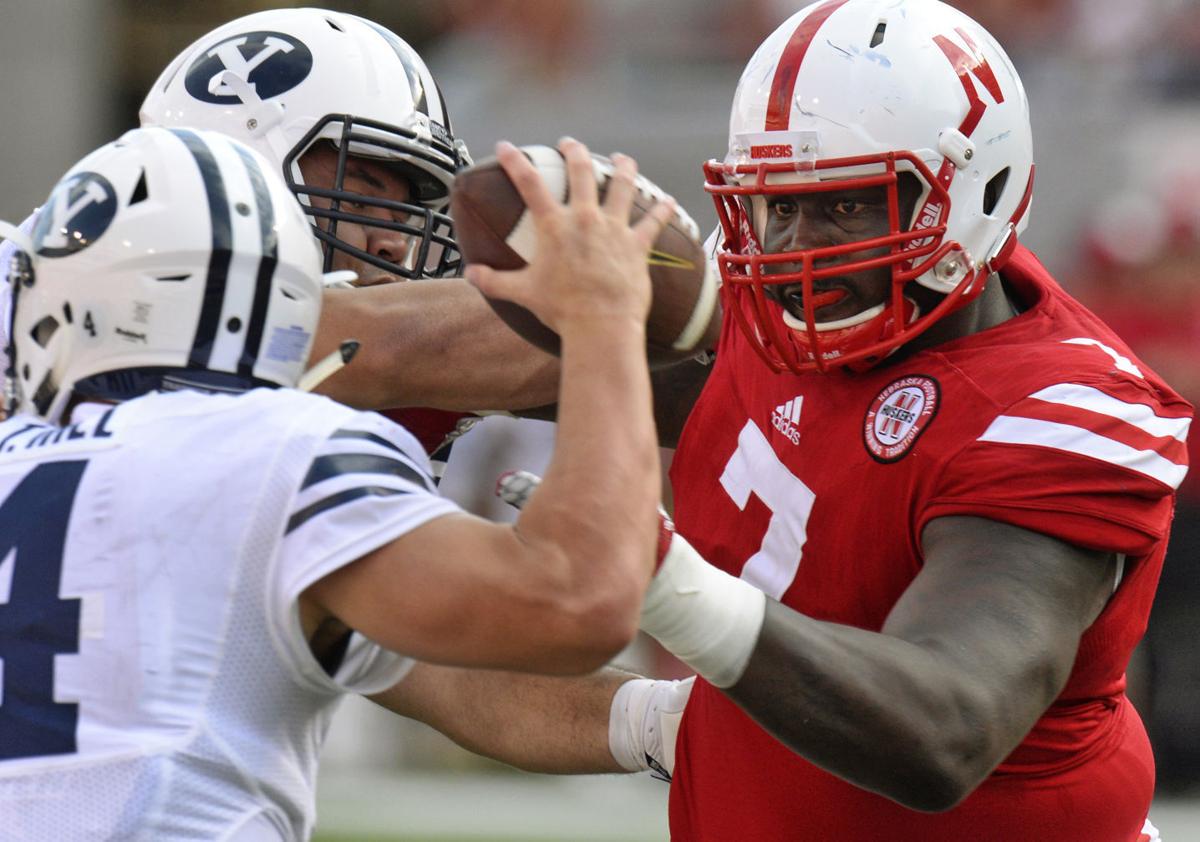 Even when he didn't make the tackle, Maliek Collins was causing a beautiful mess. Like that time he drove that poor lineman from Illinois 5 yards back off the snap, blowing up a play at its beginning. He'd get no credit for that play on the stat sheet. But No. 7 owned it.
"A monster game," is how Mike Riley described the Collins performance.
The statistics concurred. Nine tackles. Three for loss. Also 1 1/2 sacks. Yes, that was the Mr. Collins everyone heard so much about in the offseason practice reports.
But then, the Collins of the first four weeks wasn't half-bad either. For example, the junior defensive tackle was credited with no tackles against Southern Miss. Yet he caused two holding flags. Taking on two guys ...
"I'll say this, sometimes when you're just doing your job and you're taking on double teams and stuff, you're not going to just show up," said Husker D-line coach Hank Hughes. "Especially if (the passes) are coming out quick. Saturday they ran the ball inside, so those guys had more chances to make plays inside. And they did make more plays."
They, in this case, are Collins and Kevin Maurice, who piled up eight tackles himself in his first start. Nice combo.
And then, as if Nebraska needed another injury, Riley announced Monday that Maurice is out four weeks with a foot injury. He joins fellow tackle Kevin Williams (hand) on the sideline for Saturday's game against Wisconsin.
So where is that Husker D-line now?
Jack Gangwish is back. Vincent Valentine might be. Freedom Akinmoladun sat out Tuesday's practice, but it's not known until Riley talks Thursday if that's anything of worry.
And Greg McMullen? He hasn't been wearing his Blackshirt early this week, but seems a key piece on Saturday. He could play at his usual end spot. He could also give NU some snaps at tackle. That latter idea, Riley confirmed, "is real."
So is Saturday's test against a bunch of big Badgers.
While NU's tackles were strong last game, Hughes wasn't ready to call it the best work of the D-line overall.
"I want more out of everybody," he said. "You're always pushing the envelope. Everybody's got to get better every single week. ... One guy can't shine one week and not the next. We've got to go out and compete every day. The schedule doesn't get any easier. ... Everybody's got to play and hold their end of the bargain."
When it comes to Collins, the tackle said he went back last week and watched some of his pass-rush work from last year. What'd he see looking at that film?
"Just my sense of urgency," Collins said. It also didn't hurt that he finally got a few one-on-one opportunities against the Illini.
The recent injuries can't derail the mission. As Collins points out, "Greg, he's been taking inside reps from the beginning of time. He's been practicing inside in case depth ran low. No worries. We should be good in there."
Redshirt freshman Mick Stoltenberg is another option inside. And the junior Valentine has been giving it a go in practice to see if he might be able to return after missing the last three games with a high-ankle sprain. 
Collins smiled at the thought of Valentine lining up next to him again. "That's my dog, man. I've been with him since Day 1."
Hughes said he wants to continue to try to roll different guys in as much as possible to keep them fresh. As for any idea of bringing in true freshman Carlos Davis into this season, and burning his redshirt, it's clear every coach wants that to be a last resort.
"We got some other guys we're going to try to get in there before Carlos, but if we had to, we'd do it," Hughes said. "But right now, I don't see him being the next guy in the game."
While Davis waits for his time to shine, the Huskers could sure use a dominant Collins for the rest of this Big Ten journey.
Just so it's understood that successful work at his position isn't always as easy to track as the nearest stat sheet.
"When he does his job, the guy's a good player for us, a very good player for us," Hughes said. "That's how we grade them out, whether they did their job, whether they won the play. ... He's been a good player for us all season long.
"You can't just go by numbers. Last year he got his first sack in the eighth game. This year, everybody has him built up to be somebody he never was, as I see it. You can't say the guy has to have this much or he's not doing it. He's ahead of where he was last year."