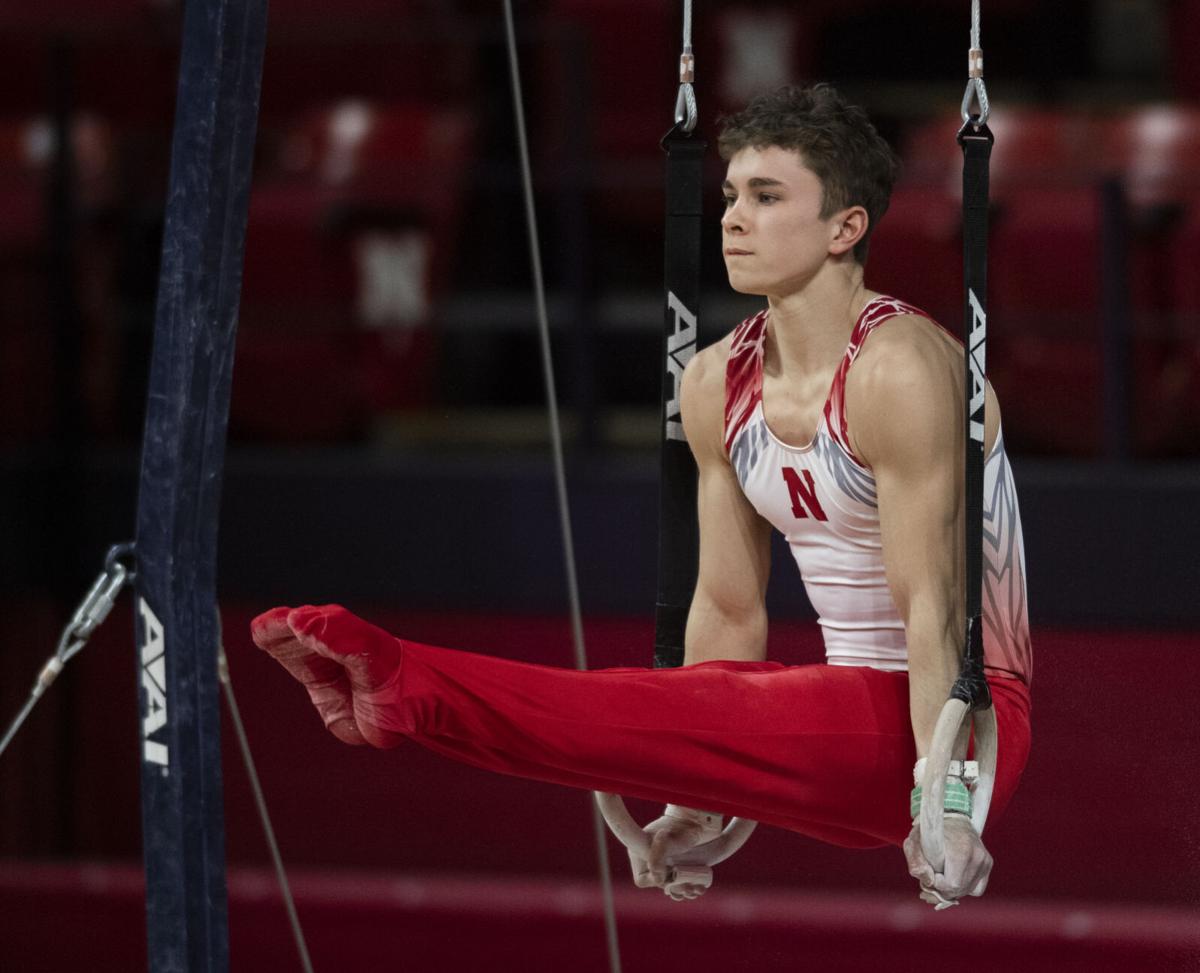 After wrapping up two days of competition at the NCAA Championships, the Nebraska men's gymnastics team left Minneapolis at about 11:30 p.m. Saturday.
The Huskers were ready to wind down and catch some sleep as the bus began its trek to Lincoln in the middle of the night.
But even before Minneapolis and the NCAA meet came into focus in the rearview mirror, the Huskers began looking forward.
"They're already talking about summer stuff, and what are we? We're less than an hour down the road," NU coach Chuck Chmelka said after the Huskers finished in fourth place and added five All-Americans to the trophy case.
It was another step forward for Chmelka's program, which has steadied the ship after a long lull. The Huskers broke through in 2017 and reached the NCAA team finals for the first time since 1999. They finished sixth in 2017, fifth in 2018 and third in 2019.
After having 16 All-Americans between 2000-15, the Huskers have produced 22 over the past six seasons.
And though Nebraska didn't improve on the third-place NCAA finish from two years ago, it continued to close the gap on national powers Stanford and Oklahoma — the big two who have combined for the past six national championships. The NU program had one of its biggest moments in nearly 20 seasons on Friday afternoon when it outscored the Sooners in the first session of team qualifying. It was NU's first victory over OU since 2000.
Oklahoma bounced back Saturday to finish second to Stanford, but the message was clear — Nebraska isn't going away.
"The points are getting smaller," Chmelka said. "We're getting closer. We just got to keep working hard and do the right things, but we are gaining ground on those two. We beat one once and now we got to beat the other one and we got to beat them at the end."
It's easy to see why Chmelka and the Huskers are eager to get back to training. They'll return most of the roster, including at least three gymnasts who earned All-America honors on Saturday. That includes junior Charlie Giles, who was an All-American on vault (fourth place) and pommel horse (seventh), and Taylor Christopulos, who was Big Ten freshman of the year. Seniors such as Jake Bonnay and Evan Hymanson are eligible to return.
The Huskers also have an incoming recruiting class that was ranked No. 3 by the College Gymnastics Association. The incoming crop includes Joey Pepe of Peoria, Arizona, who placed first on vault, high bar and in all-around at the 2019 Junior Olympic National Championships. NU also will add Minnesota transfer Donte McKinney, who will come to Lincoln with the Gophers eliminating their men's gymnastics program. McKinney placed fifth on high bar at NCAAs.
Chmelka said he thinks Nebraska can gain more ground with the incoming recruits.
And unlike last year, Nebraska will get a full offseason of training in its 1-year-old, state-of-the-art training facility, a building that now will have to make room for another NCAA trophy.
"It's so great to bring home a trophy, and not being able to do it last year when we felt like we could have, to back it (2019) up again, it was really important for our program and how we're moving," Chmelka said. "I think the experience the guys got just from the roller coaster ride … they're a gritty team. They fight and I love that, and you got to have that."
Briefly
Christopulos was named CGA rookie of the week after his performance at the NCAA Championships.
The Layton, Utah, native earned All-America honors on vault, placing fifth.