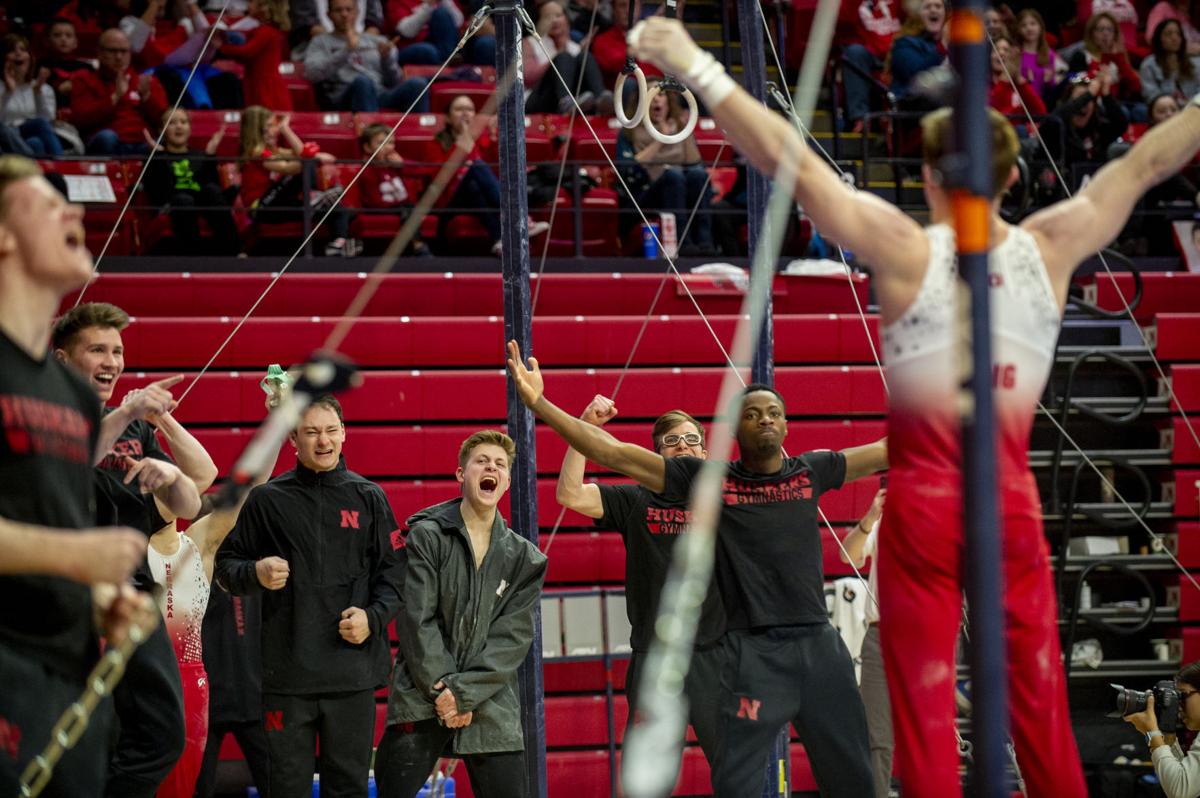 Heck, they were closed before the Nebraska men's gymnastics team even had a chance to practice in its new digs.
Senior Griffin Kehler was among the Huskers in Lincoln during the offseason, bummed about not having a chance to take advantage of the new facility. But these are college athletes, and any long periods of not practicing can hamper progress and a season. Even a couple of days away from the gym can create rust, Kehler notes.
So the Huskers trained wherever they could — a gym back home if it was not closed, or an apartment.
"It was definitely tough because it was right when we got our new facility, and then we get kicked out and we're back to working out in our living rooms," Kehler said.
The pandemic has made for some trying times in college sports, and men's gymnastics is not excluded.
But Sunday was to mark an exuberant day for the No. 4 Huskers, who set to host Michigan to open the 2021 season. However, the meet was canceled late Saturday after Michigan paused all athletic activities for two weeks.
"It definitely killed us to have to cut the (2020) season early and I know a lot of guys were upset about that," said Kehler, one of six seniors on the team. "Everyone is super-excited to be back in the gym, be back around each other, especially with this pandemic going on."
Michigan is ranked No. 3 and is the preseason Big Ten favorite. The Wolverines were to present an immediate challenge.
But the Huskers have grown accustomed to challenges since last March when a promising 2020 season came to a halt. The new Francis Allen facility sat quiet, forcing the NU gymnasts to find new training avenues, and in some cases sending them to their hometowns if a local gym was open.
"It was frustrating and the kids were all over the country, well, world," NU coach Chuck Chmelka said. "Some were doing gymnastics, some were not. We were everywhere, but we didn't know where anybody was, we didn't know what anybody was doing. It was a helpless feeling without absolutely zero control over your program."
The gymnasts unable to train in a gym were given parallettes or mushroom pommel trainers to take to their houses or apartments. But, still, it wasn't nearly the same as working on normal equipment.
"We are unique and there is no cross-training," Chmelka said. "We just can't go shoot baskets or hit a baseball or kick a ball. We've got to have equipment, an apparatus.
"And you find out that guys, they're just going to rinky-dink gyms anywhere and trying to train. Well, how healthy is that? You have no trainer, you have no coach, you have a subpar facility, so it was very, very challenging and difficult."
Said Kehler, "Basically all we could do is run and keep our endurance up, but as far as training skill work and getting stronger in the gym as far as gymnastics strength, it was kind of stripped away from us, so we had to make do with what we had."
Once the team was able to get inside the Allen facility in August, it was a huge relief, Chmelka said.
There were still disruptions, including a COVID-19 outbreak on the team that led to about a three-week pause. Chmelka also tested positive for the virus.
From a physical standpoint, Chmelka said, the team is about three weeks behind compared to a normal season, but "we're doing the right things, we're training hard, they're doing everything they can do in their power."
Nebraska finished in third place at the 2019 NCAA championships and, with most of the team back, had its sights set on a Big Ten crown in 2020. NU had 43 career-high scores and 13 individual titles before the stoppage.
Though the pandemic has changed training habits, it hasn't altered the Huskers' expectations. They believe they can outdo the 2019 finish.
"We're going bigger," Chmelka said of the team's expectations. "That's the mindset of us. We have the potential to do even better.
"Don't get me wrong, we're not in good shape yet, we're not strong yet, we're not where we need to be, but we're going to be there and that's fine with me."
Nebraska returns 17 gymnasts from last year's team, including All-Americans Kehler, Jake Bonnay, Charlie Giles and Khalil Jackson. The Huskers welcome three newcomers, including two freshmen — Taylor Christopulos and Yanni Chronopoulos — expected to make an immediate impact.
Ten months ago, the Huskers had a sour taste in their mouths after the cancellation of the season, Chmelka said. Last summer, they were without a home base to train. A few weeks ago they still didn't know if there'd be a season.
This season, a fresh start and a refreshing feeling.
"Our main goal is 100% winning a Big Ten championship," Kehler said. "I know last year we were confident, we thought we were going all the way and I know everyone was motivated. We're not going to lose that sight, that's what we've been training for and that's our goal. Hopefully this is the year."