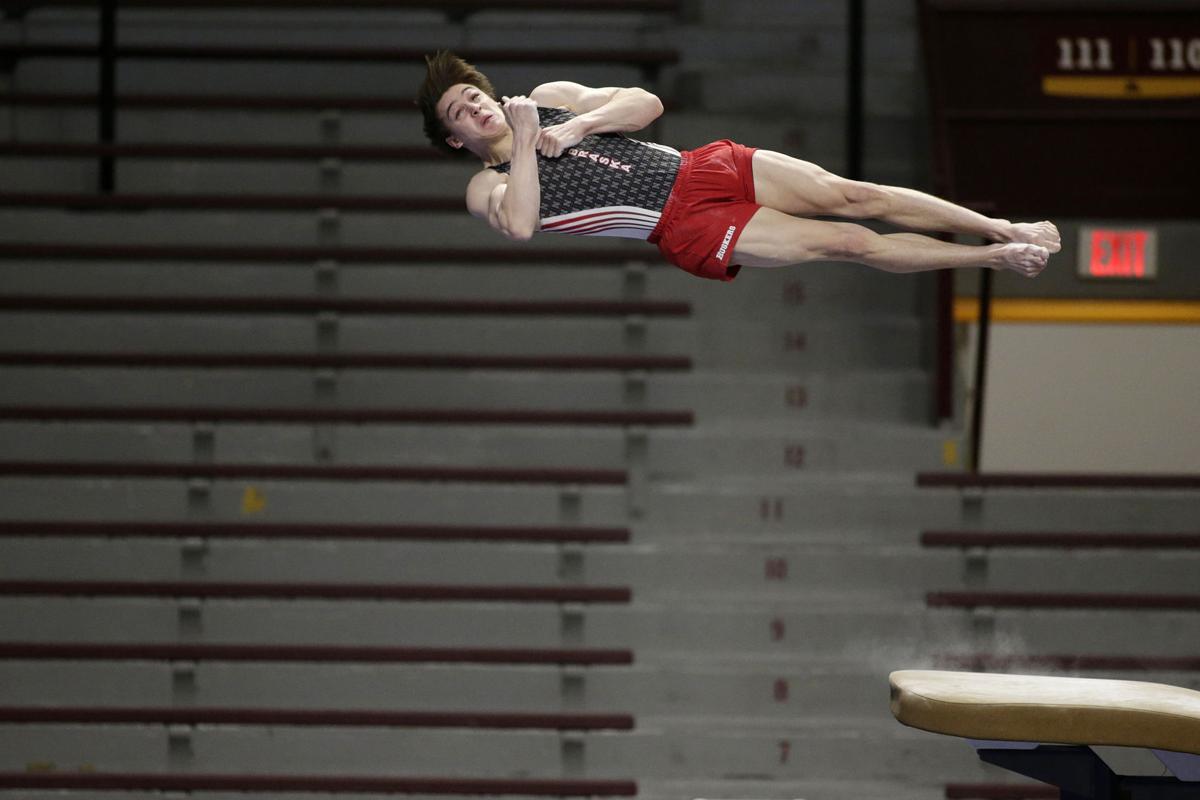 The Nebraska men's gymnastics team talked about having what it takes to challenge Oklahoma, Michigan and Stanford for a national championship this week.
The No. 4 Huskers backed it up Friday at the NCAA Championships.
Not only did Nebraska qualify for Saturday's team finals by finishing in the top three during first-session qualifying round, the Huskers outscored No. 1 Oklahoma 408.623-406.190 for the top spot in Minneapolis. It was the first time since 2000 that NU finished ahead of OU in a meet or dual, and it was the Sooners' first loss since finishing second to Stanford in the 2019 national finals.
"Words can't even describe how we feel right now," said Chuck Chmelka, who earned his first win against the Sooners as NU's 12-year head coach. "The guys were so tough today and they killed it. They fought, they did everything they needed to do."
The hope, sophomore Sam Phillips said, was for a snug second-place finish behind Oklahoma, "but I think as the meet went on, we got more momentum after each event and by vault, we were like, 'Hey, we can take it.' Then our vault squad went up and killed it."
Nebraska was nearly flawless in reaching the finals for the fourth straight time. Some of the Huskers' top season scores came Friday, an impressive feat when factoring in the tougher judging at the NCAA meet.
NU cranked out a season-best 66.932 on high bar during the second rotation. Momentum carried over into floor exercise, where the team scored a 70.599, its second-best floor mark of the season. A 66.798 on still rings also was a second-best mark of the season, and the Huskers finished off the meet with a 71.530 on vault, their strongest event.
It was the same rotation order the Huskers navigated through at the Big Ten Championships, and that helped, Phillips said.
"We knew how to start, we knew how we were going to finish, we knew when we needed to bring up the energy," said Phillips, who helped NU's cause with the session's third-best floor score (14.433) and third-best high bar score (13.733). "It was just comfortable for us and it was in our rhythm."
Nebraska's 408.623 was its second-best team score of the season behind a 411.100 it recorded against Ohio State. It also was 10 points better than the 398 Nebraska scored at Big Tens about two weeks ago. NU had some falls in that meet, including on floor exercise, so the team switched up some passes and made some other tweaks, Chmelka said.
Now the Huskers will look to repeat or better Friday's performance at 7 p.m. Saturday. The opening-round result only guaranteed the Huskers a spot in the finals and the most important day of the season is Saturday, not Friday. The Sooners could come back stronger, or Nebraska could stumble.
But edging the Sooners can be a program-altering moment.
"Getting that monkey off our back is absolutely enormous," Chmelka said. "Now the guys know that they can play with the big boys and beat them, and that's a mindset that you have to have if you're going to be an elite top team."
Said Phillips, "We're the underdog, right? So every meet we step into we have confidence, but our confidence comes from proving people wrong and trying to beat them from below. But after beating OU and coming into (Saturday), I think psychologically that gives us a huge edge. This gave us the confidence that we were really missing."
Nebraska, which finished third at the 2019 NCAA Championships, will be seeking its ninth national championship and first since 1994.
Illinois (400.711) also qualified for Saturday's team finals. Defending national champion Stanford (413.855), Big Ten champion Michigan (413.855) and Minnesota (404.623) advanced from the evening session.
The individual finals also will take place Saturday.