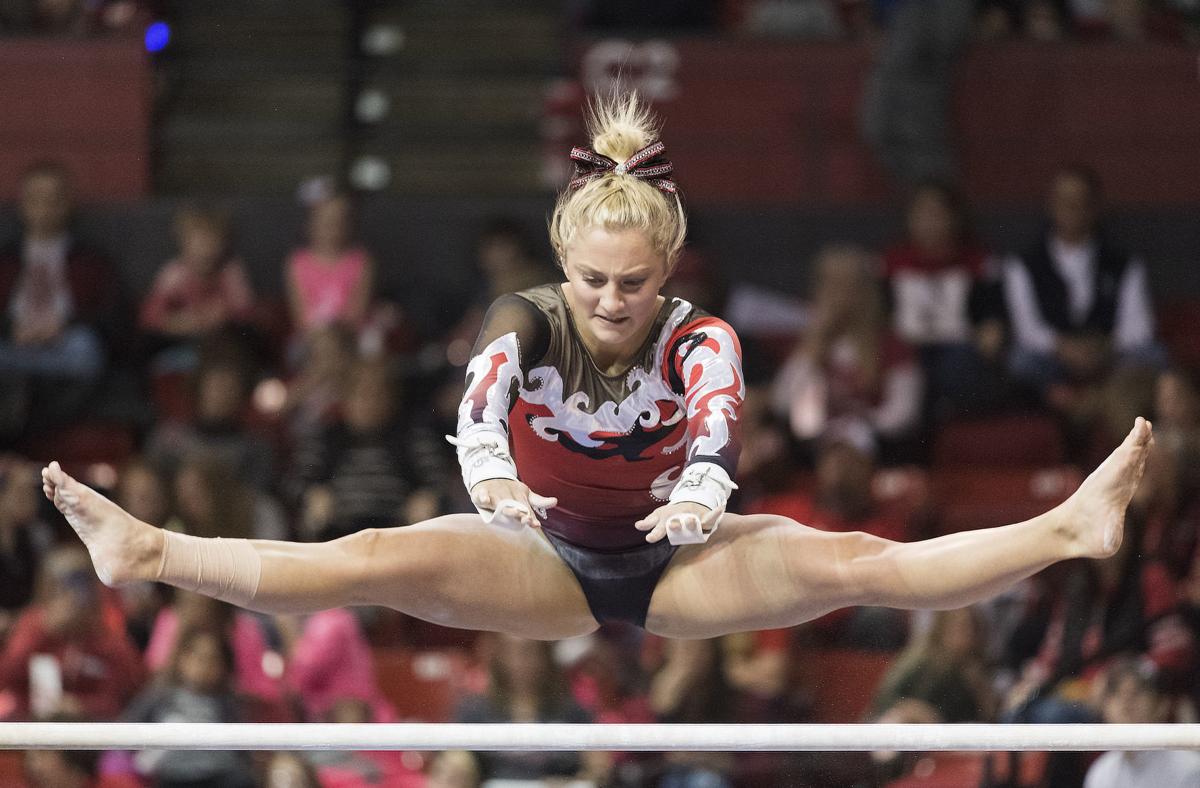 Taylor Houchin had good reason to be more excited and confident about the start to her third season with Nebraska.
For the first time since stepping foot in Lincoln, the Husker junior gymnast had a routine offseason. No injuries to deal with. No rehab. Just training.
Houchin was slowed by shin splits before her freshman season. Two knee injuries sidelined the Republic, Missouri, native for the entire offseason prior to her sophomore campaign.
"I felt like this was the first year going into a season that I felt prepared and I felt confident in everything I do," Houchin said.
A strong and healthy offseason has evolved into a strong start to the 2019 season for Houchin, who was recently named Big Ten co-gymnast of the week after a season-high score of 39.450 on the all-around at Rutgers.
Houchin, who was the Big Ten Freshman of the Year in 2017, has won six event titles in three weekends this month. She has scored 9.90 or better three times on the uneven bars, while posting a 9.90 on floor exercise and 9.85 on the beam.
"This year, the big thing for me has been my preseason," Houchin said. "I feel more prepared than I ever have. Last year and freshman year, I would get super-nervous competing and this year I've kind of figured out the power of mindfulness.
"I talk myself throughout all my routines so each skill I have something to say and so when I compete I just have to remind myself to talk to myself and kind of say those words as I go."
You have free articles remaining.
Because Houchin was at full health during the most recent offseason, the all-arounder was able to focus on improving her routines. She upgraded skills on three of four events -- uneven bars, floor and vault.
"They were all skills that I didn't think I could do," she said. "I could fall back on my routines from last year, so I thought I might as well try because I didn't have anything to lose. That was something that was really cool, was getting to try new skills for the first time since I've been to college."
Houchin's sophomore season was limited in the early going because of offseason knee surgery. She dislocated her right kneecap during her freshman year, and dislocated her left knee, tearing a ligament, just weeks later. When the 2018 season started, Houchin was able to perform on the uneven bars, but not the other three. Once she got the clearance to compete on all four events, she had a strong finish to the season, which included first-team and second-team All-America honors at NCAAs.
Houchin said the knee injuries were frustrating, but it allowed her to look for other ways to become a better gymnast and teammate. She started visualizing routines.
"Last year I had to help with my leadership and being there for girls who needed me to be there for them," Houchin said. "The easy way to contribute is to do your routines, but the harder way to contribute is through your attitude and personality, so I had to figure out how to be an asset to my team without contributing a score. That was my big challenge last year and it took some time to get there, but I think what it did was teach me how to help my teammates outside of the gym and be able to be a good leader and be a good teammate without giving the scores to the team."
Houchin and the No. 18 Huskers host Illinois at 7 p.m. Saturday at the Devaney Sports Center.
Husker men head to Penn State
The No. 3 Nebraska men will compete at fifth-ranked Penn State at 3 p.m. Saturday. 
The Huskers are two weeks removed from an impressive second-place finish at the Rocky Mountain Open. NU claimed three event titles, including the all-around crown (Anton Stephenson).
Penn State and Nebraska have had some close competitions in past seasons. The Huskers edged Penn State for fifth place at NCAAs last year, while Penn State finished ahead of Nebraska at the Big Ten championships.