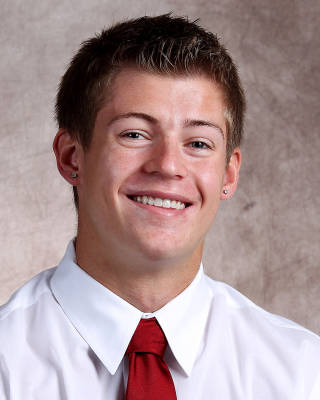 Austin Epperson had a number of options for his collegiate gymnastics career.
Nebraska, Army, Minnesota and Ohio State all came calling. But through all of it, Nebraska was the one.
The redshirt freshman from Allen, Texas, has been a Nebraska fan all his life. His dad, Mike, was a member of the Husker men's squad from 1985-89. His mom, Lisa (McCrady) Epperson, was a Husker gymnast from 1988-91.
Austin Epperson is a rarity in gymnastics, competing at the same school as his parents. 
"The influence (from my parents) was there, and to be able to walk in their footsteps from years ago is really special," Austin said. "I'm here to make the Huskers proud."
He redshirted last season after having wrist surgery in December 2012. It wasn't easy to sit out, especially when his dream of competing for NU was near fruition.
Epperson is excited about this season, especially NU's first home meet, against No. 11 Air Force, at 1 p.m. Saturday at the Devaney Sports Center.
"It (the redshirt) was expected, because, obviously, I was hurt. I was actually jealous of the others and I wanted to contribute," Epperson said. "I wanted to contribute and was just aching for that first meet (this season).
"I feel like a Husker now, and I feel like part of a team. We had club teams back in Texas, but you were doing it for yourself. Now, you're doing (routines) for your team."
Epperson competed in four events in the season-opening Rocky Mountain Open two weeks ago. He finished with a high score of 14.35 in the still rings. He also competed on the floor exercise, parallel bars and high bar.
"I've been there without the pressure on my shoulders," he said. "The first meet is out of the way and I'll be competing with friends and family there. I feel like I'm going to have the time of my life (Saturday). I'm really excited."
NU coach Chuck Chmelka has known Epperson since he was a young boy competing in club events in Minnesota. Chmelka, who also coaches for the Nebraska School of Gymnastics, saw Epperson in numerous meets, because Nebraska and Minnesota compete in the same Junior Olympic region.
"We took a chance on him," Chmelka said. "We honestly didn't even know if he was going to be able to compete (because of his wrist injury). The doctors told us it was a 50/50 chance that it would work, and it did."
But Husker coaches felt the chances were worth it, especially for a shot at a rare occurrence for the program.
"In a small sport like ours, it's real special. Several kids who have mothers and fathers in gymnastics, you look at them and they do other sports," Chmelka said. "It's rare to get a family in gymnastics to stay. It's just awesome."
Epperson's sister, Abbie, a senior in high school, has committed to compete in women's gymnastics for Maryland.