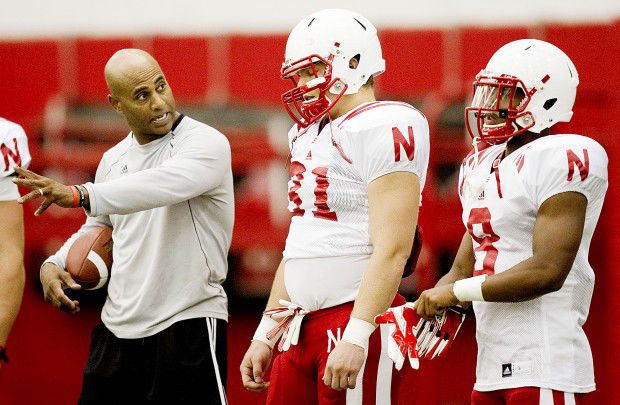 There's not much glory in being the "clean-up guy" — and that's OK with Nebraska junior fullback C.J. Zimmerer. In fact, Zimmerer said that when he does get an opportunity to carry the football in practice it feels, well, awkward.
Get him back to lead blocking for Rex Burkhead or cleaning up a blitzing linebacker headed for Taylor Martinez. That's what a Husker fullback does.
"When you make a hit you let them know you're gonna be coming at them all day," Zimmerer said.
The 6-foot, 230-pound Zimmerer is competing to replace graduated starter Tyler Legate. The other candidates include Eastern Michigan transfer Mike Marrow (6-2, 250) and Graham Stoddard (6-2, 230), as well as walk-on freshman Andy Janovich (6-1, 215) of Gretna.
"It's been a good battle," Nebraska running backs coach Ron Brown said. "We think it is going to be a very good position. Obviously, it's a little unproven right now, but they've worked very hard and we've been pleased with their progress.
"Our expectation level is very high. You want to play two-back football, you want to have a lead blocker, a fullback who had better be a warrior. He'd better go in there and clobber people."
Zimmerer enjoys the clobbering part. A running back early in his high school career, Zimmerer was asked to move to fullback.
"I kind of took to that. I loved it," Zimmerer said. "I love hitting people. If you don't like to hit, then fullback is not for you."
You have free articles remaining.
The list of home-grown, hard-hitting fullbacks at Nebraska includes names such as Tom Rathman (Grand Island), Corey Schlesinger (Duncan), Joel and Jeff Makovicka (Brainard) and Legate (Neligh). Zimmerer, who played at Omaha Gross, said he was well aware of the Husker fullback legacy.
"There is some allure to it, but that's not what it's about for me," Zimmerer said. "I just want to do what I can for the team. It's easy with a guy like Rex. He makes you look good more times than you make him look good."
When Burkhead is carrying the ball into the end zone, the Nebraska fullback is the unsung teammate locking up a defender with a solid block. He's also responsible for making sure all defenders are accounted for on any given play.
"Coach Brown's main thing is that if you're a fullback, you're a clean-up guy," Zimmerer said. "You might have a guy you're supposed to block, but if someone else doesn't get their man, you need to get him. You need to get the play started and be real physical."
Brown also said Nebraska fullbacks have to be smart and Zimmerer fits the bill: He was a Big Ten All-Academic selection in 2011 (3.81 GPA) and will complete his criminology and criminal justice degree in just 3 1/2 years.
Touches are few and far between for the fullback in Tim Beck's offense. Legate, for example, had just eight carries and caught four passes for two touchdowns in 13 starts last year.
"Our fullback has to be low-ego," Brown said. "He has to understand what it means that a block is a run. When you're laying somebody out and opening up a hole for one of those I-backs, that's just as important as a run."
Zimmerer rushed for more than 1,300 yards and 17 touchdowns as a senior at Omaha Gross in 2008, so leaving the ball carrying to someone else didn't come easily. He takes some ribbing from his roommates — offensive linemen Brent Qvale, Cole Pensick and Brandon Chapek — about his lack of touches.
"They tell me I'm just a glorified offensive lineman, but I take a lot of pride in that," Zimmerer said. "I really enjoy blocking now. You've just got to say, 'I'm gonna kick that linebacker's butt,' or whatever it is instead of, 'I'm going to beat him running the ball.' It's a little bit of a different mind-set, but once you switch that, it's just what you do every day."