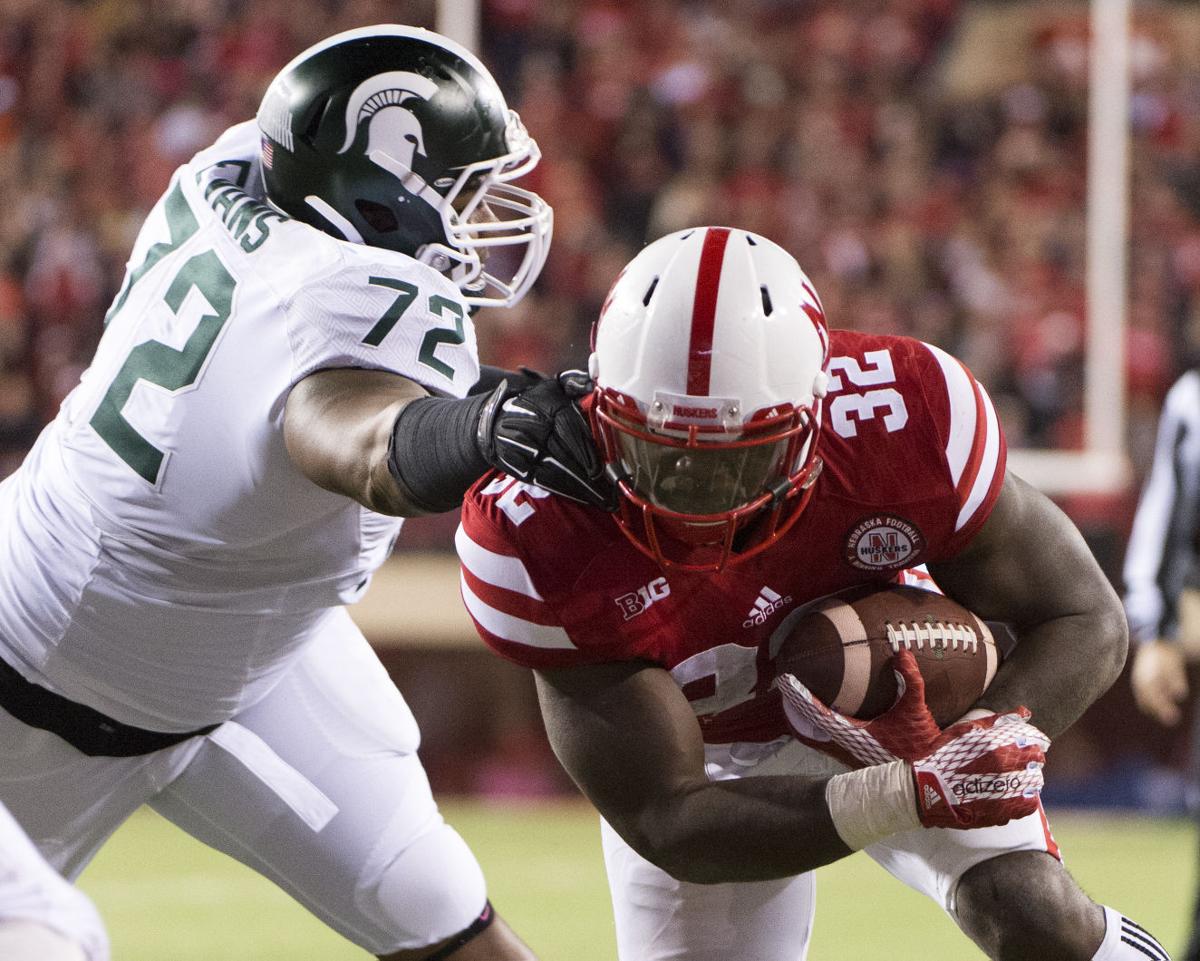 This is the Husker football season where nothing is to be taken for granted, and so even as everyone lost their wits in celebration around him, Mark Banker gave it a few extra beats. Let's … make … sure … here.
"I'd be lying if I thought there wouldn't be a second left," NU's defensive coordinator said with a laugh.
So it was not just joy, but also relief, prevalent in the Husker camp after Nebraska's 39-38 win over seventh-ranked Michigan State.
What any coach worries about when his team has suffered the losses Nebraska has is that at some point the interest will wane, or as Mike Riley put it, "people will lose hope, stop working, kind of start losing that identity."
Players wonder: When's the payoff coming? A payoff came Saturday night. It felt so good the Huskers didn't want to leave the field.
Nebraska players showed the fight goes on. And according to junior defensive lineman Greg McMullen, his teammates are going to work with a big-picture understanding.
"We know where we're standing in the Big Ten, we know where we're at," McMullen said. "So we just look at it one game at a time to look and see if we can build on something, like a steppingstone, so we're going to be better off to prepare for next season. No matter what we do, we can't get a BCS Championship, we're realistic. We can't play for a Big Ten title, we're realistic. So it's like, what can we build on and get better at this week? And that's what we do."
McMullen pointed out that about 90 percent of the key defenders are not seniors.
Whether Saturday's win becomes a building block for the future, or just one bright day in what had been an overcast season, will be shown in time.
But Banker was sure glad the work produced that moment. Seeing guys so excited, sharing hugs, taking position group photos (as the running backs did) in the postgame locker room. Encouraging stuff.
"That's who I'm really happy for, the players," Banker said. "They've been through a lot. To see them celebrate and to see their faces and to see them just be able to let it go like that, I couldn't be happier for them."
To the yays and nays from a wild night in Lincoln:
Yay
Maybe Nebraska has found something to make it a successful November with Zach Sterup going inside to right guard.
You didn't think the Huskers were going to go out and rush for 179 yards, did you? But the Huskers gutted Michigan State up the middle for solid gains throughout the game. It wasn't just a demolition or anything, but it was efficient, unflinching, an average of 5.0 yards a pop. Everyone was putting in work, including tight end Cethan Carter.
Tommy Armstrong put it best of his blockers. "They were mean today."
Nay
It started innocently enough. The Huskers stopped Michigan State cold on its first four third-down attempts in the first quarter.
But NU just could not get off the field for the rest of the night until the very end. The Spartans went on a stretch where they converted 8-of-9 third downs. And on the one they didn't convert, they moved the chains on fourth down.
"There were a couple times I think that we really blew an opportunity to make a play on the football," Riley said. Some of it was Connor Cook, who has made a career of making clutch throws in tight windows. Some of it was Michigan State's wide receivers.
But there were times when the Huskers too easily let them off the hook. Like in the second quarter, with MSU was facing a second-and-24. NU brought a blitz. Nobody got home. An easy pitch and catch of 29 yards was the result.
And that 16-play Michigan State drive in the fourth quarter that took almost nine minutes? It featured conversions on third-and-10 and third-and-11.
Yay
Imani Cross: Don't think it's overstating it to say it was the best game of his career. Set the tone with purposeful runs from the beginning and never backed away from that in his 18 carries.
Jordan Westerkamp: That one-handed catch where he got absolutely drilled? How does he do that? Brandon Reilly made the play of the game, but Westerkamp's two catches for 61 yards to start the drive made everyone on NU's side really believe, and the other side begin to doubt.
Armstrong: That third-quarter pick was rough stuff, but Riley's right. "He's a battler."
Nay
It feels like teams outsmart themselves sometimes on kickoffs. Michigan State, after going up 38-28, squib kicked it, apparently to avoid some big return, only to have Andy Janovich return it to his own 48. The Huskers said thank you.
Then Nebraska returned the favor after taking a 39-38 lead when Drew Brown's liner was caught in the air at the 25 and returned to the 42. "Drew kind of just missed that area that would've been kind of a clean, bouncing ball in there," Riley said of the kick.
It just seems like these squib kicks teams use always seem to give the other side the ball at least the 35. And that puts the offense just a couple good throws, or one really good one from a field goal these days. Unless Rocket Ishmail is back there, why not kick it deep and trust your cover guys? Or even better, hope your adrenaline-riding kicker sends it out of the end zone.
Yay
To Mark Dantonio. There's no question Michigan State's coach disagreed with the non-call on Brandon Reilly's touchdown. He felt the receiver went out of bounds on his own power before the catch.
But Dantonio handled it with class in his postgame.
"I can tell you that our offense will take responsibility, the coaches will take responsibility, the defense will take responsibility, every individual player will, so there's plenty to go around," he said. "With that being said you have to credit the people we played against and I didn't think the officiating lost us the game."