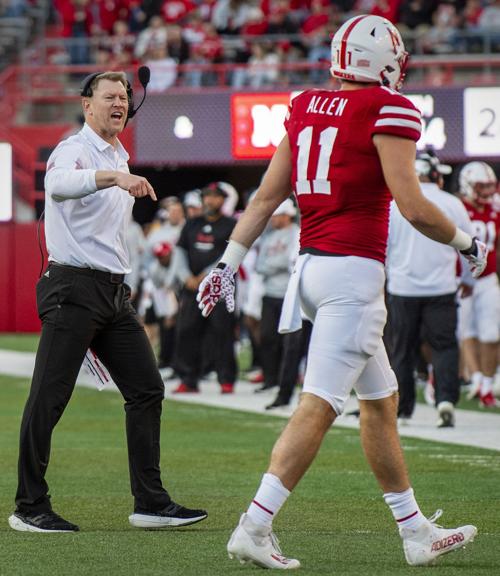 From Memorial Stadium, Parker Gabriel and Steven M. Sipple discuss the Nebraska football team's 28-23 loss to Purdue on Saturday.
With a losing skid now at three games and staring down the barrel of a daunting November slate, Nebraska has arrived at the same conundrum that many struggling teams face this time of year.
What the Huskers have been this year clearly hasn't worked, but nine games deep into a season isn't exactly the time when new options spring up from the slowly freezing ground.
"There's no new answers," Husker coach Scott Frost said Saturday night after his team lost to Purdue, 28-23, and fell to 3-6 overall on the season. "We'll look for them. We're always looking for them, always looking for ways to get better."
Frost reeled off a litany of ways that the team he coaches needs to improve. He outlined a Catch-22 approach to trying to push the tempo. It may help NU's offensive line, but it also leads to mistakes and hangs his defense out to dry too often.
A holding penalty negated a first down in the second quarter and preceded a pick-six on the very next play. The Blackshirts' run defense got leaky for a third straight outing. Needless to say, minus-4 in the turnover department is no way to win games.
"Everything is… we just have to be a little better," Frost said.
Nebraska is not, though. That's been made clear time and time again this fall. The Huskers' three wins are against an FCS team, a 4-5 MAC team and a Northwestern group that's 1-4 in the Big Ten.
If the Huskers were going to have a major wrinkle or a change, whether schematically or in personnel, it would have come this week, out of a bye and with an extra week to prepare for the Boilermakers. Frost said in the midst of that off week, though, that he didn't expect any major changes.
None came, and the result felt familiar.
Frost categorically ruled out considering a starting quarterback other than junior Adrian Martinez.
"No, that's not a story," he said after the game. "We're going to play the guy that we think gives us the best chance to win. Period. Right now that's Adrian"
There's not likely a major youth movement coming, either. For one, Frost and the coaching staff likely feel pressure to try to squeeze at least a win or two out of the final three games. It's not in most coaches' DNA to bench veterans who have put in work in order to get a look at young players who aren't actually at the top of the depth chart.
On top of that, NU doesn't have that many young guys that one might consider on the cusp of playing time, at least from the outside. The caveat, of course, is that reporters rarely see any of practice before the season and see none during the season.
Still, the numbers help paint the picture. Of the Huskers 85 scholarship players, 49 are redshirt freshmen or younger. Several of them, particularly the redshirt freshmen, are already starters or regulars. Those are guys like linebacker Nick Henrich, defensive lineman Ty Robinson, offensive lineman Bryce Benhart, running back Rahmir Johnson and safety Myles Farmer. Freshmen like receiver Zavier Betts and left tackle Turner Corcoran are in that boat, too, while running backs Jaquez Yant and Sevion Morrison are next in line behind Johnson.
A couple others, like freshman defensive lineman Nash Hutmacher and redshirt freshman safety Noa Pola-Gates, got a little bit of rotational work Saturday because of injuries. Perhaps a freshman like tight end Thomas Fidone will see a little bit of time down the stretch.
Overall, though, 17 of Nebraska's 35 scholarship freshmen (2020 and 2021 class) haven't cracked a travel roster so far this year. Maybe someone like defensive back and special teams regular Marques Buford Jr., or receiver Alante Brown or outside linebacker Jimari Butler sees a slight adjustment in role, but it's pretty clear most of the rest are on track to redshirt without any playing time against three rugged Big Ten foes down the stretch.
So, with three games to go and no major adjustments to make, no change at quarterback coming and not many stones left to turn over in the younger ranks of the roster, what's left for the Huskers as they prepare to host the steamrolling Buckeyes?
They can still technically win out and qualify for a bowl game at 6-6, though that will take three upsets and the biggest, by far, would have to come first against OSU. Essentially, it's that outside chance and pride.
"We talked in the locker room about how it would be easy to give up right about now. Really easy," senior outside linebacker JoJo Domann said. "Less painful when you're one foot in, one foot out. But that's not what this program stands for, that's not what Coach Frost stands for, that's not what I stand for and we have to continue to lean into this. Three games, spoiler alert, win all three, go to a bowl game. The ups and downs that we've been through, the adversity we've faced, everything that we want is still in front of us, which is hard to fathom even at this point."
It's hard to fathom for the same reason it would constitute a massive surprise if Nebraska won its final three games: The formula so far just hasn't worked.
"When we're training in the winter, training in the summer, you visualize, manifest, dream about how the season is going to go and it hasn't gone that way," Domann said. "I mean, it rarely goes how we think life is going to go. But I'm just disappointed for this program, for the state and for the guys in our locker room.
"We work hard. We go down (to practice), I know they don't let y'all into practice, but we work our butts off. We do everything the coaches ask of us and we're still in this situation."
Briefly
Nebraska will get an early start next weekend. The Huskers' Nov. 6 home game against Ohio State is set to kick off at 11 a.m. and will be broadcast on Fox, NU announced late Saturday night.