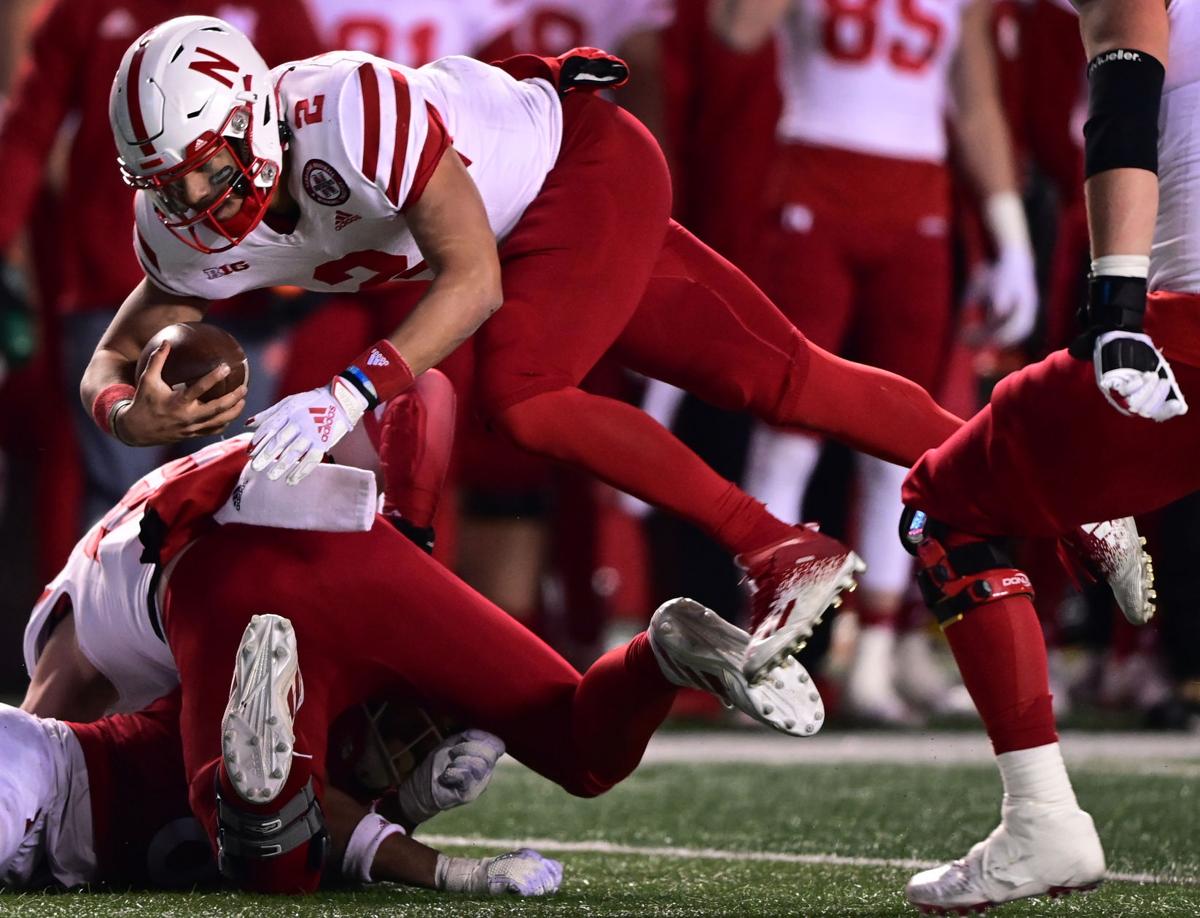 Adrian Martinez made some mistakes that surely had fans back home spitting out their Friday night drink of choice.
The junior quarterback lost fumbles on Nebraska's first and third drives of the game. He threw two interceptions, including one in the end zone. He overthrew Wan'Dale Robinson on the other pick.
And yet, Martinez found a way to shake off the turnovers and craft his best performance, statistically, of the season in the Huskers' 28-21 win against Rutgers on Friday night in Piscataway, New Jersey.
"I obviously made a couple big-time mistakes and I was going to keep going out there and slinging, knowing that I was capable, and that the guys had my back," Martinez said.
Martinez completed 24 of 28 passes for a season-best 255 yards. He rushed for career-high 157 yards on 23 carries. He had a hand in three touchdowns.
His 1-yard plunge in the fourth quarter proved to be the winning score.
"We put a lot on Adrian tonight," NU coach Scott Frost said. "Some mistakes that I don't want to see our quarterback make, the two fumbles and two interceptions, but he made a lot of good plays."
When it mattered most, Martinez made plays and it came on a night when Nebraska was shorthanded at the position.
Frost could have turned to Luke McCaffrey for a spark after the turnovers, but the redshirt freshman was not available for health reasons. He suited up for warmups, but was in street clothes during the game.
True freshman Logan Smothers was next in line and "was ready to go in," Frost said. But the Huskers stayed with the experienced quarterback, and Martinez helped the Huskers roll up 620 yards of total offense.
What was Martinez thinking in the second half?
"Just fighting," he said. "No quit, and that's really the mentality of this team, and been the mentality this year. 2020 hasn't been easy. There's been a lot of ups and downs, but our team hasn't given up. I haven't given up and I really had the same mindset today and I wasn't going to quit on this team." 
After his second interception, Martinez came back and hit Robinson for a first down and Alante Brown for 22 yards. He then threw a dart to Robinson on a slant pattern for a 14-yard touchdown.
Martinez accounted for 412 yards of total  offense, marking his fifth career 400-yard game. His 157 rushing yards were the most by a Husker quarterback since Taylor Martinez rushed for 205 against Michigan State in 2012.
And if that wasn't enough, Martinez's night included a pooch punt in the first quarter, which was downed at the Rutgers 1-yard line.
Despite McCaffrey being injured, he held a travel roster spot for Friday's game. McCaffrey, whether he was able to play or not, was too valuable to leave in Lincoln, Frost said.
"One, he's a big part of the team," the coach said of McCaffrey, who started two games this year. "Two, we weren't sure if he was going to be available or not; three, we were worried about our signals getting stolen on the other side and we needed as many guys up as possible.
"He's a big part of the team and if I was in the spot (of) whether I was able to play or not, I'd want to be with my team."