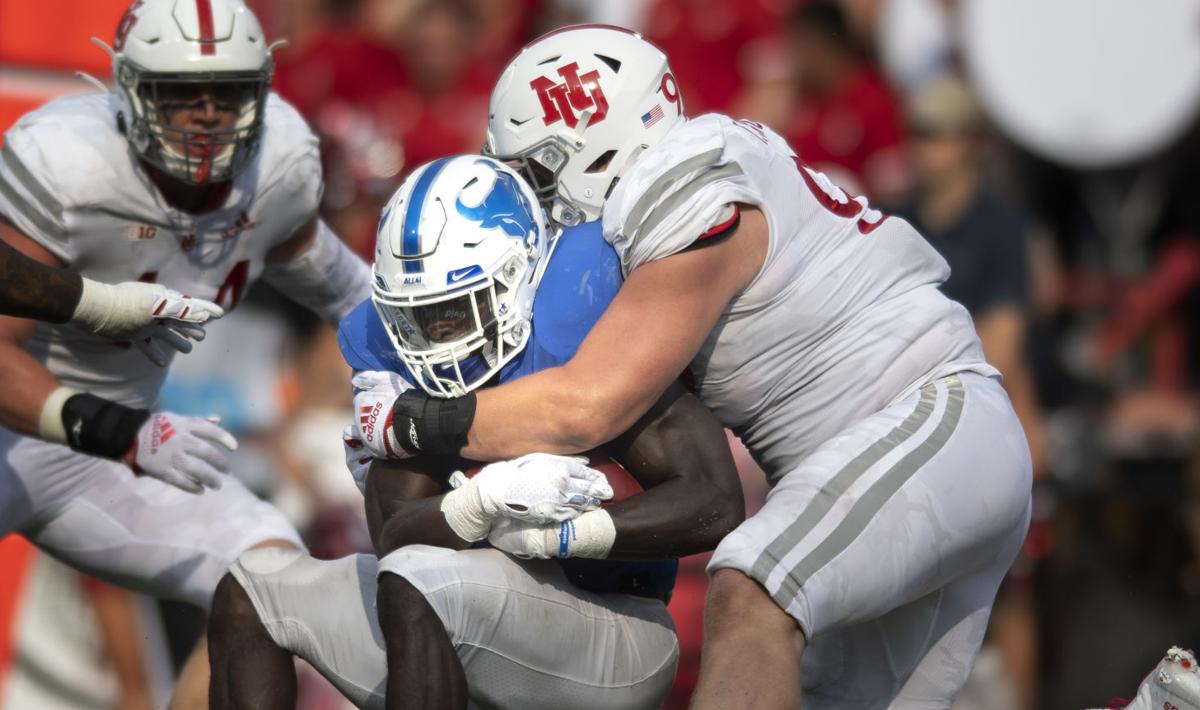 Say what you will about the competition Nebraska has faced the last two weeks. Some of it will be fair.
But the Huskers defense, tasked with holding the line as NU's offense continues to look for solid footing, stepped up to the plate again Saturday with much bigger tests waiting down the road.
"The biggest compliment I can give them is, I think we have a tough defense," Nebraska coach Scott Frost said.
Tough works in the Big Ten, and the Huskers hope it will work well enough next week against Oklahoma's potent attack.
It's worked plenty well the last two weeks, with 10 total points allowed against Fordham and Buffalo, and a stretch of nearly 80 consecutive game minutes without allowing a point.
"No matter what, we've just got to go out there with the mindset of, we've got to go win the game," inside linebacker Luke Reimer said. "Doesn't matter what the offense is doing, if they're scoring, if they're sputtering around a little bit. We have to go out with the mindset that they can't score, they can't get anything. So I thought we did a pretty good job of that today."
In holding Buffalo to 359 total yards, the Blackshirts put together their seventh straight game of holding an opponent to fewer than 400 yards. A Nebraska defense hasn't done that since an eight-game stretch that encompassed the final two games of 2009 and the first six of 2010.
"I thought it was definitely a good game. Three points is always good," linebacker Nick Henrich said. "It wasn't perfect by any means, they did some good things, and did some real nice things to extend drives, so we've got to get better at getting off the field on third down, some stuff like that. But overall it was a good job."
While Henrich hinted at it, senior JoJo Domann made it clear that NU's defensive unit holds itself to an even higher standard than just keeping the opponent out of the end zone.
"We have a lot to improve on," Domann said flatly. "Holding them to three points is good, but they sustained drives, and we know we've got more in the tank. We've got to get off the field on third down."
If Nebraska's defense can get off the field, whether it's with a third-down stop or a turnover, Domann said, that's when the Blackshirts will get close to the standard.
"We need to strip the ball out, we need to get to the quarterback. That's what we pride ourselves on. That's how you win games, that's how you take over as a defensive unit is, you get the ball back for your offense in good field position, and you kill the momentum of the other team, kill the will of the other team," Domann said. "It's a team game, but defense, we have so much more power and authority than some people may think. And we could win a game singlehandedly if you can take the ball away, and score, and not give up any points.
"So that's the standard. And that's a high standard, but we're all competitors, everyone in our room wants to be great, so that's what we strive to do, and we've got to keep going."
Perhaps Nebraska gets there at some point. Should the defense do so, the Huskers will have a fighting chance most times out. 
But being tough is a good place to start.
"They gave up a little here and there, but they didn't quit against a good football team," Frost said. "Those guys were out there a lot. And we need to help them out a little more on offense by sustaining. But they didn't quit."