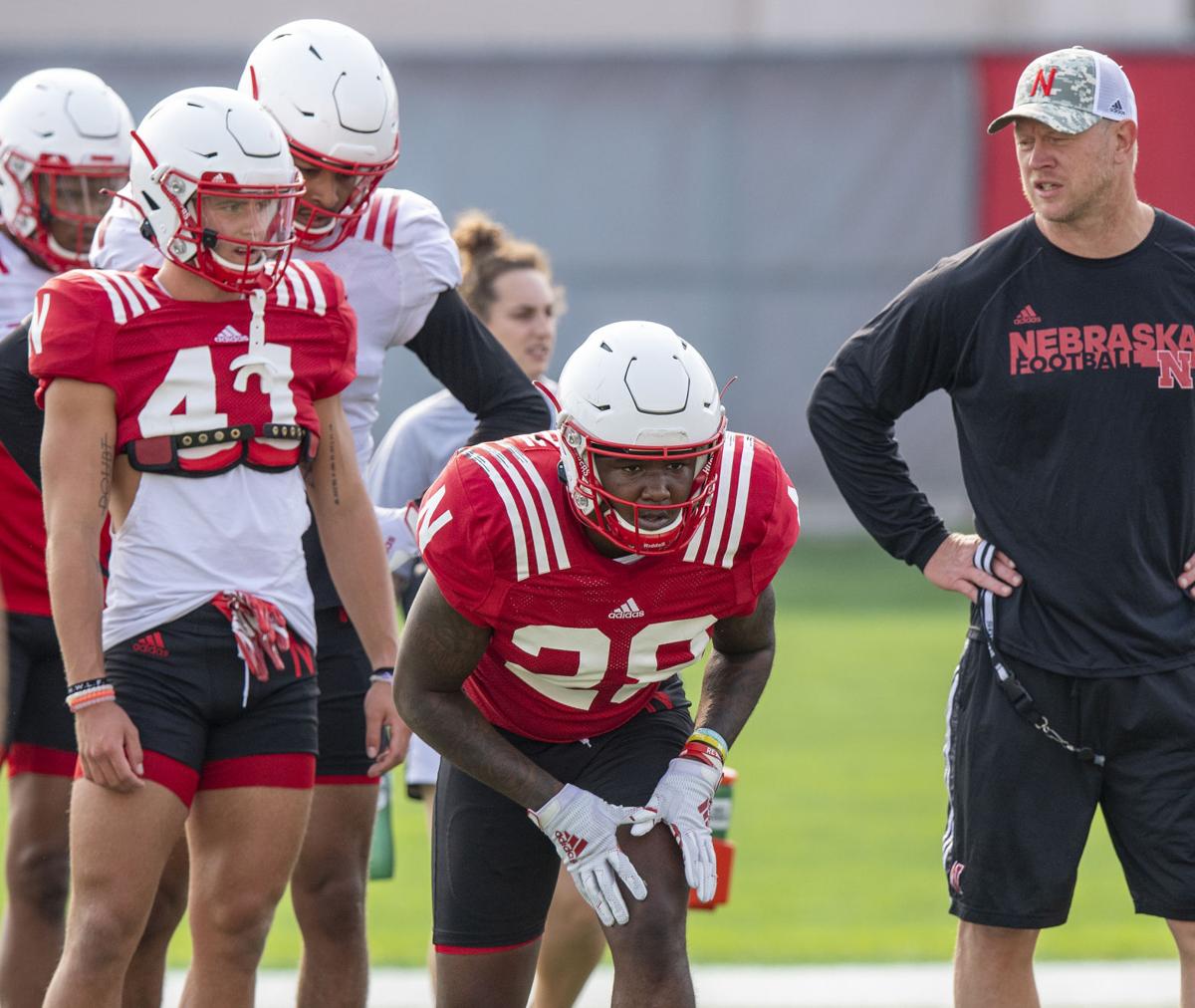 Of all the ground Nebraska head coach Scott Frost covered during his hourlong "Sports Nightly" radio appearance on Thursday evening — he again addressed the active NCAA investigation into his program, recapped camp, previewed Illinois, took a caller up on an offer to go hunting sometime and said his mom, Carol, once caught a 48-pound catfish near Ashland — perhaps his least surprising comment came when asked about the Huskers' depth chart.
"I'm not in a big hurry to release it," Frost said.
Nebraska, though, was in a hurry to get its starters, two-deep and travel rosters all mostly set over the first three weeks of preseason camp, which Frost described as an effort to maximize the amount of time the top units played with each other as they prepare to kick off the 2021 season Aug. 28 at Illinois.
So, keeping in mind all the caveats about a potential public depth chart next week — there's no requirement saying it has to be exactly right or account for minor injuries, unique personnel groupings or packages, etc. — let's recap what we've learned about NU's most heated position battles this camp.
Running back
The top three are pretty clear: USC transfer Markese Stepp, 2021 freshman Gabe Ervin and 2020 freshman Sevion Morrison.
Morrison has made a strong run up the depth chart the past three weeks and drew praise from Frost on Thursday.
Stepp's biggest question was health, but he's been available and apparently productive after offseason toe surgery.
"He's getting healthier and healthier and had a good practice (on Thursday)," Frost said of Stepp. "Gabe has done a good job of coming in and acting like an adult, not like an 18-year-old, and has done some really good things. Sevion Morrison has really competed for it. He's a pretty special talent."
The most eye-opening comment from Frost on the radio might have been about a potential fourth in the conversation: redshirt freshman Rahmir Johnson.
"Rahmir Johnson has had a really good camp and has taken a really big step forward," Frost said. "Not sure there's a clear-cut guy yet, but feel good about the guys we do have."
Offensive line
A competition for the right guard job turned into something a little different when freshman left tackle Turner Corcoran missed some time during camp with what offensive line coach Greg Austin deemed a minor issue.
Corcoran (6-6, 300) might be ready to go against Illinois, but in his stead, redshirt freshman Brant Banks has taken a considerable number of snaps as the top-line left tackle. Banks was pushing Matt Sichterman for the right guard job. So, what will the top line look like against Illinois? It might be less clear now than it was three weeks ago because of the group's health.
Either way, Frost said he feels good about the young core up front.
"The depth is a lot better," Frost said. "A lot of those guys have got reps. We've had a couple guys nicked up and miss a little bit of time, and that's allowed us to get some other guys some reps with the first unit. I think that's going to pay dividends down the road."
No. 2 quarterback
Frost didn't come out and say specifically that the pecking order behind junior Adrian Martinez is set, but he's complimented 2020 freshman Logan Smothers twice in the past week and described his game on Thursday as being, perhaps not surprisingly, more advanced than 2021 freshman Heinrich Haarberg's at this point.
"I think Logan Smothers has had a really good camp," said Frost, who last week said Smothers had a particularly strong Aug. 12 scrimmage. "His mind works really fast, he gets the ball out on time to the right people, he's running our run game really well, making good throws.
"Haarberg is really talented. He's still 18 and a true freshman, so he's kind of catching up right now a little bit. When he looks good, he looks great."
Cornerback
Across the field from junior Cam Taylor-Britt are three sophomores vying for a starting job: Quinton Newsome, Braxton Clark and Ohio State transfer Tyreke Johnson.
It would be a moderate surprise if Clark (healthier than he was in the spring) or Johnson (arrived on campus this summer) were able to entirely close the gap on Newsome, who has been available and solid the entire offseason. But it isn't impossible.
They will all likely have a role at some point this fall, whether because of injury or when NU faces more wide-open teams like, say, that little road trip on Sept. 18 to Oklahoma.
Wide receiver
Frost and offensive coordinator Matt Lubick have both said that they think NU has six to eight players at least who they can trust to play.
That top group almost certainly includes the following: senior Samori Toure, juniors Oliver Martin and Omar Manning; sophomore Wyatt Liewer; and freshman Zavier Betts. Senior Levi Falck and freshman Alante Brown got playing time last year and are in the mix again, while freshman Will Nixon impressed in camp after missing 2020 with a knee injury.
Frost on Thursday spoke about the group in general and was also asked specifically about Manning, a 6-4, 225-pound former junior college transfer who appeared in just one game last year and didn't catch a pass.
"Completely different guy. Omar's really talented," Frost said. "The sky is the limit for him and he's had a really good camp. Got nicked up once, but I think you can expect to see him make some plays for us."
Watch now: Replays and analysis from Monday's Husker football practice
Watch now: Ben Stille on the advice he has 'pounded' into Ty Robinson's head
Watch now: Braxton Clark describes the 'fun, friendly competition' at cornerback
Two-Minute Drill: The 'mindset shift' for Nebraska's running game
Four Downs: Dawson's reticence, and three other Husker takeaways
Watch now: Check out Erik Chinander's full news conference