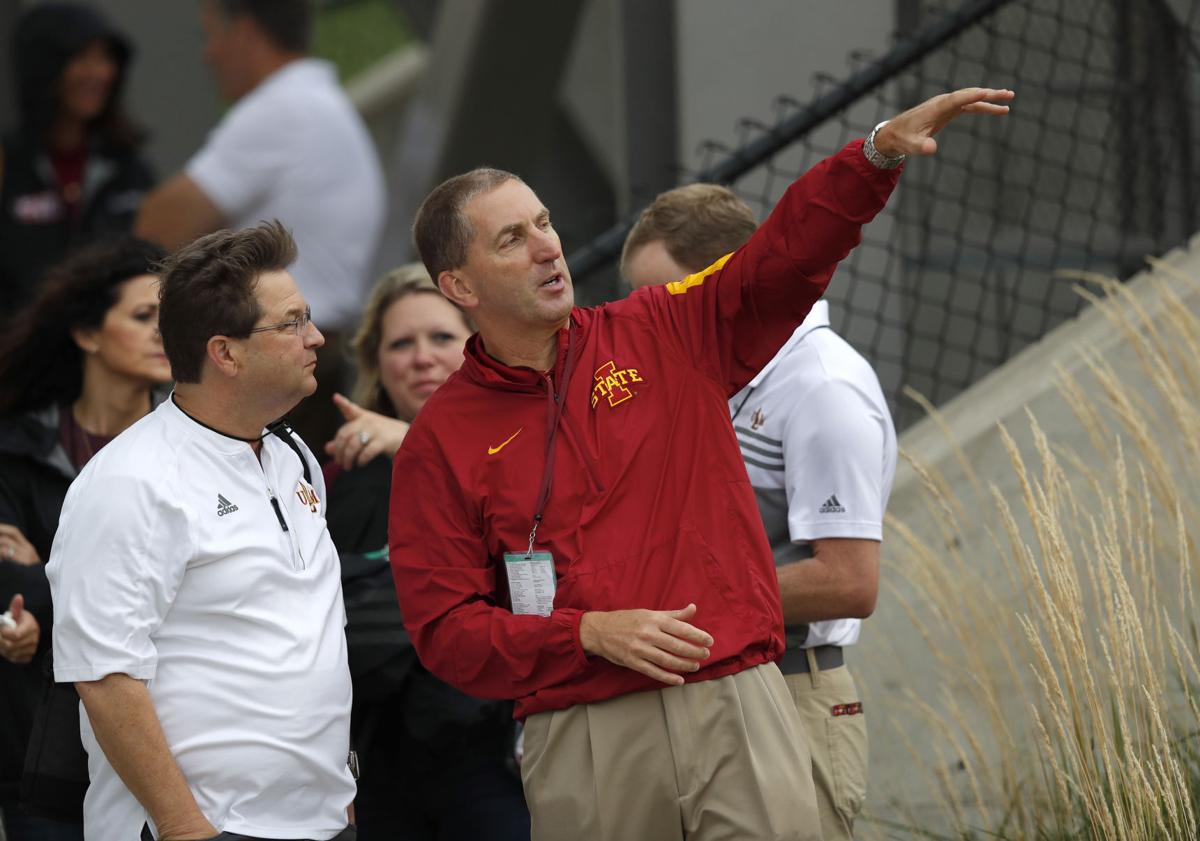 UNL Chancellor Ronnie Green said in a statement that a national search will begin soon and that the school expects to find a replacement quickly. 
At a Board of Regents meeting on Friday morning, former Husker and current Regent Jim Pillen said the next athletic director could come from near or far. 
"Anytime there's an opening, you have to get the best candidate on the planet," Pillen said. "That was the board of regents' goal when we set out to find Ted Carter, set out to replace Hank Bounds, and that's what we did. I would expect whoever is involved with Chancellor Green and President Carter, they'll do that.
"Maybe there is a best person here, but that's why you do searches. We deserve the best person on the planet to be the next athletic director."
Who might Nebraska look at? Here is a nonexhaustive list of potential candidates, beginning with a few internal options: 
For NU to hire internally, campus leadership would have to feel confident in Davison's bona fides even though he has not spent all that much time in administration. 
Garrett Klassy, senior deputy athletic director for external operations, NU: Another internal candidate could be Klassy, who is set to serve as the interim athletic director while NU searches for a permanent hire. 
Klassy has athletic director experience, having held the job at Illinois-Chicago. Nebraska would be a big step up from that, both in terms of budget and high-profile sports. Klassy has spent time as a top lieutenant both at George Washington and for the past two years at Nebraska. 
Another internal candidate could be Moos' other top deputy and chief of staff, a former senior associate AD at Washington State and AD at Weber State. 
John Cook, volleyball coach, Nebraska: Cook, of course, heads NU's powerhouse volleyball program and could continue that for as long as he sees fit. 
He does for the first time have an associate head coach in place in Tyler Hildebrand, which could make for a smooth succession plan. Regardless of whether he's interested, Cook has immense respect among the coaches at NU, knows the department landscape well and is a proven winner. 
Ed Stewart, executive associate commissioner for football, Big 12 Conference: Stewart's name comes up a lot and it will again in this search. He is a Nebraska graduate who served as a captain on Nebraska's 1994 national championship team. He has been with the Big 12 Conference for the past 14 years. Before that, though, he worked at Missouri and has 20 years of administrative experience. 
John Cunningham, athletic director, Cincinnati: Cunningham was named the AD at Cincinnati in December 2019. A Lincoln native, Cunningham graduated from Lincoln Pius X before doing his undergraduate work at TCU. He returned to Lincoln and graduated from the University of Nebraska's law school in 2005. 
Before UC, he was the deputy athletic director for administration at Minnesota from 2016-19. Before that, he spent two years in a similar role at Syracuse. 
Jamie Pollard, athletic director, Iowa State: If there's a home run external hire, this might be it. But would Pollard consider leaving ISU, where he and football coach Matt Campbell have turned the Cyclones into one of the envies of college athletics? 
Pollard has been in Ames for 16 years. Prior to ISU, he worked in administration at Wisconsin, Maryland and Saint Louis University.
Pollard, like Campbell, has been targeted by schools in the past and both have stayed at ISU. Would he consider leaving now? 
Trev Alberts, athletic director, Omaha: Alberts is a familiar name to Husker fans, of course, not only because he runs an athletic department just up I-80, but because he was one of the best players in Nebraska football history. 
The longtime UNO administrator took his name out of the running early in the proceedings in 2017 when Shawn Eichorst was fired and before Moos was eventually hired. 
Mack Rhoades, athletic director, Baylor: Rhoades has been the AD at Baylor since 2016. He took over a school and athletic department embroiled in scandal and has been tasked with helping lead Baylor through it. 
Rhoades was responsible for hiring Matt Rhule (now the head coach for the Carolina Panthers) and Dave Aranda as football coaches. 
David Harris, athletic director, Northern Iowa: Harris is in his fourth year in charge of the department at UNI. He has also worked in several Power Five departments, including Iowa State and Wisconsin. 
Harris is a member of the Division I Council. 
Beth Goetz, athletic director, Ball State: Goetz was in the mix for the athletic director job at Wisconsin this spring before UW eventually hired Barry Alvarez's top lieutenant, Chris McIntosh. 
Goetz has been in charge at Ball State since June 2018 and was a senior administrator at Minnesota (2013-16) and Butler (2008-13) before taking over at BSU. 
John Hartwell, athletic director, Utah State: Hartwell has been in charge at Utah State since 2015, when he arrived after a three-year stint as the AD at Troy. 
He has a good track record of hiring football coaches, having hired now-West Virginia head coach Neal Brown to Troy. He just lured Blake Anderson to Logan, Utah, after Anderson had a successful run at Arkansas State. 
Hartwell, and several others on this list, are considered talented up-and-comers, but would face a big jump to a school like Nebraska. 
Hank Bounds, former NU system president : Bounds ran the Nebraska system and was part of the team that hired Moos. Even when he left the state and took a job teaching at South Alabama, he continued to help the department raise money for the new football facility. 
Bounds is a former football player and always enjoyed being involved in the athletic department when he was in charge at NU. Does he have interest in leading the place he's clearly still familiar with? 
Intriguing outside-the-box targets: NFL executive vice president of football operations Troy Vincent, a standout defensive back and former player under Alvarez at Wisconsin, and NBA VP of basketball operations Garth Glissman, a former NU athlete.