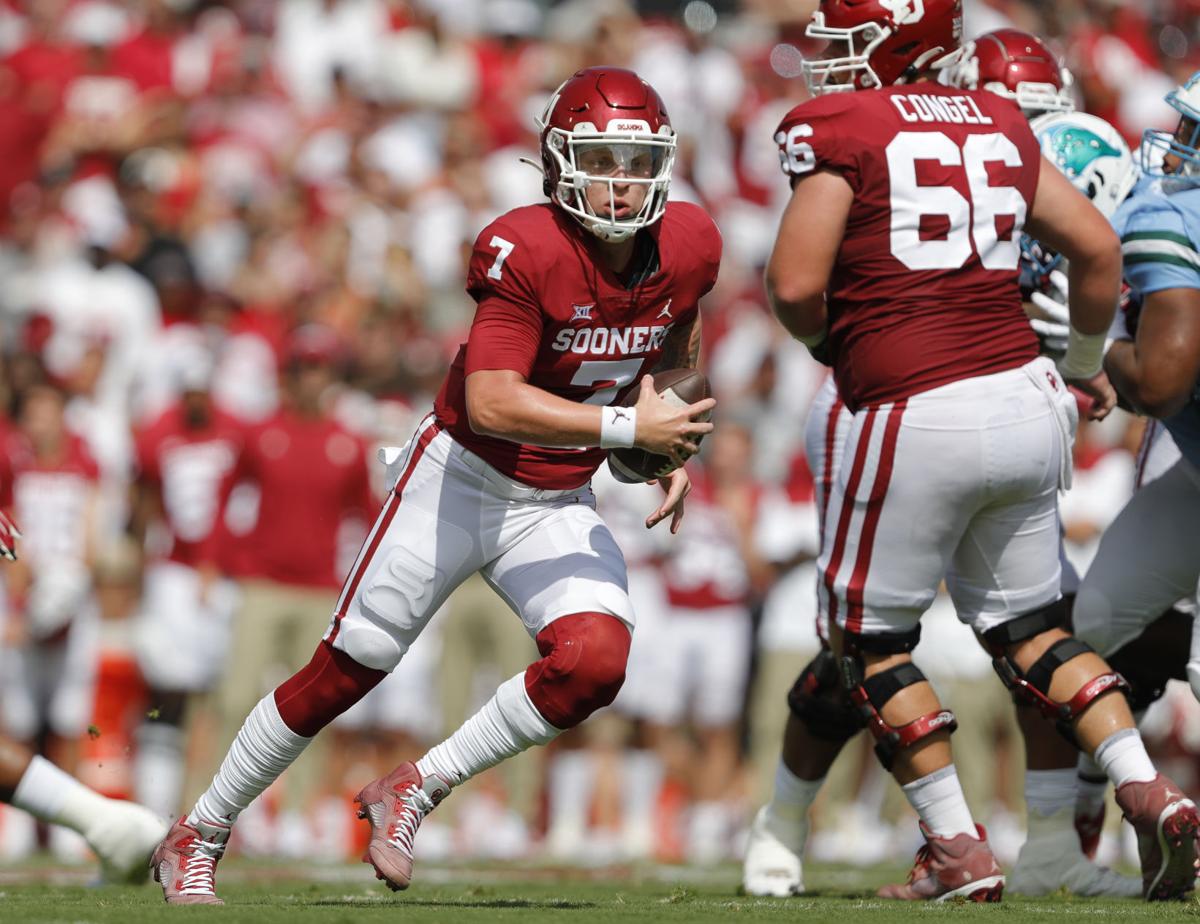 When Lincoln Riley moved up from being Oklahoma's offensive coordinator to its head coach ahead of the 2017 season, the Sooner attack didn't miss a beat.
It hardly has since then.
Riley, entering Saturday's clash with Nebraska, has a 47-8 mark in four-plus seasons at the helm at OU.
In those 55 games, the Oklahoma offense has scored 40 or more points 36 times (65.5%) and lost in just three of those instances.
Riley and company are 2-for-2 so far in 2021 as well, hitting 40 right on the button in a five-point victory against Tulane in the season opener before putting up the biggest point total of the Riley era last week in a 76-0 romp over FCS Western Carolina.
"It's a really good offense," Nebraska defensive coordinator Erik Chinander said flatly this week. "Across the board they've got a lot of experience, and then the new guys that they have are really good football players. A lot of returning starters and/or transfers, really good quarterback that can run the ball, he can make all the throws. Running back, they've got one guy that will put his foot in the ground and try to run you over and another that will bounce all around. Speed on the perimeter and an experienced offensive line.
"So it's going to be a very good test for the defense and it's going to be a fun game."
In Riley's first year as the head coach at OU, quarterback Baker Mayfield won the Heisman Trophy and then was drafted No. 1 overall in the 2018 NFL Draft. In his second year, Kyler Murray won the Heisman and then was drafted No. 1 overall in the 2019 draft. Then it was Jalen Hurts' turn, though he was merely a Heisman finalist and second-round pick. Ho-hum.
Now the quarterback in Norman is Spencer Rattler, the redshirt freshman who is in his second full season as the starter. Rattler (6-foot-1 and 200 pounds) is not the dynamic open-field threat that Hurts and Murray were, but he's got what Nebraska coaches and players described as a knack for navigating the pocket and for extending plays.
Chinander said Rattler reminded him of former Eastern Washington and Oregon quarterback Vernon Adams, who led the country in efficiency his one season with the Ducks.
"He wasn't the guy that was going to pull it down and take it for 80, but he was the guy that was going to scramble, keep the play, extend it, always had his eyes down the field and always made the play," Chinander said.
Rattler had 160 rushing yards and a pair of touchdowns in 11 games in 2020 and has rushed 12 times for 36 and a score through two games this fall. He averages a pristine 10.1 yards per passing attempt for his career and has thrown 35 touchdowns against nine interceptions.
"It's hard not to see him even when we are not preparing for him," NU senior defensive lineman Ben Stille. "He's one of the top quarterbacks in the nation. What little we have seen, (he's) really poised in the pocket. Good runner as well. It will be a challenge for us."
Rattler did throw two picks against Tulane two weeks ago, and five of his seven in 2020 game in OU's first three Big 12 games.
Oklahoma's top running backs are Tennessee transfer Eric Gray and veteran Kennedy Brooks, a junior who did not play in 2020. Outside, the receivers are led by Marvin Mims, former five-star recruits Jadon Haselwood and Mario Williams, and Arkansas transfer Mike Woods.
Rattler and the relatively new receiving group are still working to get aligned, but they can already do a lot of different things and they have a creative play-caller pulling the strings.
"Everyone on the team, really, has to have really good eye discipline," Chinander said. "That starts pre-snap, alignment, assignment, getting my eyes where they need to be and then trusting that my key is going to take me to the football. Sometimes when there's a lot of moving going on, you kind of go rodeo and go 'see ball, hit ball.' You can't do that with these guys.
"You've got to trust your keys, you've got to have great eye discipline, you've got to know your issue within every call and you've got to play the defense."
NU's been relatively good against the run (3.95 yards allowed per carry and just one rushing touchdown allowed) and boasts a veteran back-end secondary, but has yet to face an offense in 2021 that is as balanced and potent as the Sooners.
One interesting chess piece: senior JoJo Domann, who has played off the ball mostly this year as Nebraska uses mostly a four-down front, but who can rush the passer, set the edge and also play in the slot. He's what allows Chinander to feel like he's essentially in his base defense and in a version of nickel at the same time.
"When you have a guy like him, do you want to put him on the best receiver all the time? No, but when you have a guy that can cover down on most receivers in the country and handle the tight ends and running backs really well, you can do a lot of things," Chinander said. "You can disguise looks, you can make the package work without subbing in and out. Sometimes when you sub in an extra DB, you might get caught. They might get the third down and you might be playing first down with three DBs in the coverage and your run fits might not be great, so (Domann) allows you to do a lot of different things in the defense and makes the package work."