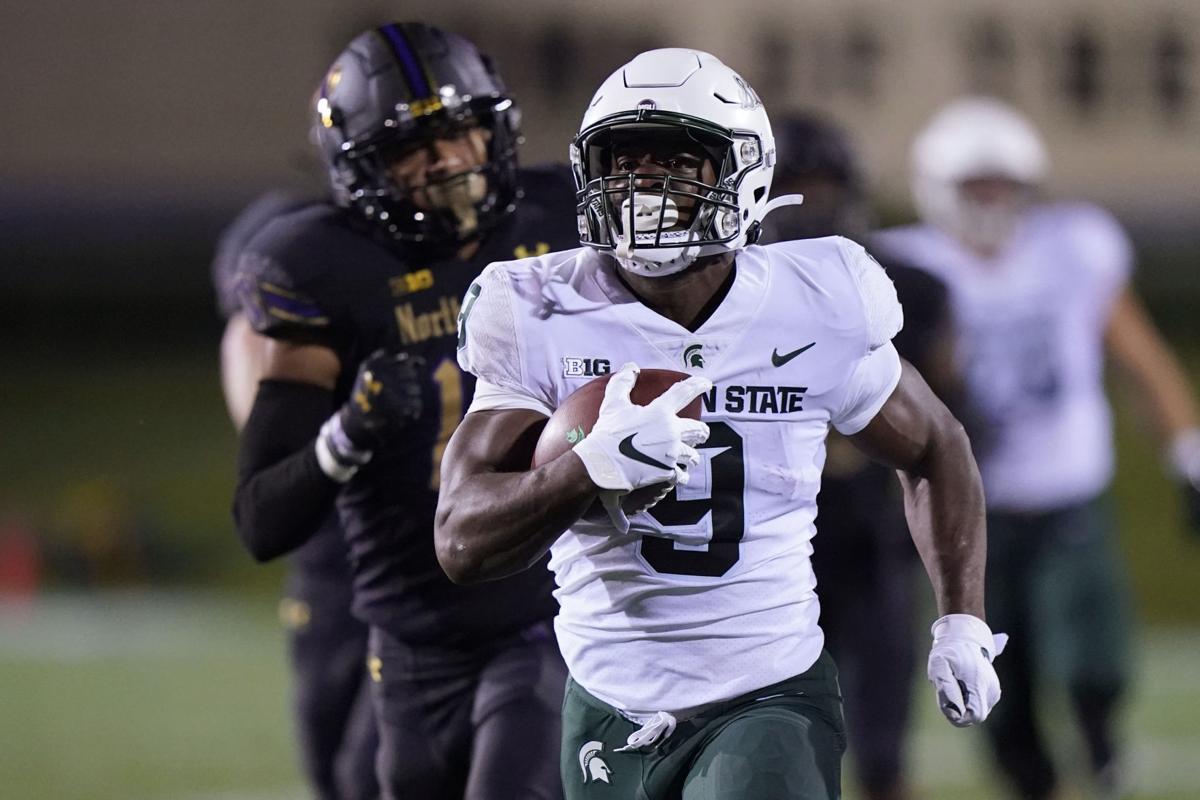 Kenneth Walker III needed very little time to introduce himself to the Big Ten.
He said hello with authority on his first play as a Michigan State Spartan.
The talented Wake Forest transfer running back took a handoff against Northwestern on the first play from scrimmage of MSU's opener, cut to his left, shook an attempted tackle about 4 yards up the field and then raced down the left sideline for a 75-yard touchdown.
It was the first of several big plays he made against the Wildcats and the first of four touchdown runs on the evening. He's burst onto the scene, just as Mel Tucker's team has in jumping out to a 3-0 start.
The Spartans debuted in The Associated Press rankings this week at No. 20, in no small part thanks to the Big Ten's leading rusher, who has 493 yards and five touchdowns through three games at MSU and is averaging a whopping 8.6 yards per carry.
"He's been a huge difference for them," Nebraska coach Scott Frost said Thursday. "I think they're good all around him, but he's a pretty special player." 
Now, it's Nebraska's turn to try to slow him down.
"He's powerful, he's got great vision, he can cut it back, he can hit it front side," Husker defensive line coach Tony Tuioti said this week. "It takes more than one guy to tackle him, and it shows up on tape. Kenneth Walker, he's the best running back that we're going to face to this point, one of the best running backs in the country.
"Nearly averages a first down every time he touches the football, so he's definitely got our attention."
Against Northwestern, Walker ripped off runs of 75, 50 and 30. Those still stand as his three longest of the season, though it's also fair to point out that he didn't carry the ball in the second half of a blowout win against FCS Youngstown State in Week 2.
Even though he didn't rip off any really long runs in MSU's 38-17 win at Miami last week, he had seven "chunk" runs of 10-plus, doubling his season total to 14 in 10 quarters of work.
"Obviously he's put together really well, explosive kid," NU defensive coordinator Erik Chinander said of the 5-foot-10, 210-pounder. "He's going to challenge your leverage. Some of these guys, they want to get to the edge and get the ball up the field. He wants to challenge your leverage and make a cut and really go.
"Hasn't been a lot of single tackles on this guy. So a lot of hats need to get to the football."
Tuioti brought up leverage, too. In that regard, the Blackshirts are in for a different challenge than what Oklahoma showed last weekend.
"Oklahoma, they ran a lot of gap schemes, they were pulling a lot of tackles and guards," Tuioti said. "With Michigan State, they're true, downhill, zone-scheme team. They don't do a lot of things really, really fancy, they just do it really well. The running back executes it to perfection. He can stick his foot in the ground and come right downhill. …
"So, if there's any space between whoever is the leverage player and the last man on the line of scrimmage, he's going to be able to hit that and break through the tackle and gain some extra yards. We've got to do a really good job of making sure there's no space and then rally to the football."
That's been an issue at times for Nebraska this year, where the edge player gets widened out and it creates a seam. The Huskers will likely get defensive lineman Casey Rogers back this weekend after he missed four games, which would provide another versatile player up front to help slow the run game. It takes more than just the front line, too.
"Michigan State plays big boy football," NU senior safety Deontai Williams said. "So they're going to try to attack us on the run game. We have to be very aggressive with their tight ends at the DB's side of the ball. Other than that, their receivers like to crack the DBs and stuff like that. Always running to the ball will help us on the short end of the runs."
MSU isn't just going to ground and pound, though. Quarterback Payton Thorne has thrown nine touchdowns and no interceptions this year, and such an effective rushing attack makes play-action passing more effective.
Walker also isn't the last talented back the Huskers will face. Not by a long shot. In fact, there are six Big Ten backs averaging 100-plus yards per game so far this year, and they're all on the Huskers' schedule.
In the next four weeks alone, NU will see Walker (164.3 per game), Michigan's Blake Corum (135.7) and Minnesota's Trey Potts (111) who are first, third and 16th, respectively, in the country in rushing yards per game. Minnesota's All-American, Mohamed Ibrahim, is out for the season with a leg injury suffered in the Gophers' opener against Ohio State, but Potts has stepped in and produced. Then in November, the Huskers will face Ohio State freshman dynamo TreVeyon Henderson (115.3), Wisconsin's rotation led by Chez Mellusi (132.5) and Iowa's Tyler Goodson (102.3).
The challenge starts with Walker and the Spartans.
"I'm really excited for this week. I can't wait to see our guys play against this team," Tuioti said. "It's a big challenge for us up front with this run game. I think our guys have a little chip on their shoulder from last week. I felt like last week we left plays on the field, that, if we would have finished it the right way, we'd have a different feeling. That's one of the things I want our guys to continue to be hungry about. Especially with this challenge of Big Ten play, every week is tough.
"The best team that shows up that day is going to win. The records don't matter to me, home field doesn't matter to me. It's just who executes their game plan better that weekend is going to win, and that's what Big Ten football really is to me."