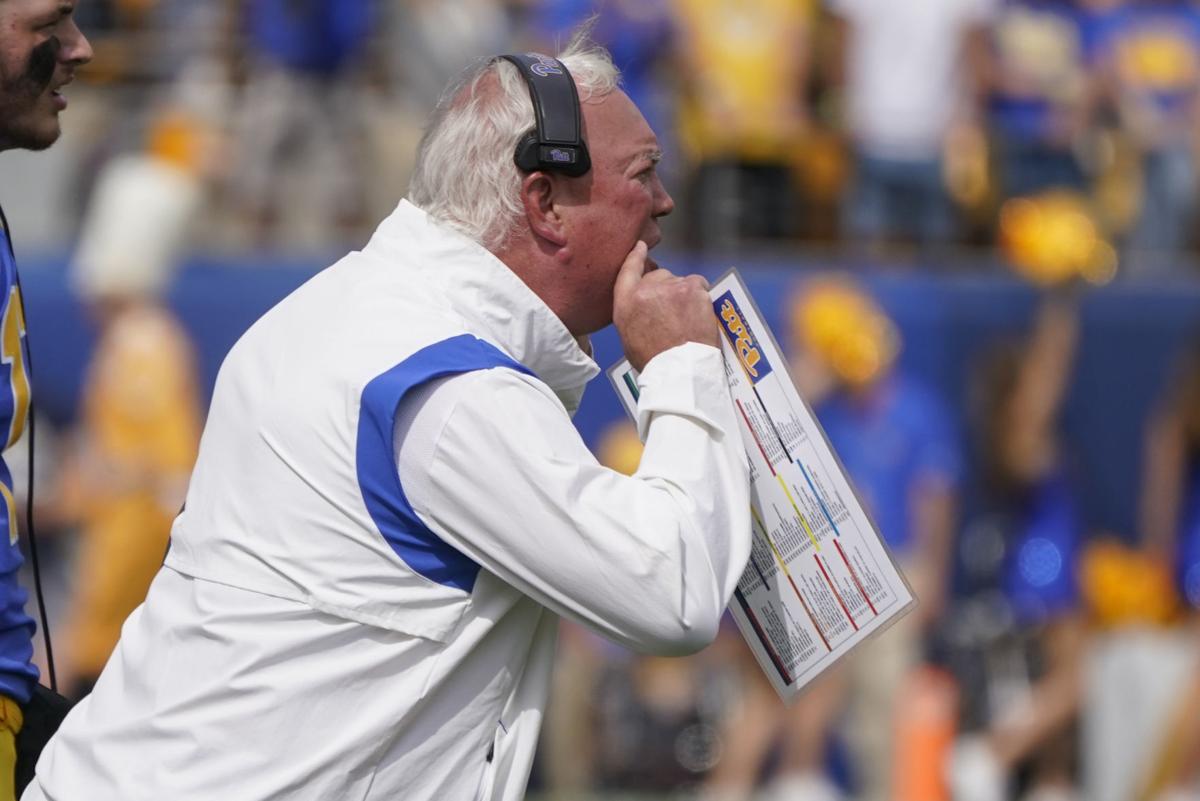 If you're looking for superlatives related to Pittsburgh's offense in 2021 and its offensive coordinator, Mark Whipple, those are easy to find.
The Panthers under Whipple, the 64-year-old who left the school Tuesday to take the offensive coordinator and quarterbacks coach job at Nebraska, enter bowl season near the top of the country in several offensive categories and, oh, by the way, won the ACC championship with a resounding 45-24 victory over Wake Forest.
Pitt is third in the country in scoring at 43 points per game, scored 40-plus eight times and crossed the 50-point threshold four times.
Quarterback Kenny Pickett was one of four Heisman Trophy finalists after throwing for more than 4,300 yards 42 touchdowns against seven interceptions, and wide receiver Jordan Addison won the Biletnikoff as the nation's top wide receiver after catching 93 passes for 1,479 yards and 17 touchdowns.
Drill down another layer, and Pitt was good in areas where the Huskers weren't in 2021, namely in the red zone. The Panthers scored on 88% of their red-zone trips, No. 34 in the country, and were No. 19 in touchdown percentage. NU was 40th in touchdown percentage, but No. 107 overall in red-zone scoring (77.4%).
That's all well and good. Numbers and metrics are important and often tell part of the story, but never capture the entire thing. What does Whipple bring to Nebraska as he makes the transition at a critical moment for coach Scott Frost?
Former Nebraska outside linebackers coach Jovan Dewitt got an up-close and personal look this year when his North Carolina team lost to the Panthers, 30-23, in Pittsburgh a month ago. Several weeks before that, former NU assistant Mike Ekeler and his Tennessee team also lost to the Panthers, 41-34, in Knoxville on Sept. 11.
A couple of common themes emerge from men who tried, with varying degrees of success, to combat Whipple's offense. The first, naturally, is that Pickett turned himself into one of the best players in the country under Whipple's tutelage.
"He's a dude," Dewitt said.
"He was the difference in our game," Ekeler said.
Both also complimented Whipple for his offensive philosophy rather than anything in particular systemwise.
"I think he does a good job of having plays for players, if that makes sense," Dewitt said. "He does a good job of finding ways to generate explosive plays for his players as opposed to saying, 'We've got these standard plays that we run regardless of who's in there.' Everybody has their staples, right? But I think he does a good job of manipulating his guys into creating bad matchup issues for your defense."
That has been a hallmark of Whipple's career. Addison, who Dewitt calls "an absolute creature," is just the latest standout. Both Tennessee and UNC held him to less than 100 yards receiving, but he had at least five catches in every game and over the past three had 14 for 202 against Virginia, 11 for 81 against Syracuse and eight for 126 in the ACC title game against the Demon Deacons.
"It's not like you didn't know what was happening, but it's more that, (Whipple) was going to make it so you couldn't get your best player on his best player," Dewitt said. … "I think it's a cool approach because some people are like, 'This is what we do, this is how we do it,' and you know these plays are showing up. I think he does a good job of, there's a threat of that, but he's also, like, 'I have to get this player the ball.'
"That's kind a lost art."
During Whipple's most recent stint as the head coach at UMass, his first standout was tight end Adam Breneman, a Penn State transfer who had 70 catches for 808 yards in 2016 and 64 catches for 764 in 2017. That year, he shared the lion's share of targets with slot man Andy Isabella, who put together his first of two straight 1,000-yard seasons. Then as a senior in 2018, Isabella had 102 catches for 1,698.
"He does a great job of using what he has," Ekeler said. "He's 64 years old, coached in the NFL for a bunch of years. He's been in about every offense you can imagine. He'll come into Nebraska and figure out in the spring and say, 'Ok, here's what we got. Here's what we can do really well.'
"I would be shocked if Nebraska is not damn good on offense because of it."
Both UNC and Tennessee limited the damage Pitt did on the ground — the Panthers had 96 yards (2.1 per carry) against the Vols and 95 yards (3.1 per) against the Tar Heels. The Panthers ran the ball better at other points in the season, though their 4.0-per-carry average and 152.7 per game rate are both pedestrian in college football.
"I think he just played to his strengths," Ekeler said. "You've got a first-round draft pick at quarterback and some really, really talented receivers, so I think that's smart. You sprinkle in the run and, shoot, how many points did they average? They got after it and won 11 games. So, I don't know how anyone can question that."
Dewitt said he appreciated the way Pitt was able to control games even without the benefit of a great run game. The Panthers are averaging almost 32 minutes of possession per game and average 7.2 more first downs per game than their opponents.
"Two of the analytics I look at are tempo and pace," Dewitt said. "Tempo is how fast you snap the ball between plays and (pace) is how efficiently you're able to generate first downs and there's a difference. It's one thing to be at a really fast tempo, but if you're off the field in 30 seconds, what the hell good does that do you? Whereas if you look at the pace of the game, that's, how can you run fast plays but also use them to generate first downs and not just going fast because fast is what we do?
"Historically, the past couple of years, Nebraska's been really high in one and not very high in the other. They have a really good tempo and not great pace. That's just what it's been. I look at (Whipple) and the way he's able to manipulate tempo and pace during the game and that really creates stress on the defense."
The run game is really where Whipple and Frost's marriage of scheme and approach will be most interesting. In the passing game, expect Nebraska to force-feed the ball to playmakers more. Whipple calls his system an "NFL-style" passing game.
"I would say that means you look at matchups more than anything," Dewitt said. "There's a lot more, 'If that, then this' statements based upon (defensive) rotation pre-snap and post-snap. It's not as much predetermined. …
"He did a really good job of developing Pickett to being able to do that. You see the progression of that kid. His game definitely changed — I wasn't here (when UNC played Pitt) in 2019, but obviously I watched the game and watched all their other games. You could see him get better and better at seeing the change and the structures of coverage."