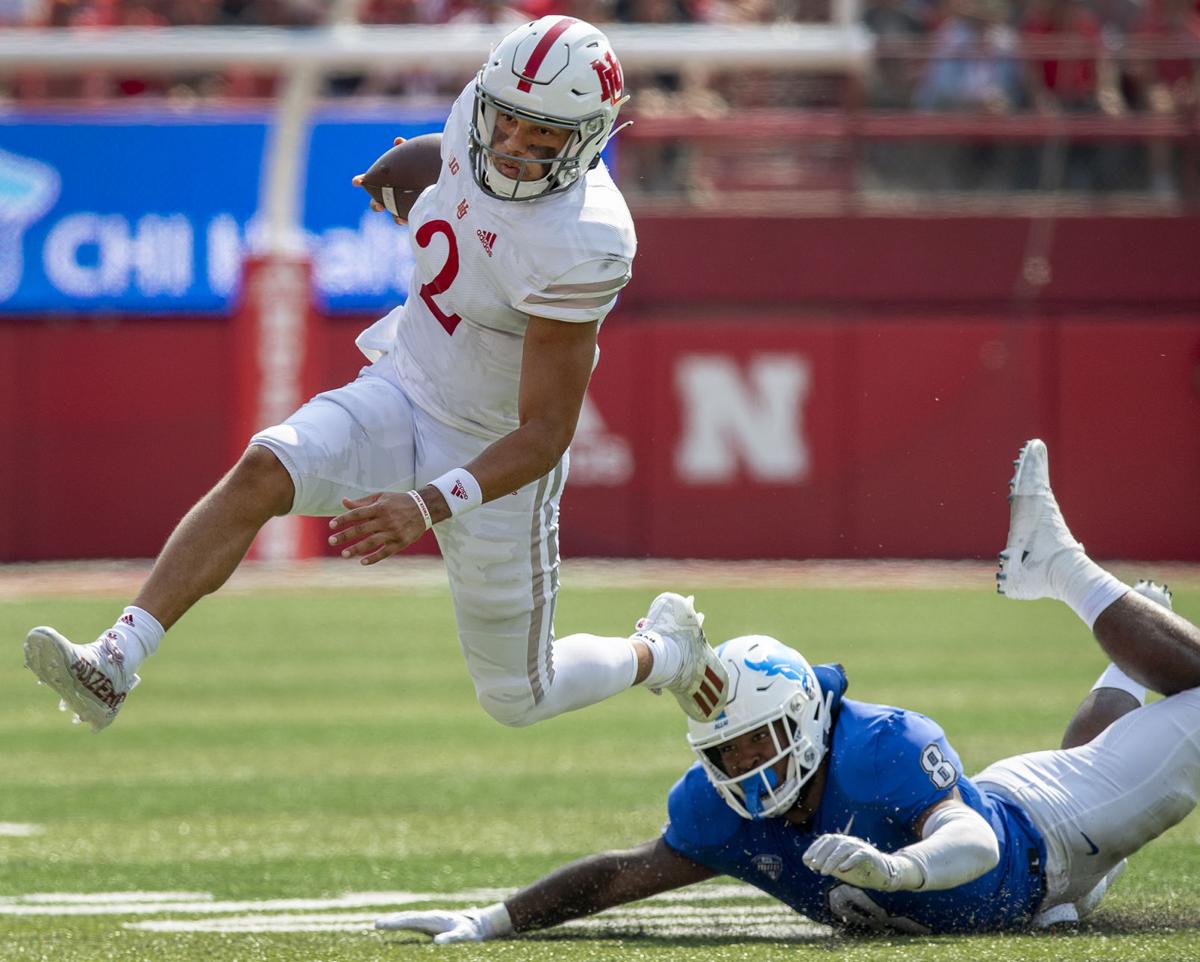 Nebraska junior quarterback Adrian Martinez has hit on an increased rate of big passing plays — two 68-yard touchdowns to Samori Toure against Buffalo highlight the progress in that department — through his first three games this fall.
He's also been NU's most dangerous threat in the running game.
"A testament to Adrian is he is making a lot of big plays," offensive coordinator Matt Lubick said Tuesday. "Some of it is dictated by, it wasn't actually a called play for him to run, but because of what happened, whether it's a read or the coverage telling him he has to run it, he's made a fast decision and done it."
Indeed, Martinez leads Nebraska with 256 rushing yards (7.5 per carry) and three rushing touchdowns, which are dynamic numbers in their own right. They don't tell the entire story, though.
By the Journal Star's count, the 6-foot-2, 212-pound junior has racked up 246 yards on 14 designed pass plays that turned into scrambles, including a 75-yard touchdown against Illinois and a 71-yard, field-tilting rumble against Buffalo. He's been sacked six times, but outside of those plays, he's netted 293 yards on 28 carries (10.5 per).
Against Buffalo, Martinez had four carries for 22 yards on designed run plays and five scrambles for 90, according to Journal Star numbers.
"I think we only had four or five in the game called quarterback runs where he was the primary guy," Lubick confirmed Tuesday. "But, in our offense, the nature of our offense, whether it's a pass play and no one's open or the coverage dictates that you run — or if it's a run play and the read tells you to run — sometimes that happens.
"He's a good player that can make guys miss in space and do a lot of good things with the football."
"It's special. He's doing some special things out there," running back Markese Stepp said. "Any time you have a running quarterback that can also throw, it's hard to defend. Especially when somebody is running man coverage, for him that's like a prayer come true. You get like 15 yards of free room and make something happen, and Adrian's doing a really good job.
"He's helped us a lot, being able to make those long runs has definitely flipped field position and flipped some of the games that we've been in."
Martinez is making that kind of hay on the ground despite a carry share of 23%, which is far lower than his career average at Nebraska. He's accounted for at least 26.5% of Nebraska's rushing attempts each of the past three seasons.
That number figures to trend higher this fall unless NU can get its running backs going against Oklahoma and into the teeth of the Big Ten slate.
Martinez has also diced up the past two opponents through the air, completing a combined 30-of-42 for 496 yards against Fordham and Buffalo after a bit of a rocky start against Illinois. He's thrown four touchdowns and has yet to log an interception through three games.
"Quarterbacks like having answers," Lubick said. "They want to know where they can go with the ball fast. He's been doing a really good job of that. As a matter of fact, a lot of the big plays in this last game were his second and third progression, where he went to his first progression, made a fast decision and got to his second progression.
"The big play to Samori was that way; the one (offensive pass-interference) penalty, that was the same thing. He's done a really good job of understanding his progressions and getting through them fast."
Through three games, Martinez has just one turnover — a costly scoop-and-score fumble against Illinois right before halftime — ranks 10th in the Big Ten in rushing at 85.3 yards per game and 14th nationally in total offense per game (320.5).
"None of that matters," quarterbacks coach Mario Verduzco said. "What only matters is this game this Saturday. After this game this Saturday, the only thing that matters is the game after that. It doesn't matter what he's doing well.
"It just matters what he's going to do well this Saturday."