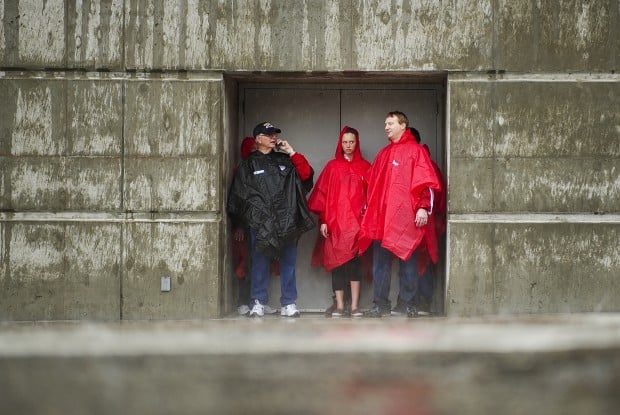 It was a victory for neither the Red nor the White -- just Mother Nature.
For those eager to analyze Taylor Martinez? Aaron Green? Ameer Abdullah?
Not this Saturday. Not this Sunday either.
There will not be a spring game for the first time since Nebraska began holding the scrimmage in 1950.
After waiting out fog, rain, hail, thunder and lightning, the Red-White Spring Game that figured to draw at least 50,000 fans was called off shortly after the scheduled 1 p.m. kickoff.
An announcement was made on the HuskerVision videoscreens to the fans — about 1,800 or so inside the stadium at that point — by Nebraska athletic director Tom Osborne, who spoke of the weather concerns and offered free concession items to the fans still there.
"We do have a slight window right now," Osborne told the media shortly after that. "But they're talking about some very strong winds, some hail, some possibilities of a tornado. We weren't counting on that. But the biggest problem was lightning. We had quite a bit of lightning at 12:30, and if that started again, we'd have to clear the stadium, and also clear the field.
"And we felt also that the strongest threat of really bad weather was going to kick in even later in the afternoon when people were going home. So we thought in the best interest of safety of everybody, it was better to just cancel it at that point."
Initially, Husker officials considered perhaps rescheduling the scrimmage for Sunday.
But after discussing the possibility with players, Husker coach Bo Pelini said that would not happen.
"I don't think that's going to work out," Pelini said. "When we met with the team, there's a lot of issues that go with playing (Sunday). When you talk about family issues. ... I had a show of hands of guys who had a problem with tomorrow — you have projects, academic things, a banquet coming up — it's not going to work."
Osborne spoke to the media right after Pelini. The athletic director at first expressed the possibility of still conducting the scrimmage.
When told of Pelini's comments about not playing Sunday, he said: "I talked to Bo and he said the players had some kind of conflict and he thought it would be hard. So if he said that he doesn't think they can play it, then probably we can't play it.
"If we don't have players, we won't have a spring game. I'm sure nobody wants to watch me go out there and catch passes. I don't catch them very good anymore."
Pelini said there are no plans for a 15th and final practice this spring, saying, "I think we're just going to move on and go to the next step."
The coach said one lost practice won't make or break the team, but also expressed disappointment the game couldn't be played.
"It's disappointing for the players, who I know look forward to this day. And it's disappointing for the fans," Pelini said. "But what are you going to do? I think the right decision was made. They made the right call. You have to look at the safety of everybody involved."
Certainly the weather projections were ominous Saturday afternoon for all of eastern Nebraska.
The Weather Channel even sent well-known on-air personality Jim Cantore to Lincoln. The channel's Tor:Con rating — a scale that runs from 1 to 10 in predicting if a tornado will touch down in an area — had eastern Nebraska registered at a 9 in the hours right after the game's cancellation.
Nebraska athletic department officials were in constant contact with the National Weather Service, trying to get a good read on whether or not to go ahead with the game.
Butch Hug, Nebraska's associate athletic director for facilities and events, said officials were being told the storm cell heading this way had lightning strikes every 11 minutes.
Buildings on campus were available as shelter for fans if it became necessary Saturday, Hug said.
And as for the idea of holding the scrimmage Sunday, Hug pointed out that NU would have a limited number of medical, event and security staff available for an event as significant as the scrimmage.
Though there were stormy forecasts for the day being projected on Thursday and Friday, Osborne said it was tough to make a call on canceling the game at that point because the information was not very definitive.
"Everything was kind of back and forth," Osborne said. "We knew there was going to be an unstable air mass. We knew that there was a possibility of some strong storms. But nobody seemed to be very accurate; at least at that time we didn't know what the path was going to be and exactly what the timing was going to be.
"Most of the information we had was that heavy weather was going to be late in the afternoon, so we were assuming maybe 5, 6, 7 o'clock tonight was maybe going to be the bulk of it. And it seemed to materialize more quickly."
For those who had spring game tickets, the athletic department later announced that any ticket -- which cost $10 for adults -- could be used to attend any remaining regular-season home baseball or softball game.
The lack of a spring game does, of course, have a financial impact on the athletic department.
"If you count in concessions and everything, it's probably around $400,000, so it's a fairly big deal," Osborne said of the money the scrimmage typically generates. "So it wasn't a decision we made lightly. But on the other hand, if you have somebody get hurt badly or somebody get hit by lightning, then you've probably saved yourself a lot of grief, and personal injury and all those kinds of things.
"So we made the best decision we could based on the information we had. And that's always the way it is. It's like when you call a football play: You don't know if it's going to work or if it's not. You just go with the best information you can at the time and hope things work out."