Head coach Scott Frost noted on Tuesday's Big Ten coaches teleconference that the school has considered pursuing a waiver for eligibility for a long time and made it sound as though that process is underway with Vedral.
"We're working on it, that's all I can say," Frost said Tuesday. "I don't know where it will land."
Vedral, a Wahoo native, transferred to NU in January after spending his freshman season at Central Florida as McKenzie Milton's primary backup.
"When people are transferring most of the time right now it's because they're not going to play somewhere and they go somewhere else," Frost said. "It's hard to blame them, but it's also hard to manage as a coach, not knowing even a week before a game who's going to be on your team and who isn't.
"We certainly would have managed the situation different had we known somebody was going to leave us right before the first game. We've had a couple of quarterbacks leave now and I'm sure they're filing waivers for initial eligibility and immediate eligibilitym and Noah's situation is no different. He wanted to be closer to his parents, had some things he wanted to get back for and he wasn't going to play at (UCF) because of the kid they had."
Earlier this month, Vedral said he met with NU coaches, and the group jointly decided that he would not file a waiver.
As it stands currently, sophomore walk-on Andrew Bunch is the primary backup to freshman Adrian Martinez, while Kearney Catholic freshman walk-on Matt Masker is No. 3.
"To have a true freshman walk-on from the LouPlatte Conference as our third-teamer is not where we thought we'd land, but Matt's done some really good things," Frost said. "Bunchy was getting equal reps with other guys and he was in the mix. … He wasn't quite as good, but I think his play is going to pick up as soon as he gets some reps, but he's an athletic kid with a good arm.
"We'll keep fighting the fight, but we have to roll with what we have and have confidence in the kids that we have here."  
You have free articles remaining.
Gebbia withdrew from classes on Monday and on Tuesday morning the school confirmed he had been granted a release from his scholarship.
Frost said Tuesday that when Gebbia met with coaches Monday, "there was no changing his mind."
"We want what's best for him and he made the decision, I think, with his family on what was best for him, and we're going to wish him the best."
Junior cornerback Lamar Jackson, a close friend of Gebbia's, said he didn't think the quarterback's decision was knee-jerk in nature.
"Even through the battle, through the spring, I'd asked him how he was doing and he'd say, 'I'm nervous, I'm nervous,'" Jackson told reporters Tuesday. "So I'm pretty sure this wasn't something that just happened. He probably kind of had this in his head."
Gebbia's late decision to transfer — he's the third quarterback to leave NU since late December — puts NU in a tough spot, Frost said. While schools on quarters systems could still add a player at this late in camp, the Huskers cannot because Tuesday is the add/drop date for classes at UNL.
"The NCAA is always worried about a level playing field, but this creates a distinct unfair advantage for teams whose schools are on quarters systems," Frost said, adding he hopes that college football "doesn't become transfer mania."
"It's going to get messy," he admitted. "I wouldn't want to be the one that has to decide exactly what the rule is, but it's not fair to the rest of our team when we're losing kids right before (the opener) that we're counting on."
Fast risers on the Husker football team
Record-setting Morgan steps into the spotlight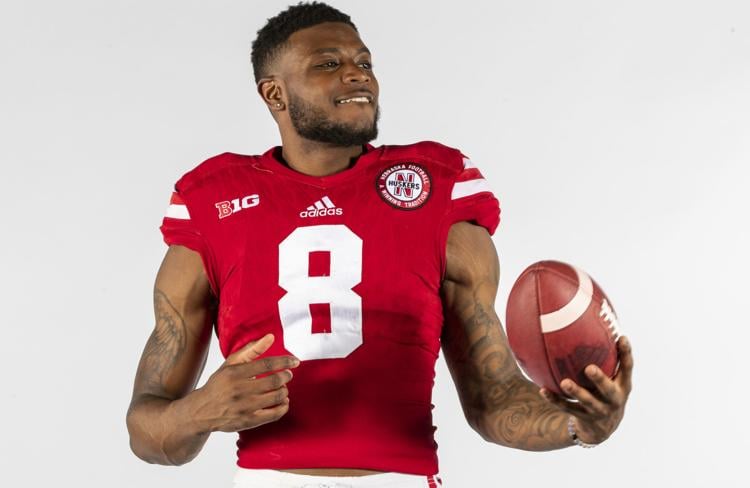 Wide receiver  |  6-foot-1  |  200 pounds  |  Sr.
Stanley Morgan has always considered himself more of a leader by example.
His play's certainly done plenty of talking. Now that record-setting production has thrust him into the spotlight as a cornerstone-type player.
Morgan set the single-season mark with 986 receiving yards in 2017 and now will take a featured role in an offense that thrives on getting the ball to playmakers.
Troy Walters has coached a 1,000-yard receiver in six of the past eight seasons and is himself the 1999 Biletnikoff Award winner as the nation's best receiver as a senior at Stanford. He calls Morgan a "pro."
"He's been there and done that," Walters said this spring. "Has great size. Great ball skills. Physical player and plays with an attitude. He's really come in and grasped the offense. We're going to count on him to be the guy. At UCF we had Tre'Quan Smith, and he was our guy. Our featured player. And Stanley will be that guy."
The Huskers should have a menu of offensive skill weapons at their disposal. It's unlikely, though, that they'll go long periods without finding a way to get the ball in No. 8's hands.
Adrian Martinez received the first offer of the Frost era, is he the future?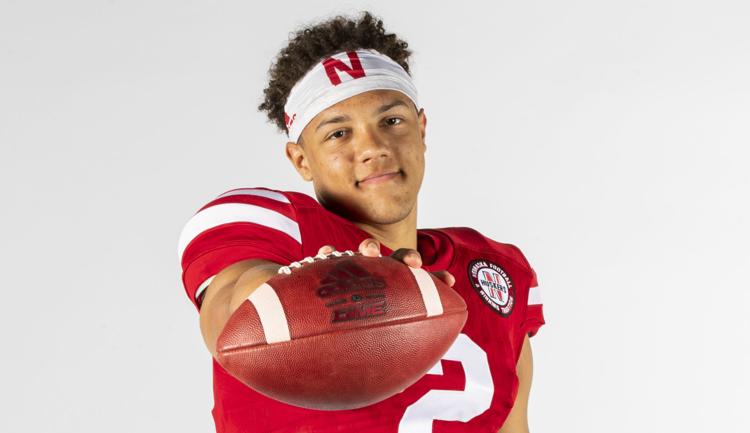 Quarterback  |  6-foot-2  |  220 pounds  |  Fr.
Adrian Martinez was sitting on the couch with his dad on an early December night watching the aftermath of Central Florida's win over Memphis when he got the phone call that changed the course of his college recruitment.
Mario Verduzco, following Scott Frost from UCF to Nebraska, offered Martinez a scholarship just an hour after coaching in the American Athletic Championship game.
He committed later in December, signed on the 20th, enrolled in January and started turning heads almost immediately.
"When I was evaluating quarterbacks for this class a long time ago, Adrian was my favorite guy in the country," Frost proclaimed when NU signed him.
The 6-foot-2, 220-pounder dazzled in the Red-White spring game, carries himself with veteran presence and has Husker fans dreaming of another elite Frost/quarterback combination.
Martinez has his sights set on becoming the first true freshman to start a season opener in Husker history. No matter what happens in the run-up to Sept. 1, the consensus on Stadium Drive is that No. 2 has an awfully bright future.
Juco transfer Greg Bell looks to make immediate impact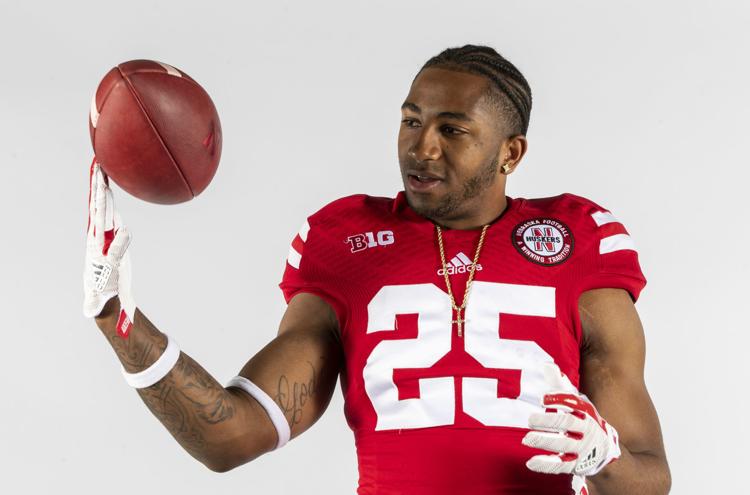 Running back  |  6-foot  |  205 pounds  |  Jr.
A freshman quarterback stole some of the headlines when Scott Frost's first crop of recruits signed in December, but Greg Bell might have as big an impact in 2018 as any early enrollee.
The junior running back racked up 1,200-plus yards at Arizona Western in 2017 and then picked Nebraska over a slew of good options, including Tennessee.
Bell emerged from spring ball as seemingly the Huskers' best backfield option. The complexion of the group has changed in recent weeks with Devine Ozigbo's resurgence Maurice Washington's successful run at qualifying academically.
But make no mistake, Bell will be a factor.
"Greg's got a gear that is pretty special," Frost said after watching the Chula Vista, California native rush for 54 yards and add 41 on two catches in the Red-White Spring Game.
The 86,000-plus in attendance and those watching the scrimmage on Big Ten Network got a look at what the Husker coaches like about Bell: He's slippery, he's fast and he's a natural receiver. In fact, Arizona Western head coach Tom Minnick said Bell would have been that team's best wideout had he played there.
Now, the man nicknamed 'The Eel' will try to make his mark on the Big Ten.
Brenden Jaimes can be a building block as Huskers look to reestablish 'pipeline'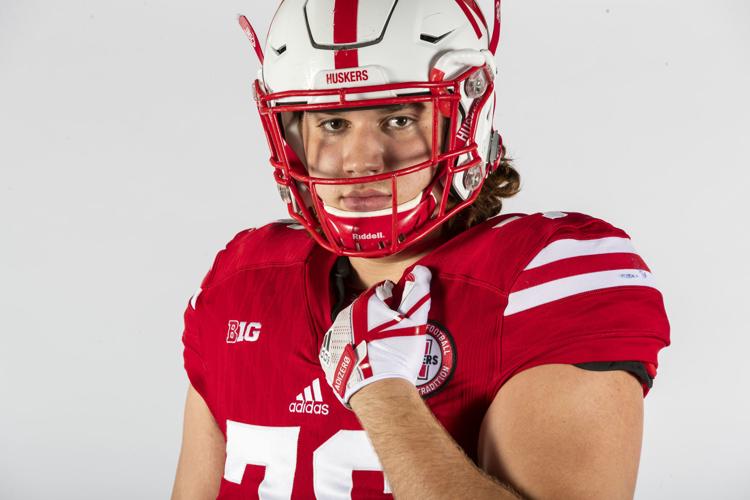 Offensive tackle  |  6-foot-6  |  300 pounds  |   So.
Brenden Jaimes became only the fifth true freshman to start on the offensive line last fall and he wound up starting nine of 12 contests at right tackle.
Now he'll play left tackle.
Jaimes is a cornerstone of the Husker offensive line and, with three years of eligibility remaining, can be a player that helps reestablish the school's proud tradition of line play.
Mike Riley's staff wanted to redshirt the Austin, Texas native, but injuries forced their hand. Now he's had a full offseason in the weight room and is up about 20 pounds. He looked understandably underpowered but typically held his own in his first go-around. Now he'll protect a first-year quarterback's blindside.
"Last year, he was baptized in fire," senior Tanner Farmer said. "I was playing right next to him and I would have to help him out a little bit with calls and stuff like that. Sometimes there was a little bit of yelling back and forth, but I feel like he's really maturing and learning more and more about the offensive scheme and knowing his individual responsibilities."
Jack Stoll poised for a breakout as leader of young tight end group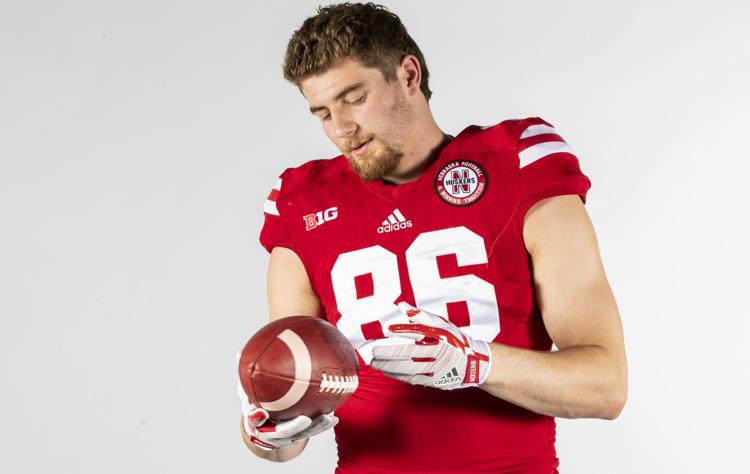 Tight end  |  6-foot-4  |  260 pounds  |  So.
The fullback might be dead in Nebraska's new offense, but the tight end is alive and thriving.
Jack Stoll emerged almost immediately in spring ball as a leader in Sean Beckton's room and shows every sign of being a player the Huskers count on each week.
"He's always been a tenacious blocker and attitude. He brings that to our offense," Beckton said. "The biggest thing for him is adjusting more to being a receiver. He's doing extremely well there. I'm really excited about where he is. He's understanding how to maneuver against underneath coverage and catch the ball downfield.
"He's going to be a big threat for us this year."
That's a big compliment from Beckton, who's made his career coaching fluid athletes and receiving threats in Florida.
Last year, Central Florida's tight ends combined for more than 800 receiving yards. Jordan Akins, a fourth-round NFL Draft pick in May, led the way with 32 catches for 515 yards and four scores.
The Nebraska record for catches by a tight end is 34, set by Tyler Hoppes last fall. Can Stoll have that kind of impact? It's certainly not out of the question.
Lamar Jackson expects turnaround for himself and NU secondary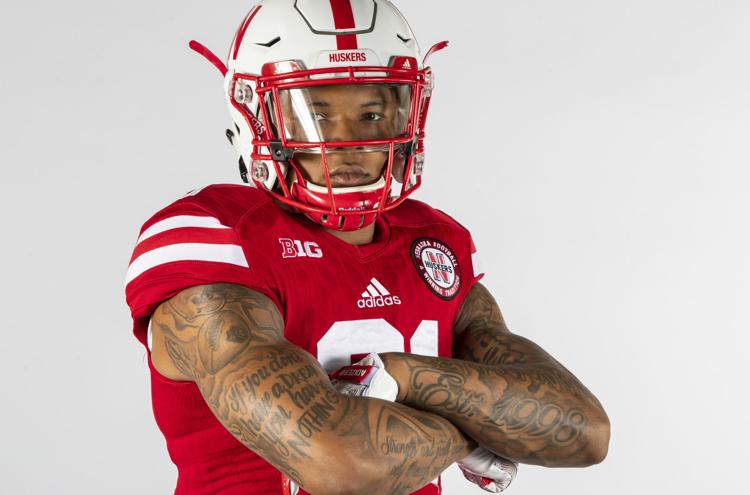 Cornerback  |  6-foot-3  |  215 pounds  |  Jr.
People ask Lamar Jackson all the time what changed this offseason.
The junior is one of the most polarizing players on the Husker roster. Some fans think he'll morph into the All-American he seemed destined to become as a blue-chip recruit out of Colorado. Some think he's a bust and always will be.
Jackson, to his credit, doesn't seem phased by any of it. He's always projected self-confidence and this fall seems to be more comfortable than ever with his game and his role.
Defensive backs coach Travis Fisher hasn't been scared of criticizing his group. He asserted in June that his position group had no players who could turn their hips and run like he wanted. He's planning on recruiting players who will push the incumbents and it appears he already has.
So Jackson is suddenly the veteran in the room — he's played 25 games here already — and also wears the bulls eye for all the young guys who want to snatch a starting job for themselves.
Jackson, it seems, is no stranger to the bulls eye.
He's maybe the most fascinating case study in what a new coaching staff can do for a player.
Luke Gifford aims to jumpstart turnaround in final campaign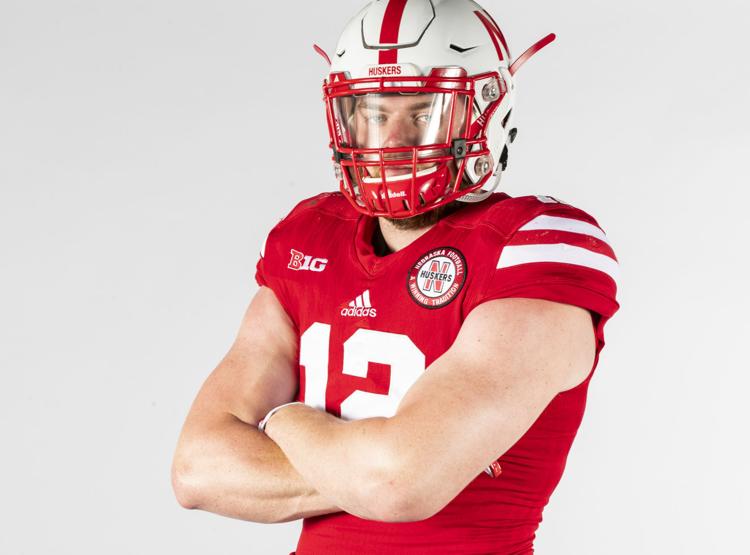 Outside linebacker  |  6-foot-4  |  245 pounds  |  Sr.
One of the few bright spots on a much-maligned 2017 Nebraska defense came to the school from right down the road at Lincoln Southeast.
Luke Gifford made his mark from his outside linebacker spot, proving adept in space and pesky as a pass-rusher.
Now his position coach, Jovan Dewitt, wants him to be a game-changer.
Gifford missed all of spring ball after late-autumn hip surgery but was cleared fully for summer conditioning and is quickly making his presence felt in fall camp.
He believes that's his only path to the field.
"The film from a 4-8 season doesn't mean much, you know? You made some plays, but you were 4-8," Gifford said. "So I have a lot to prove. I'm coming in here, starting from square one and I wouldn't have it any other way. That's the way I expect it to be. I'm ready to roll."
Really, Dewitt and defensive coordinator Erik Chinander will almost certainly find a sizable role for Gifford. They like his toughness. They like his mentality. They like the way he continued to work over the course of his lengthy rehabilitation.
Gifford is a Nebraska kid. He knows what the past four years have been like. Heck, he knows what the past 20 have been like.
He's hell bent on being part of the change. His final go-around is here. It's hard to imagine anything but an all-out campaign from one of the team's leaders. 
Ben Stille is the future of Nebraska football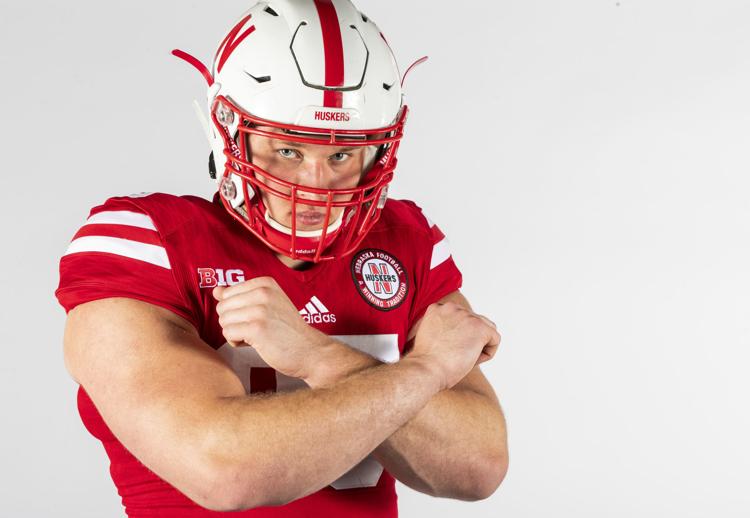 Defensive end  |  6-foot-5 |  290 pounds  |  So.
Let's do a thought experiment. Let's try to dream up the perfect encapsulation of what Scott Frost wants the Nebraska football program to be about.
Scratch that, there's no need. Where's Ben Stille?
Stille is a Nebraska boy. He grew up dreaming of playing for the Huskers. He starred for Ashland-Greenwood just up the highway.
His teammates say he's tough as nails. He is a star pupil of head strength coach Zach Duval, and now instead of a 255-pound outside linebacker, he's a chiseled 290 pound defensive lineman.
Over the summer, he earned a reputation as a leader in the weight room, pushing the envelope alongside a former Navy SEAL, a transfer wide receiver from a rural Mississippi junior college and a former premium offensive line recruit from Illinois.
You want to work? You find Ben Stille.
Stille played in 10 games for NU as a redshirt freshman and led the team in tackles for loss (10.5) and sacks (3.5). Now he's being asked to play a new position in which he'll more often take on double teams, more often line up across from an interior lineman and likely more often rotate in and out of the game.
He doesn't seem to complain about anything.
Playing time won't come easy in a large — in number and, you know, body type — room run by Mike Dawson, but there's little doubt Stille will find a way to make a difference.
"The more guys we can get to be able to play at that level, the better we'll be at defensive line," Stille said.
There are many who'd share the same sentiment regarding players like Stille and the future of the NU program.
Every-down Carlos Davis looks to make his presence felt up front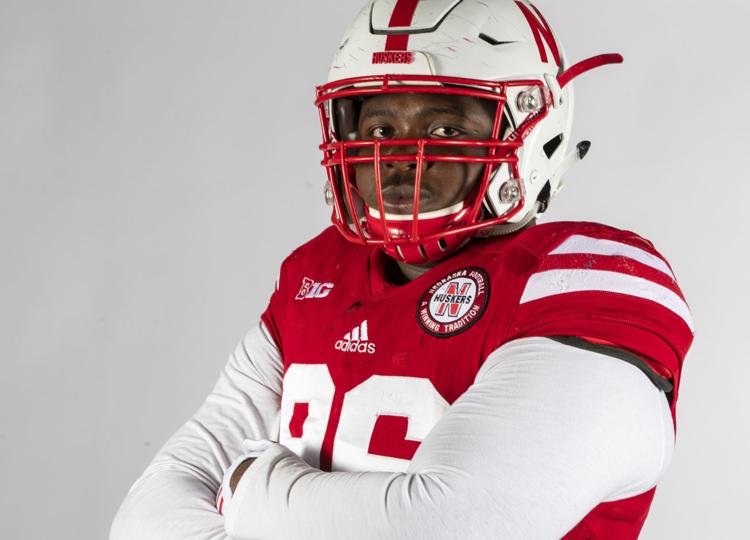 Defensive lineman  |  6-foot-2  |  325 pounds  |  Jr.
As a sophomore, Carlos Davis was the only member of Nebraska's defensive line who regularly played every down.
As a junior, he may not be asked to carry the same kind of workload in 2018, but he's capable of it.
Davis has put on 30 pounds but retains the ability to complete a standing backflip, according to teammate Ben Stille, and figures to factor prominently in the Huskers' efforts up front.
Davis and his teammates rave about the tactics taught by their new position coach, Mike Dawson. It's aggressive. It's mean. It's about striking and displacing.
If you think all this talk about improved weight training is just spitting on the past or football program hooey, consider the words of NU track coach Scott Cappos, who coaches throwers — Davis is an excellent one and qualified for nationals in the discus this spring: "I think (the old coaches) wanted them to be a little bit smaller. Maybe that works in football, maybe it doesn't, but in track and field you want to be big and powerful in the throws.
"(The Davis brothers) lost a little bit of an edge. Now they're back to being bigger, stronger and more powerful athletes."
Young has impressed NU's all-time leading tackler ahead of his final season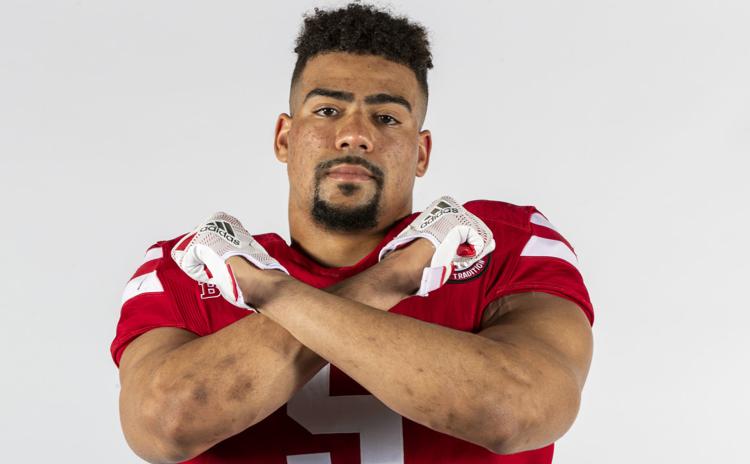 Inside linebacker  |  6-foot-1  |  245 pounds  |  Sr.
If in December you drew up a list of returning players that were sure to garner immediate and continued praise from the new coaching staff, where would Dedrick Young fall in the pecking order?
Barrett Ruud liked what he saw right away and said as much throughout spring ball, and now, into fall camp.
"He would be the guy I would probably put the most on his plate in terms of making calls, making checks, playing multiple positions," Ruud said on the radio recently. "I think he can handle that the best of our group."
You can find any number of instances of Ruud praising the work of the Peoria, Arizona native who is NU's leading returning tackler by a long shot. He had 81 stops in 2017 and has more than 200 for his career.
Young has perhaps never been thought of as a force inside, but he'll have the chance to prove it this fall. He's also got good competition from Mohamed Barry and Will Honas. Young's the central nervous system in the middle for the Blackshirts, though.
Mohamed Barry knows what he wants, now he must find it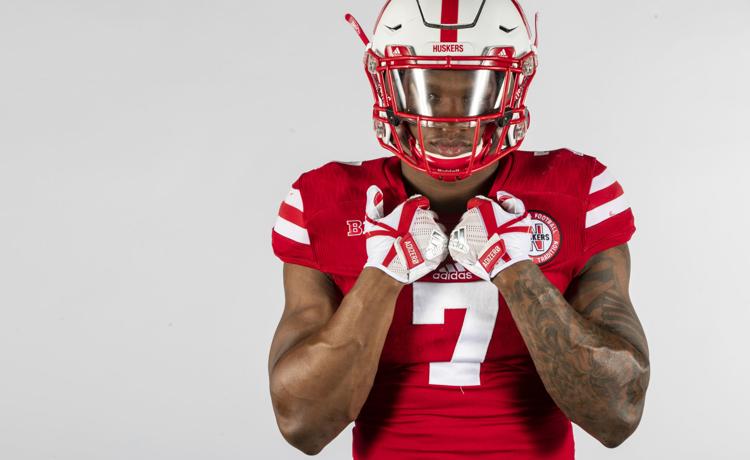 Linebacker  |  6-foot-1  |  230 pounds  |  Jr.
Mohamed Barry has a clear vision of where he and his Huskers are headed.
"I want a lot of tackles and a lot of explosive plays," Barry said this spring. "I want to be a player that changes the game for my team and helps us get to Indianapolis and that Big Ten Championship."
Barry's never been afraid of lofty goals. He's talked about wanting to be the best linebacker in the country. He's wired in such a way that shooting for anything else would be ludicrous.
The Grayson, Georgia native also has a fight on his hands just to win a starting job at inside linebacker for the Huskers.
Dedrick Young and Will Honas provide stiff competition. Barry's familiar with the prospect. Young and senior Chris Weber started most of 2017 before Barry supplanted an injured Weber for two games late in the year.
Nonetheless, Barry sometimes seems like the defense's heartbeat. He's eloquent. He's passionate. He's not afraid to speak his mind, either with reporters or with fellow players.
He seems like an instrumental part in building the type of accountability-based culture Scott Frost and company demand. The value of that likely cannot be overstated.
'Special talent' Tyjon Lindsey finally gets to play for Frost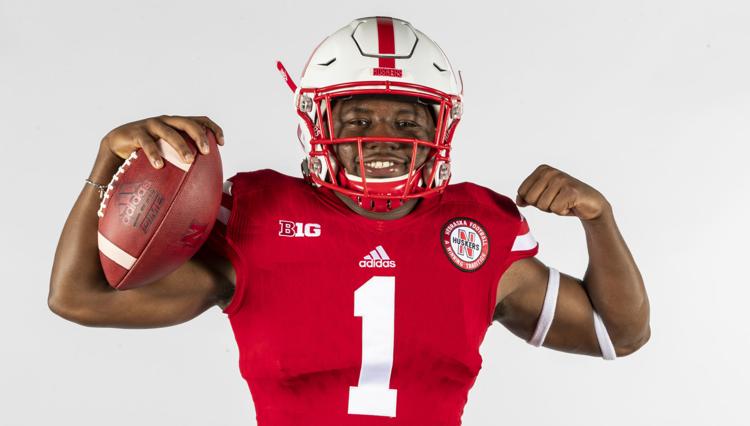 Wide receiver  |  5-foot-9  |  200 pounds  |  So.
Tyjon Lindsey always wanted to play the "Duck-R" spot for Scott Frost.
But Frost left Oregon when Lindsey was a highly sought-after recruit at Bishop Gorman High in Las Vegas and became the head coach at Central Florida.
Lindsey signed with Nebraska.
His freshman year was inauspicious. Twelve catches for 76 yards. He admits now he wasn't ready physically.
Then he hit another roadblock: Lindsey came down with rhabdomyolysis during the first week of winter conditioning in December and says he thought about quitting.
Instead, he enters his sophomore campaign feeling stronger and more explosive than ever.
"You'll see Tyjon in the backfield, you'll see him out wide, you'll see him all over the place," offensive coordinator and receivers coach Troy Walters predicted. "Because he's a special kid. He's got special talent and I'm very impressed with what he can do. Love him. Love what he can do."
Lindsey grew up wanting to be like DeAnthony Thomas, the former Oregon star now playing for the Kansas City Chiefs. Now he's got his chance.
"Being put in the shoes of one of my mentors, it drives me to be the person I want to be," Lindsey said. "This is the dream I've been living my whole life, since I was a little kid, and now it's in my hands.
JD Spielman sets out to follow up dazzling first campaign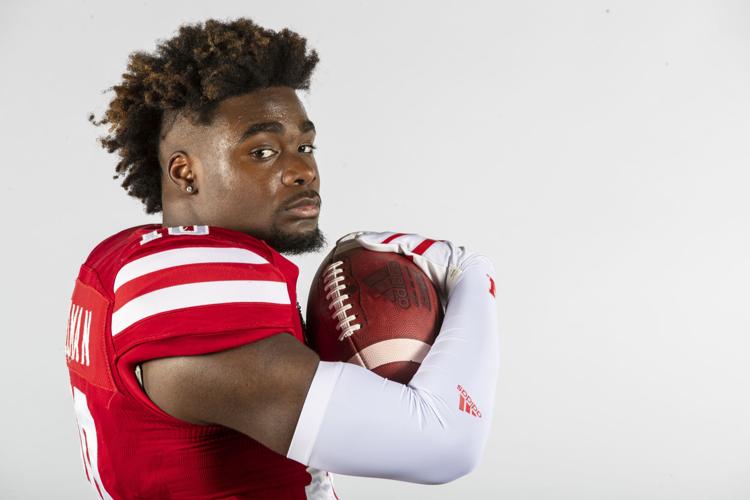 Wide receiver  |  5-foot-9  |  185 pounds  |  So.
JD Spielman made his mark in college football about as quickly as one can.
He took his first career touch, a kick return against Arkansas State, 99 yards to the house.
Then, somehow, he followed it up week after week.
Spielman was NU's most productive receiver down the stretch, averaging 107 yards per game over his final five.
The Eden Prairie, Minnesota native appears tailor-made for this offensive system.
"I think him and Tyjon (Lindsey) are both the type of kids that flourish in our offense," head coach Scott Frost said in the spring. "Guys that can win in space. You get them the ball in space and they can make things happen."
But Spielman hasn't had an easy go of it in recent months. He was hospitalized for five days with pneumonia and missed more than half of spring ball as a result.
For a guy who had 830 receiving yards and nearly 1,600 all-purpose yards as a freshman, maybe he's flying a bit below the radar.
That probably doesn't bother the quiet son of Minnesota Vikings general manager Rick Spielman.