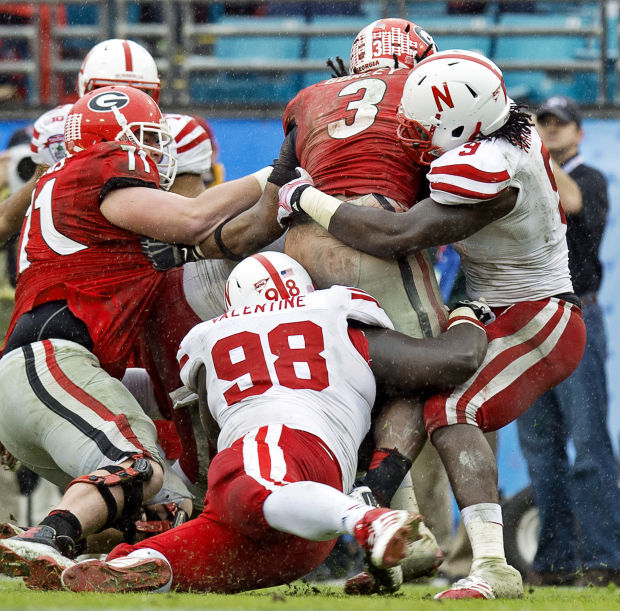 A year ago at this time, Vincent Valentine walked into fall camp having just been issued what amounted to a public challenge from his coach.
During last year's Big Ten Media Days, Bo Pelini talked about the "self-imposed hurdles" the Husker defensive tackle faced, and how Valentine needed to "learn how to work and how to push through."
Valentine nods his head when reminded of that anniversary. You'll get no dispute from him about such analysis from a year ago. But he also feels he has traveled some distance from that point: Still plenty to prove, yes, but the sophomore feels different. A good kind of different.
"I think I have a different mind state," Valentine said. "Going into that year, I'd never played. I kind of took things for granted a little bit. I really wasn't out there … knowing what it takes to be on the field with the guys.
"I didn't know what I really wanted. But now that I've been on the field, I know what it takes to get to where I want to be, because the ultimate goal is always to go to the league. So I've been pushing myself harder. I've gained mental strength, and I think that's the most important thing to me."
Handle things from the neck up and Valentine trusts his physical skills to do the rest, including taking on a greater workload than the roughly 25 to 30 snaps a game he usually played last year.
"I don't really have a snap-count projection," he said for the season ahead. "My goal personally is to be out there every snap."
You can understand why he has high hopes, especially considering he was starting to play some of his best football at the end of the season. Three of his five tackles for loss in 2013 came in the final two games, including a few snaps against Iowa where he barged into the backfield like it was his own backyard.
The 6-foot-3 Valentine is also in the best shape he's been. Weighing 343 pounds when he first arrived to the program, he entered fall camp weighing about 318 pounds.
"That's some bad weight gone," Valentine said.
The weight came off gradually. When conditioning was done, Valentine would run extra sprints to try to help knock off some pounds.
Now he talks about losing even a few more, eating right, being disciplined.
That discipline to drop weight, he thinks, can be applied to other phases of the game, too.
Defensive line coach Rick Kaczenski talks about discipline often.
"From the football field, everything carries over to life as well. That's what Kaz taught me," Valentine said. "If you are doing things on the field wrong, you'll probably see it carry over to your regular life. So I kind of keep everything balanced throughout my life. I know eating right helps me on the field. I can see things carrying over from football to my regular life."
Kaczenski and Valentine now both enter their third year in the program together. The defensive tackle admitted it took some time to adjust to the expectations of his new coach.
Before he got on campus, he had heard Kaz was as intense as they come. He wondered what awaited him.
"But the adjustment period is over for me now," Valentine said. "I felt Kaz out and he felt me out, but we know each other. … He's only going to get on you if you're not doing what you're supposed to do and he expects, because he has high expectations."
That's cool with Valentine. You see, so does he.