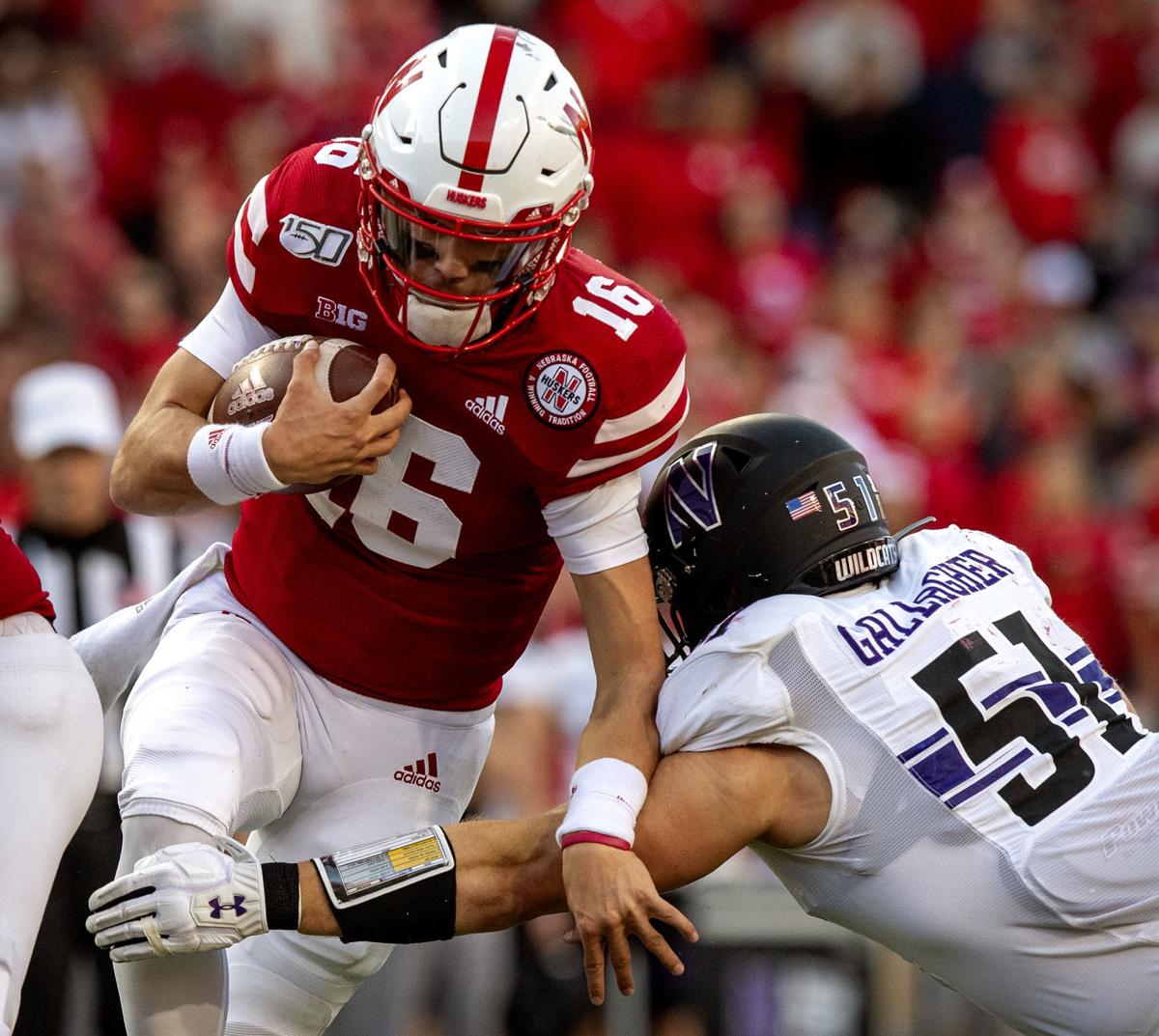 There is some humor in this particular memory now, more than two years later, given all that has transpired in McKenzie Milton's life since.
The star Central Florida quarterback, who led the Knights to an undefeated 2017 season, saw his coaching staff leave for Nebraska and still started out the 2018 campaign in fabulous form before a devastating leg injury, was just a freshman coming off an up-and-down rookie campaign back when he turned on the high school highlights of a skinny kid from Wahoo, Nebraska.
Back then, Milton hadn't yet become a bona fide Heisman Trophy contender. He hadn't yet ripped apart defenses to the tune of 10.2 yards per attempt, 37 touchdowns against nine interceptions and racked up more than 4,600 total yards of offense while leading the Knights to a 13-0 year and a Peach Bowl win over Auburn. He hadn't yet undergone emergency surgery the night of Nov. 23, 2018, an ultimately successful operation that saved his right leg after a gruesome injury suffered against South Florida and marked the first step of a rehabilitation process that continues to this day.
Back then, he watched video of Noah Vedral under center at Bishop Neumann, a little school in a little town in a part of the world Milton had never seen, and he wondered just a little bit about the security of his job.
Never mind Vedral's light recruitment or the unknown during his high school career whether he would even play football in college or instead choose basketball. What Milton saw made an impression.
Parker Gabriel shares insights from head coach Scott Frost on the unknown factors that may come into play in the game against Minnesota.
"I obviously did my homework to see who would be the guys I'd be competing with," Milton told the Journal Star this week. "As a football player, his film just jumps out. He's sneaky athletic; he's extremely fast. Long and lanky, pretty strong arm and he's extremely accurate.
"I knew I had my work cut out, just from a competitive standpoint."
When Vedral arrived on campus, sure they competed, but they also became fast friends.
"He's a great teammate and a great guy, and I was bummed when he transferred to Nebraska, even though I understood why, to get to go back home and play for Coach (Scott) Frost," said Milton, who won the job and had Vedral as his No. 2 until Vedral transferred to NU in January 2018. "He became a really close friend of mine. … He always stays true to himself, you know? He never misses Mass on Sundays. He's just consistent in what he does. What he says he's going to do, he does."
Vedral this week makes the trip to Minneapolis with his Husker teammates in line for his first career college start against Minnesota if starter Adrian Martinez is not ready to play after a left knee injury last week.
You have free articles remaining.
Milton keeps in touch with Vedral, Nebraska quarterbacks coach Mario Verduzco and Frost occasionally, and said he's kept track of Nebraska from afar this season. As he continues to rehab and takes aim at trying to return to the field in 2020, he's near the top of a long list of people who speak highly of Vedral's ability to step in and help the Huskers, who at 4-2 overall and 2-1 in the Big Ten face a critical test against the Gophers (5-0, 2-0).
Steven M. Sipple and Parker Gabriel preview Nebraska's game Saturday night at Minnesota and take questions.
"Obviously Adrian Martinez and I are both pretty good quarterbacks, but in my opinion, (Vedral) could be starting anywhere in the country just because of his work ethic, and he's a great player," Milton said. "He does everything that you'd want in that offense that Frost and Verduzco run."
Milton would know. After all, he and Vedral learned Frost's offensive system together under Verduzco. They huddled around the veteran assistant coach's computer in his office at UCF, which Milton said was the size of a cubicle and barely fit Verduzco and a quintet of signal-callers.
"Every time I walked in there, he'd be playing classical music, Beethoven or something I'd never heard of, but that's just the guy he is. He's an old-school dude," Milton said. "He'll be forever one of my favorite coaches, if not my favorite, since I played football."
The Knights blew out enough opponents that Vedral saw time in eight games as a freshman, completing 22 of 29 passes (75.9 percent) for 276 yards and a touchdown, and rushing for 77 yards and a pair of scores. That kind of smooth, efficient play is what Verduzco says he's seen from Vedral since spring ball this year.
"Just from being around him as much as I have, he's always been really calm and collected and, when he's had the opportunity to get X amount of reps in terms of preparing for the game, he's usually been pretty sharp," Verduzco said. "He has, innately, pretty good vision and I remember one of the first games (at UCF), it was actually his first game and his first snap in that series, and there was a protection issue that he had to change and here he is, his first game, and saw it, changed it and got it done and threw a strike." 
During that time, Milton and Vedral, roommates in the Knights' team hotel, started a Friday night tradition befitting a couple of young guys, each far from home, trying their best to block out what must have been mounting distractions as a strong start turned into a national story and, eventually, a dream season.
"Before every game, we'd order Insomnia cookies," Milton said. "And it worked. We won every game. So I've kind of continued that tradition and I wish he was here to continue it, but I'm sure he started a new one with Adrian. We'd just watch the Friday night games and me and him would just chill."
No word, yet, on whether Vedral will load up on chocolate chip this weekend, though there is an Insomnia location in Dinkytown that delivers.
Regardless, Milton is sure that his former steady-handed backup will be ready if his number is called.
"Obviously I didn't want to see Adrian go down, but I was happy he got an opportunity last week to show what he can do," Milton said. "I know when he gets his opportunity, he's going to flourish."