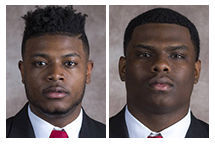 Two Husker football players were arrested on suspicion of marijuana in Florida earlier this month, according to affidavits.
Wide receiver Stanley Morgan Jr. was charged with having less than 20 grams of marijuana in his possession in Port Orange, Florida, on May 6. Husker safety Antonio Reed, who was with Morgan, was arrested on suspicion of misdemeanor marijuana possession.
Morgan was initially charged with possession of more than 20 grams of marijuana, a felony, and possession of paraphernalia after a traffic stop outside a 7-Eleven on the afternoon of May 6, the day after students finished final exams at UNL. 
Prosecutors reduced Morgan's felony charge to possession of not more than 20 grams of marijuana, a misdemeanor, and dropped the paraphernalia charge, according to court documents.
Reed, who was in the passenger seat, was charged with possession of no more than 20 grams of marijuana and possession of paraphernalia. 
The affidavit states that Morgan, who was driving a 2013 Mazda sedan, did not make an appropriate stop when pulling out of the gas station in Port Orange, which is south of Daytona Beach.
During the traffic stop, an officer smelled marijuana coming from the car and noticed what appeared to be marijuana on the car's center console. 
A search of the car's backseat revealed marijuana in a plastic bag in a backpack with a tag with Morgan's name on it.
You have free articles remaining.
Police also found marijuana in a backpack on the floorboard of the front passenger seat where Reed was sitting. 
Morgan was lodged in jail and bond was set at $3,000. He is no longer in custody, according to court documents.
Reed was arrested but later released with a notice to appear in court.
Morgan is scheduled to appear in court June 6, court documents show. Reed's arraignment is scheduled for Thursday. 
Both Morgan, of New Orleans, and Reed, of Memphis, Tennessee, are juniors at Nebraska.
In a statement released Friday afternoon, the NU athletic department said coach Mike Riley is aware of the situation but offered no comment.
In Nebraska, possession of less than an ounce, or roughly 28 grams, of marijuana is an infraction that carries a fine for first-time offenders.
Subsequent offenses are charged as misdemeanors.
Morgan is one of the Huskers' top returning wide receivers. He played in all 13 games as a sophomore, registering 33 receptions for 453 yards and two touchdowns. He made nine starts.
Reed is among a group of safeties looking to replace Nathan Gerry. He played in 12 games in 2016, and started in the Music City Bowl. He made 22 tackles as a sophomore.