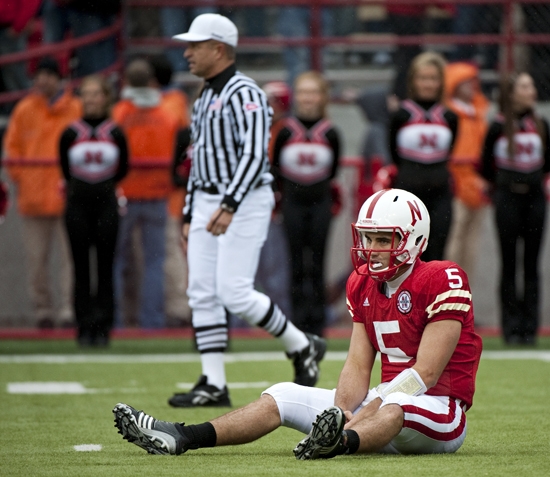 Take those numbers and run with them. Just don't fumble.
There was a little rain, but no sleet or snow. The football wasn't greased, as far as we know.
It just appeared that way Saturday afternoon at Memorial Stadium. Many Husker fans will go to confession for their foul mouths on a day Nebraska turned the ball over eight times, four coming inside the Iowa State 6-yard line.
There is bizarre and then there is that level beyond that explains Iowa State's 9-7 win against the Huskers.
"Eight turnovers," Husker coach Bo Pelini said. "We could have gotten run out of the stadium. I don't know if I've ever been around that in my coaching career. You can't win a football game like that."
"It was just like a force field to get across the goal line," said sophomore wide receiver Brandon Kinnie.
Running back Roy Helu fumbled on the first play from scrimmage. And so it went and went.
Nebraska turned the football over about every way you can conceive.
"We did a nice job of driving it down the field, but we killed ourselves, bottom line," offensive coordinator Shawn Watson said. "There's not a whole lot left to the story. We shot ourselves."
There was a point early in the second quarter when you got the feeling the Huskers were about to take control.
Nebraska was leading 7-3 and at the Iowa State 16. Quarterback Zac Lee, who started and played the entire game, threw a pass that deflected off two Cyclones and two Huskers. It was finally snagged by ISU's David Sims at the 1 just before it hit the turf.
The Cyclones scored on the ensuing drive. A 20-yard run by punter Mike Brandtner on a fake kept the drive alive. The touchdown came on the following play, a 47-yard pass to make it 9-7 with 6:53 left in the second quarter. And that's were the score stayed.
It stayed 9-7 even after Lee, from his 27, threw a beautiful strike to Niles Paul that appeared to be a game-changer.
The junior wide receiver tried to tightrope the sideline around the ISU 15. He did stay in bounds, but lost  the ball in the process. He tried to recover it at the 1 but couldn't.
It stayed 9-7 even midway through the third quarter when Helu darted through a gaping hole. He looked like he might score, but the ball came out at the 1.
And it stayed 9-7 a series later, when true freshman running back Dontrayevous Robinson, Nebraska's best threat this day, lost the ball at the ISU 5 fighting for extra yardage.
Highlights: Nebraska vs. Iowa State
Nebraska fumbled seven times and lost five.
For Husker fans, annoyance became concern, and finally settled at disbelief.
Pelini said he didn't want to say his team beat itself,  because that would take credit from what Iowa State did. Indeed, many of the turnovers were as much caused by Cyclones as lost by Huskers.
"I'm disappointed in our football team," Pelini said. "I'm disappointed in it. It starts with me."
First-year Iowa State coach Paul Rhoads said the events of the day were strange.
"Who knows why we get all those balls out like we do?" he said. "We didn't do any extra strip drills or anything like that. Strange, strange day. Maybe somebody thought 32 years was long enough and we needed to come out of here victorious."
Yes, Iowa State hadn't won in Lincoln since 1977 and it sure didn't seem like Saturday would be the day for that streak to end. The Cyclones were without starting quarterback Austen Arnaud and starting running back Alexander Robinson.
Frankly, ISU's offense was nothing to fear. The Blackshirts again did almost everything right but cause a turnover.
"Our defense, my gosh, and our special teams, they did a tremendous job," Husker offensive line coach Barney Cotton said. "We got the ball back twice with four minutes left in the ball game. So we had our opportunities to make amends and we didn't. Men fight back. Whatever number of guys we all have offensively, I hope that we're all men and that we all fight back come (Sunday) and Monday."
The Huskers' Big 12 North title hopes still exist, but  favorite status is long gone for a 4-3 team that is now 1-2 in the conference.
And putting Saturday's game behind them might not be easy. Few Huskers emerged for postgame interviews.
After the game, junior nickel back Eric Hagg was asked if he's ever been in a game where a team turns the ball over eight times.
"I haven't," Hagg said. "But on Madden (the video game) it happens sometimes."
Oh, how the Huskers wish they could push the reset button.