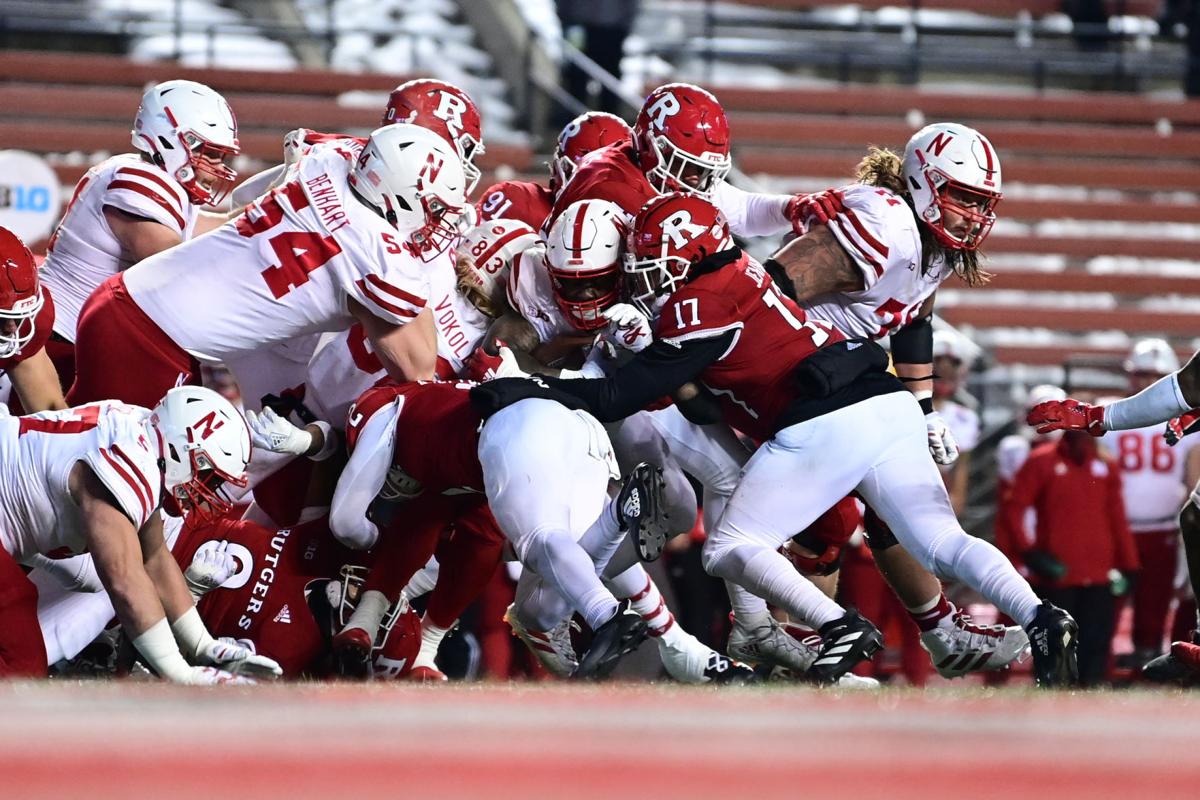 Nebraska's best offensive output of the 2020 season came in its final game, in the cold on Dec. 18 at Rutgers. The Huskers' point total was suppressed by four turnovers — three in the first half by quarterback Adrian Martinez before he righted the ship — but they racked up yards and controlled the game thanks to a churning ground attack and a massive advantage in time of possession.
On that night, in a game won by Nebraska 28-21, senior running back Dedrick Mills and sophomore wide receiver Wan'Dale Robinson combined for 339 of Nebraska's 620 yards and Robinson scored his first two touchdowns of the season.
Fast forward a month, and both of those players, NU's two best offensive skill position players over the past two seasons, are gone. Robinson transferred to Kentucky and Mills decided against using the extra year of eligibility granted by the NCAA, both moves finalized in the past week.
They leave a gaping hole. The Huskers in 2020 relied heavily on the quarterback run game. Martinez and redshirt freshman Luke McCaffrey rushed for a combined 885 yards (55% of NU's rushing yards). But they also relied on Robinson and Mills. The pair combined for 37.8% of the Huskers' offensive yardage in 2020 and 52.6% of offensive production outside of the quarterback run game. That despite Mills missing nearly three games due to a right knee injury and carrying the ball 20-plus times only once.
Robinson, in particular, had a huge usage rate. Take away the final three games of 2019 when Robinson was hurt — he tried to play against Iowa, but didn't last long — and the sophomore touched the ball or was targeted on 21.1% of all offensive snaps since he arrived on campus. 
Also this week, senior offensive lineman Matt Farniok announced he's entering the NFL Draft, meaning none of NU's three veteran offensive linemen will be back for 2021. Farniok, left tackle Brenden Jaimes (NFL) and guard Boe Wilson (transfer to Western Kentucky) combined for 95 career starts (17 in 2020) and 118 games played at Nebraska.
So, as Nebraska players return to campus this weekend after a four-week break and prepare to get rolling on winter conditioning and the spring semester, questions abound about who will make up for the offensive production lost. That, of course, means opportunity also abounds for the returning and incoming group. A quick, updated look at each of those three position groups:
Wide receiver
The Huskers not only have to make up for Robinson's loss, but they have to get more production from the wide receiver group overall, too. Toure told the Journal Star he feels like he can be an all-around threat in the Big Ten.
"I would just describe myself as a playmaker," Toure said. "I have good speed, I can take the top off a defense and I like to pride myself on what I do after the catch. Something I've got better at is running the intermediate routes. That was a big thing I needed to do was just polish up my intermediate routes, and I feel like I've done that.
"Now I can put it all together."
He and freshman Zavier Betts make an intriguing pair on the perimeter given their length. Add in Iowa transfer Oliver Martin and senior Levi Falck, who is returning 2021, and that's the starting point outside. Junior Omar Manning appeared in just one game in 2020 and is a wild card in this conversation. All three of NU's incoming freshmen at receiver are 6-foot-3 or taller.
In Robinson's absence, freshman Alante Brown has a big opportunity in front of him, as does freshman Will Nixon, who was tracking toward being a contributor before he tore his ACL in July.
One way or another, NU's receiver production is going to look considerably different in 2021 than it did the past two years.
Running back
The addition of USC transfer Markese Stepp is a cleaner one-for-one substitution for Mills than Toure is for Robinson. Stepp is powerfully built at 6-foot and 235 pounds, and he averaged 5.1 yards per carry over three seasons in Los Angeles.
Health has been Stepp's biggest obstacle so far in his career. He was limited to six carries over the second half of USC's season before 13 carries in the Pac-12 title game. He also suffered a season-ending ankle injury in 2019. Between a shortened redshirt season in 2018 and those two injury situations, he's appeared in just 14 games over his first three seasons.
"Everybody wants to be RB1, and I can respect that from him," USC running backs coach Mike Jinks told the Los Angeles Times after Stepp transferred. "It was nothing that he's done wrong. He got hurt, and through that, Vae (Malepeai) had proven he's our RB1."
Unless the NCAA revisits a free one-time transfer rule — it was expected to pass this month but instead was shelved indefinitely — Stepp will need a waiver to be immediately eligible.
With Mills and Robinson both gone, essentially every carry for the Huskers in 2021 and beyond is up for grabs. Stepp will have plenty of competition from the group that backed up Mills in 2020 — freshman Marvin Scott and redshirt freshmen Rahmir Johnson and Ronald Thompkins — plus freshman Sevion Morrison and incoming freshman Gabe Ervin.
One of the most intriguing elements of this group: Every scholarship player has at least three years of eligibility remaining.
Offensive line
Don't forget about the changes coming for Greg Austin's front line. Freshman Turner Corcoran showed why NU is so high on him in his first career start at left tackle against Rutgers, but there's no easy way to fill 95 starts and 118 appearances.
NFL Draft analyst Troy Pauline projects Jaimes as a fifth-round pick and Farniok as a sixth-rounder. Farniok didn't dominate, but versatility is worth its weight in gold up front, and his ability (as a converted tackle, remember) to slide between center and guard was valuable. In that way, NU is essentially faced with replacing its left tackle, right guard, backup center and sixth man (Wilson).
Sophomore Cam Jurgens is the starting point for the group at center. Right tackle Bryce Benhart and left guard Ethan Piper gained valuable experience and Corcoran looks like the left tackle of the future. Perhaps it will play out that cleanly and the competition will come down to essentially one spot.
Austin, though, will more likely make it clear that there is much to be settled. Especially for a young group that didn't play particularly well for much of 2020. He has options, too, ranging from redshirt freshman Brant Banks to veterans like Trent Hixson and Broc Bando to walk-on transfer Nouredin Nouili to a trio of incoming midyear enrollees.
Photos from Nebraska's last game of the season