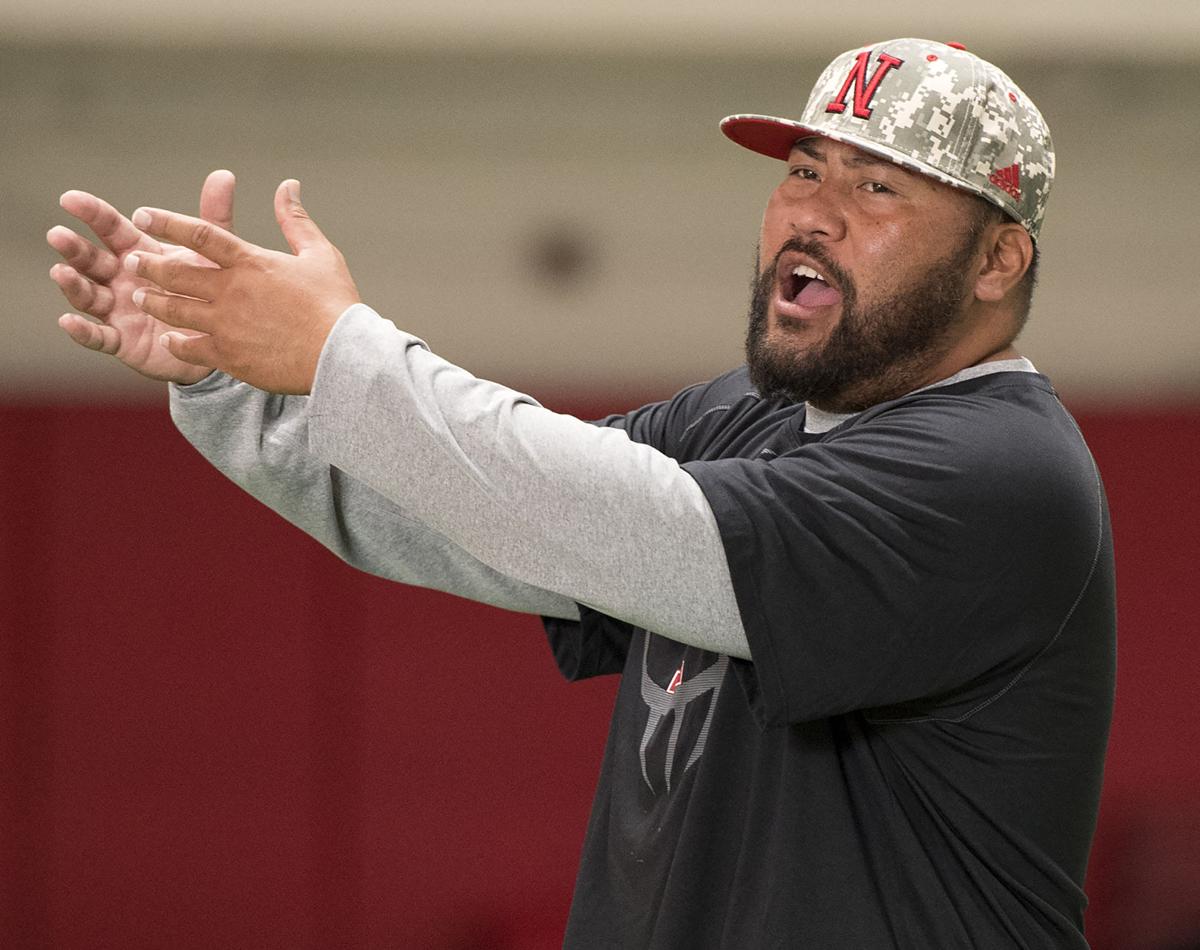 Tony Tuioti has a puzzle in front of him. 
The interesting part about this one — the Nebraska defensive line picture heading into the 2020 football season — is that some of the pieces might work in multiple spots. And in some cases, maybe many cases, the guys trying to bring the picture into clarity have either not played for the Huskers before or have done so in only a limited fashion. 
The second-year defensive line coach expressed excitement about the group he's got Thursday evening on the "Husker Sports Nightly" radio program.
Perhaps the most interesting in his rundown of more than a dozen players was the praise he had for sophomore defensive end Tate Wildeman. 
Wildeman, a 6-foot-5, 290-pounder and former four-star recruit out of Colorado, enters his third season at NU having not yet appeared in a game for the Huskers. While most of the 2018 recruiting class — the transition group when head coach Scott Frost was hired — has either solidified major on-field roles or transferred out, Wildeman is one of the few remaining who just simply hasn't had much opportunity yet. 
Tuioti seems to think it's coming sooner rather than later. 
"I think Tate has done a phenomenal job during the offseason getting himself big, fast, strong," the coach said. "He looks great right now." 
Wildeman was one of the highest-ranked members of the 2018 class out of Legend High in Colorado and was one of the few holdovers who originally verbally committed to former head coach Mike Riley's staff. Since he's been on campus, though, he's dealt with injuries in addition to playing a position that often requires more seasoning than others. 
"Early on in his career, when he got in here, he was looking at being a guy that could contribute early, but then got injured," Tuioti said. "He's been a warrior. He's been battling through that and I think he's back to 100%, so I can't wait to see him be able to come out and help us out this year. 
"We're going to need his length. He's got good athleticism and for a guy that's as long as he is, he can give offensive tackles some problems because he's got long levers. For the two practices that we had in the spring, I really liked what I saw out of him." 
A couple of other notes from Tuioti: 
* The assistant coach named the usual suspects in terms of who might be able to play nose tackle in juniors Damion Daniels, Keem Green and Jordon Riley, but also threw a couple of less likely names in the mix: Junior Deontre Thomas and sophomore Casey Rogers. Tuioti didn't say that they'll play only inside, of course. Daniels and freshman Nash Hutmacher might be the only guys who are exclusively interior players, but it's certainly possible there will be several who rotate through the middle spot. 
* Speaking of Riley, Tuioti said the 6-6 juco transfer is sitting somewhere in the 335-340-pound range and that 6-5 redshirt freshman Ty Robinson isn't far behind, checking in somewhere in the 325 range. 
More on Robinson, the talented young player whom the Huskers have sky-high hopes for, coming in the next couple of days. 
Add redshirt freshman Mosai Newsom to the height-weight conversation, too. Tuioti said the Iowa native arrived on campus at 6-4 and about 250 pounds but is now up to about 285. 
* We'll close with this line from Tuioti on Hutmacher, the freshman from Chamberlain, South Dakota. 
"Nash is as blue-collar as it gets and the guys love him," Tuioti said. "I don't know if we have enough weights for him to lift in the weight room. The other day, (strength coach Zach) Duval had him squatting, and I don't know if there was any more room left on the bar to add any more plates on there. 
"I think by the time Nash leaves here, he's probably going to be the strongest guy we've ever had."