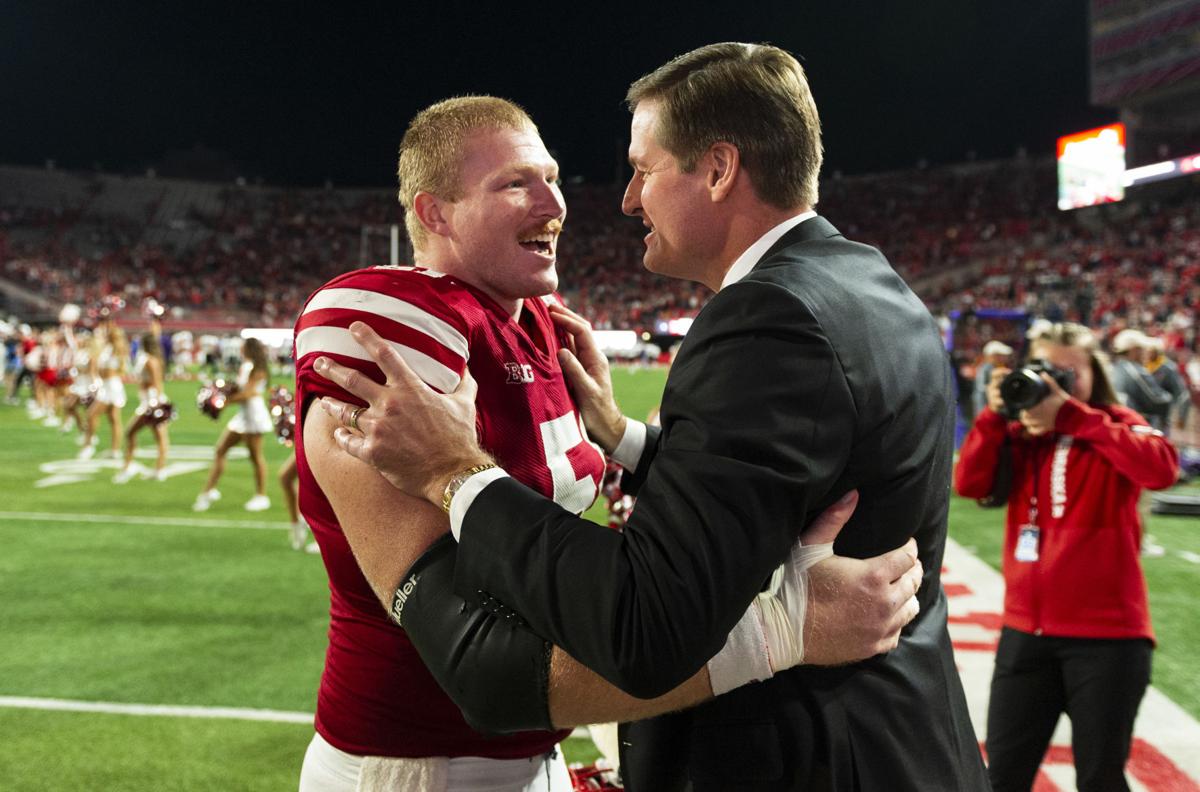 Nebraska athletic director Trev Alberts on Tuesday evening said he's not a fan of making "bold, broad statements" about a coach's standing during a season, but expressed support for and confidence in fourth-year head football coach Scott Frost during a radio appearance. 
Alberts, asked directly by a caller on the "Sports Nightly" radio program about Frost's standing beyond the 2021 season, said making declarative statements during the season can be "very counterproductive." 
"I do think that there is a time and a space for that. All I can tell you is I've been extraordinarily proud of Coach Frost and our coaching staff," Alberts said. "I love working with Scott. We continue working together. I see great things for our football program. 
"I watch other institutions fire coaches two games in. I know it's crazy la-la-land in some of those respects, but I'm proud of what Coach Frost and our staff has done. We've got four games in the next five weeks that I think are a great opportunity for us, and I'm really looking forward to seeing them play well against Purdue. 
Frost, who is under contract through the 2026 season, oversees a 3-5 football team and is 15-25 overall (10-21 Big Ten) at NU. If he were to be fired after the 2021 season, he would be owed a $20 million buyout unless the termination was for cause. 
Alberts, a former NU football player who was hired for the top post in the administration in July, said he makes it to practice a couple of times a week, "even if it's just for a half hour." 
"Just trying to get a sense for how positive our team is and the coaching staff, and I'll tell you the one thing I'm really proud of is how hard these young men are working and staying together," Alberts said. "That's a big part of it. It really, really matters to them and that really matters to me in terms of where the culture is in terms of the mental aspect and makeup of our football team and where the leadership is. I think they're fairly unified and working together and that means a lot." 
Alberts admitted that Nebraska's loss before the bye week at Minnesota, which was NU's second straight defeat and leaves the program at 1-4 in Big Ten play with four games to go, was a tough one. 
"No excuses, but it's been a long season and sometimes when you look at the season, where the bye week falls is important," he said. "Obviously, this was a year we were supposed to be in Ireland to start the season and we had a little bit of disruption there. Certainly not the result we wanted in Minneapolis after, I think, playing two weeks, one with a win against Northwestern and then how we performed against Michigan, I thought we really had some solid momentum.
"So unfortunately when you go up to Minneapolis and don't find a way to get that done, it clips your wings a little bit."
However, he said he thinks the coaching staff had a productive off week in terms of self-scouting and that a couple of days off was good for the players. 
"I was at practice this morning and it was a spirited practice in pads. Some ones vs. ones type of deal," Alberts said. "I will be very, very surprised if our team doesn't come out focused and play very well against Purdue on Saturday." 
Alberts said the Huskers have "four incredible opportunities" remaining this season and that Frost's program still has a chance to finish the year on a strong note. 
"I think they will," he said. 
* The athletic director said Nebraska's $155 million facility North Stadium expansion project is proceeding, "on time and on budget." 
NU had about $20 million remaining to raise when Alberts took over. He said that, although that number has not been fully reached, he does think it's going to happen by the deadline at the end of the year. 
That would allow the project to proceed all at once rather than breaking into two phases. 
"Fundraising continues to go really well. We're not quite to our entire goal, but we initially had Phase I and Phase II of the 'Go Big' project and, while I don't want to get out in front of my skis too far, but I'm confident we'll be doing the entire project at once, based on how our fundraising is going," Alberts said.  
Part of the motivation to get the last of the money raised is that 
"Obviously there's a lot of inflation around construction and we do not want to take this project back out to bid," Alberts said. "We might not like the numbers that we receive. We're really confident that this is going to be an all-inclusive project." 
* Alberts said he expects the sellout streak to continue through the 2021 season at Memorial Stadium. Nebraska has three home games remaining this season, beginning with Saturday against Purdue and the Nov. 6 against Ohio State and Nov. 26 against Iowa. 
"Our fans continue to step up," Alberts said. "I think we probably have a few more tickets, but we're going to be sold out for Purdue. It's a real small number. So we'll be sold out again for Purdue and I just can't thank our fans enough. Listen, we haven't always done our part over the past several years, right? There have been certain aspects of the Husker fan experience in particular areas that aren't up to snuff and we're working through that.
"But this is what separates Nebraska athletics from any other athletic department in the country."