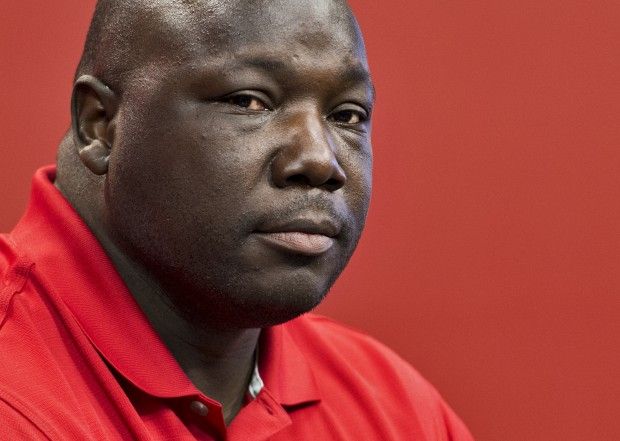 Tommie Frazier had to wait in line longer than many around here thought was appropriate.
But, as it was with his playing career, a little wait wasn't about to stop the former Husker quarterback from ultimately claiming his deserved prize.
"Well, the journey's over, isn't it?" Frazier said Tuesday, the day he found out he was the 16th Nebraska player to be elected into the College Football Hall of Fame. "It's been 17, 18 years. We're finally here. It's truly a blessing."
Even all these years after putting on the Nebraska uniform, one could still see those traits in Frazier that pushed him to become arguably the best quarterback in school history, and in all of college football.
There was still the swagger.
When asked when he believed those Nebraska teams of the 1990s could do special things, Frazier said: "When I got the keys to the car."
He paused. He said he was kidding.
But it seemed the truth had already been spoken, and there's nothing wrong with that truth.
That truth is what made Touchdown Tommie who he was.
"In talking about my career at Nebraska, I felt it was a pretty good one," Frazier said. "There were some things I did on the football field that I'm proud of and there's some things I wish I could have done better. And one of those is win a third championship. But two is still good."
Two championships is just a dream to most. Frazier earned them in his final two seasons, en route to a 33-3 record as a starter and a runner-up finish to Eddie George in the 1995 Heisman race.
If many Husker fans felt the Heisman should have belonged to Frazier, and still do, the quarterback didn't let it deter him from making one final grand closing statement -- that virtuoso performance in a 62-24 win over Florida in the Fiesta Bowl.
Looking back on it, Husker coach Tom Osborne calls it "one of the finest games a quarterback's ever had."
Most fans initially think of Frazier's 75-yard touchdown run in that game, in which he ran through almost every Gator on the field, as the quarterback's signature moment.
But if you want No. 15's favorite play, find that game in Colorado his senior year.
Frazier was about to be sacked. Somehow, he had the strength to not just stay up long enough to throw the ball, but to actually throw the ball across the field to Ahman Green. It was a third down. The play netted a first down. The drive netted a touchdown.
"I think that play right there showed what my game was all about," Frazier said. "One guy is just not going to bring me down. You better come with everything you have to get me down."
And despite all his success, Frazier thinks of his few defeats just as much as all the wins.
There were just three losses in games he started -- Florida State twice, and a stunning defeat his freshman year to Iowa State. He was still shaking his head about the latter on Tuesday.
"I look at the losses more so than the wins because there are so many wins here. It's the losses that eat yourself up."
It was that competitive drive that Osborne noticed right away in Frazier. The coach saw something else in the quarterback: The lights did not scare him.
Frazier had played in front of big crowds as a high school star in Bradenton, Fla.
"When he came in here as a freshman, it didn't faze him to go out and start a game in a major college program," Osborne said. "A lot of guys, because of the psychological factor and being a little overwhelmed, need a year."
That's why Osborne's visit to the Frazier house on Jan. 2, 1992, may have been as important as any recruiting stop in the coach's career.
At that point, Frazier had options on the table and wasn't necessarily leaning toward a Nebraska team that had just lost 22-0 to Miami in the Orange Bowl the night before.
But something unique happened on that visit, Frazier said. His dad, who rarely talked to the visiting coaches, introduced himself to Osborne.
"I remember the quote like it was yesterday. My dad said, 'You look a hell of a lot better than you did last night.'"
Frazier's dad went back and took a shower, changed his clothes, and came back and listened to Osborne's talk.
"For him to even say those few words to Coach Osborne, it meant a lot," Frazier said.
By the sixth game of his true freshman year, Frazier was starting. He leaped into the end zone against Missouri to seal that game. He was on his way to leaping into Husker fans' hearts.
"Tommie was the ultimate competitor, leader and champion that I have ever coached," said Turner Gill, Frazier's QB coach, on Tuesday. "He demonstrated this from the first day at practice through the last football snap that he ever took at Nebraska."
But Frazier knows it wasn't all him. He was surrounded by talent.
Frazier credited his teammates, especially giving notice to his offensive line for keeping his jersey clean most of the time.
"Without him, I don't think I would have been the football player I turned out to be," he said.
He will be inducted into the College Football Hall of Fame on Dec. 10 in New York City.
There will be 14 new inductees. The inducted players include Ted Brown (North Carolina, 1975-78), Tedy Bruschi (Arizona, '92-'95), Ron Dayne (Wisconsin, '96-'99), Jerry Gray (Texas, '81-'84), Steve Meilinger (Kentucky '51-'53), Orlando Pace (Ohio State, '94-'96), the late Rod Shoate (Oklahoma, '72-'74), Percy Snow (Michigan State, '86-'89), Vinny Testaverde (Miami, '82, '84-'86), Don Trull (Baylor, '61-'63) and Danny Wuerffel (Florida '93-'96).
Wayne Hardin (Navy and Temple) and Bill McCartney (Colorado) were the coaches elected.
Frazier's name stands out as much as any of them. It took eight years of being on the ballot before he got the call. Many pundits across the country thought it was much too long.
"I was patient. Patience gets you to where you need to be," Frazier said. "I think the fans and media across the country did all my politicking for me."
Pop the cork. Pick out a tux.
"It's been a ride," Frazier said. "And now we can take this train all the way to the College Football Hall of Fame."