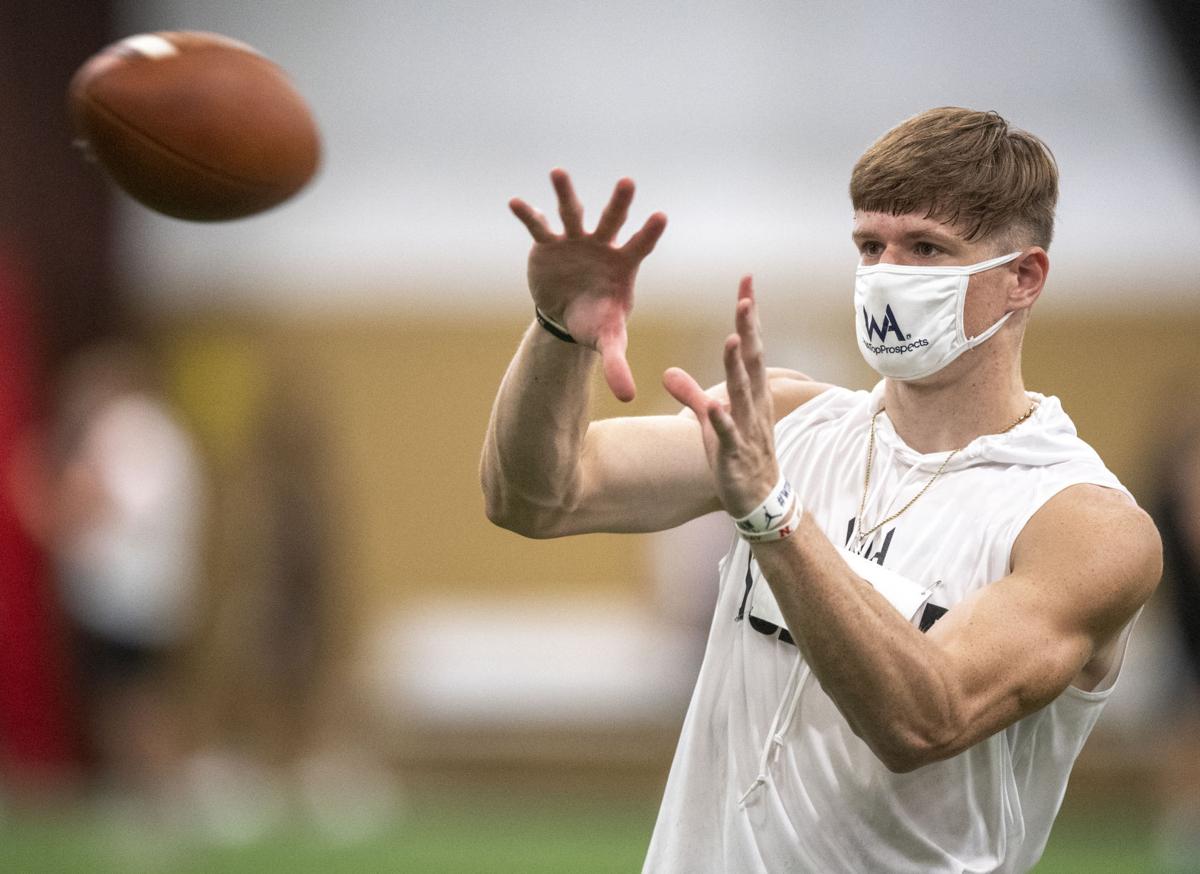 Nebraska has put together a 2021 recruiting class that is long on intriguing prospects but perhaps short on star power.
That changed markedly on Wednesday night.
The Huskers landed a verbal pledge from four-star tight end Thomas Fidone out of Lewis Central High in Council Bluffs, Iowa, long considered the program's top overall prospect for the cycle and now the crown jewel of NU's class.
Fidone made his commitment public during a high school preseason television special on Omaha television station KETV. He reached below the table and pulled out a red hat that said "Frost 7" on it as a crowd that had gathered to watch him make his decision roared. 
Then he explained why he picked the Huskers. 
"Just the relationships I've built throughout the process with the coaches, with (NU tight ends coach Sean) Beckton," Fidone said. "He was a Hall of Fame coach over at UCF and that kind of speaks for itself. He's been sending me videos of all the tight ends he's been developing and I'm going to be the next one." 
Fidone, listed at 6-foot-5 and 225 pounds, is considered the top overall tight end in the country for the 2021 class by 247Sports and the No. 39 player in the class overall, putting him on the border of five-star consideration. Rivals considers him the No. 46 overall prospect in the nation and the No. 2 tight end.
Just about everybody in the country tried to recruit Fidone at one point or another before he ultimately picked Nebraska over a finalist group that included defending national champion LSU, Michigan and in-state Iowa. A small sampling of the other schools that offered and recruited Fidone in recent months: Notre Dame, Penn State, Texas, USC and Alabama.
Fidone, though, has always had strong ties to the Huskers. They've recruited him hard for months and have used just about the entire coaching staff to build relationships with him and his family. It's a family, too, that grew up wearing Nebraska colors just across the state line.
"It's going to be crazy. I can't wait for the day to come," Fidone said. "I'm looking forward to it and taking it day by day."
Fidone first picked up an offer from the Huskers in September last year after attending NU's loss to Ohio State. At that time, he already had offers from Iowa State and Iowa and proceeded to pick up more than 30 more Power Five offers including the likes of Ohio State, Alabama, Auburn, USC, Texas, Florida State, Big Ten West members Wisconsin, Minnesota and Purdue and a host of others.
All along, though, he's had a strong connection not only with Nebraska's coaching staff but also the recruits already on board with NU's 2021 class. He regularly spars on Twitter with quarterback commit Heinrich Haarberg, who he was briefly teammates with on the Warren Academy's 7-on-7 team before the coronavirus pandemic put a halt to the practices this spring. He knows the pair of fellow Iowa natives in the class in offensive lineman Henry Lutovsky (Mt. Pleasant) and linebacker Seth Malcom (Tabor). And he made it to campus several times before the pandemic-induced dead period began in March.
Not only that, but he took a visit on his own to Lincoln relatively recently, spending extensive time with Haarberg, Elkhorn South offensive lineman Teddy Prochazka, Lutovsky and some of the players currently on the team. Because of the recruiting dead period, Fidone couldn't interact with the coaches or NU staff, but he's been learning from them over recent months, too.
Still, it was enough to solidify a decision months in the making. 
"That was actually when we found out," Lutovsky said. "You could just see it in the way that he interacted with the team." 
Said Prochazka, "Henry and I were texting right after that and we were like, 'Yeah, that was us.'"
The advance information didn't stop the trio from tuning in on Wednesday night, though. In fact, Haarberg doesn't get the Omaha television station out in Kearney, so he jumped on FaceTime with Prochazka and watched Prochazka's television through his phone in order to make sure Fidone picked the Huskers. 
It was a group effort, to be sure. Fidone credited Beckton on Wednesday and said in late July that he'd been getting to know offensive coordinator Matt Lubick over the phone since Lubick's hire this winter.
"I think he's a great guy. He's a very smart mind on the field, for sure," Fidone told the Journal Star.
Fidone and Lewis Central kick off their regular season Friday night. Once his final high school season is wrapped up, Fidone will take part in the All-American Bowl in San Antonio, where he'll be attempting to make the leap to five-star status. He is the second known NU verbal commit known to be attending the game, joining recent wide receiver pledge Kamonte Grimes (Naples, Florida).
Fidone is the 16th verbal commitment for Nebraska in its 2021 class and is the first tight end to jump on board. With his addition, the Huskers' class jumped 16 spots in the Rivals team rankings to No. 20 in the country. In 247Sports' team rankings, NU jumped from No. 39 to No. 27. 
More than rankings, though, his future teammates said Fidone's addition to the class means it has another standard-setter. 
"With his work ethic, he'll really push everybody around him and make us all better," Prochazka said. 
"He's a great player and I know that people are going to see him and know that something special is going on here," Lutovsky added. "He's going to draw in a lot of recruits. 
"And I'm just excited that he's another competitor that fits the culture that we're trying to build." 
| Name | Position | Hometown (School) | Stars |
| --- | --- | --- | --- |
| Marques Buford | DB | Oakdale, Conn. (St. Thomas More) | *** |
| Koby Bretz | DB | Omaha (Westside) | *** |
| James Carnie | TE | Norris | *** |
| Gabe Ervin | RB | Buford, Ga. | *** |
| Thomas Fidone | TE | Council Bluffs, Iowa (Lewis Central) | **** |
| Mikai Gbayor | LB | Irvington, New Jersey | *** |
| Kamonte Grimes | WR | Naples, Fa. (Palmetto Ridge) | *** |
| Heinrich Haarberg | QB | Kearney (Catholic) | *** |
| Shawn Hardy II | WR | Kingsland, Ga. (Camden County) | *** |
| Wynden Ho'ohuli | OLB | Mililani, Hawaii. | **** |
| Randolph Kpai | ILB | Sioux Falls, S.D. (Washington) | **** |
| Chris Kolarevic | LB | Traverse City, Mich. (Northern Iowa) | |
| Henry Lutovsky | OL | Mt. Pleasant, Iowa | *** |
| Seth Malcom | ILB | Tabor, Iowa (Fremont-Mills) | *** |
| Latrell Neville | WR | Missouri City, Texas (Hightower) | **** |
| Teddy Prochazka | OT | Elkhorn (South) | **** |
| A.J. Rollins | TE | Creighton Prep | *** |
| Markese Stepp | RB | Indianapolis (Cathedral) | |
| Samori Toure | WR | Portland (Oregon Westview) | ** |
| Jailen Weaver | DE | Antioch, Calif. | *** |
| Malik Williams | DB | Buford, Ga. | *** |
| Branson Yager | OT | Grantsville, Utah | *** |