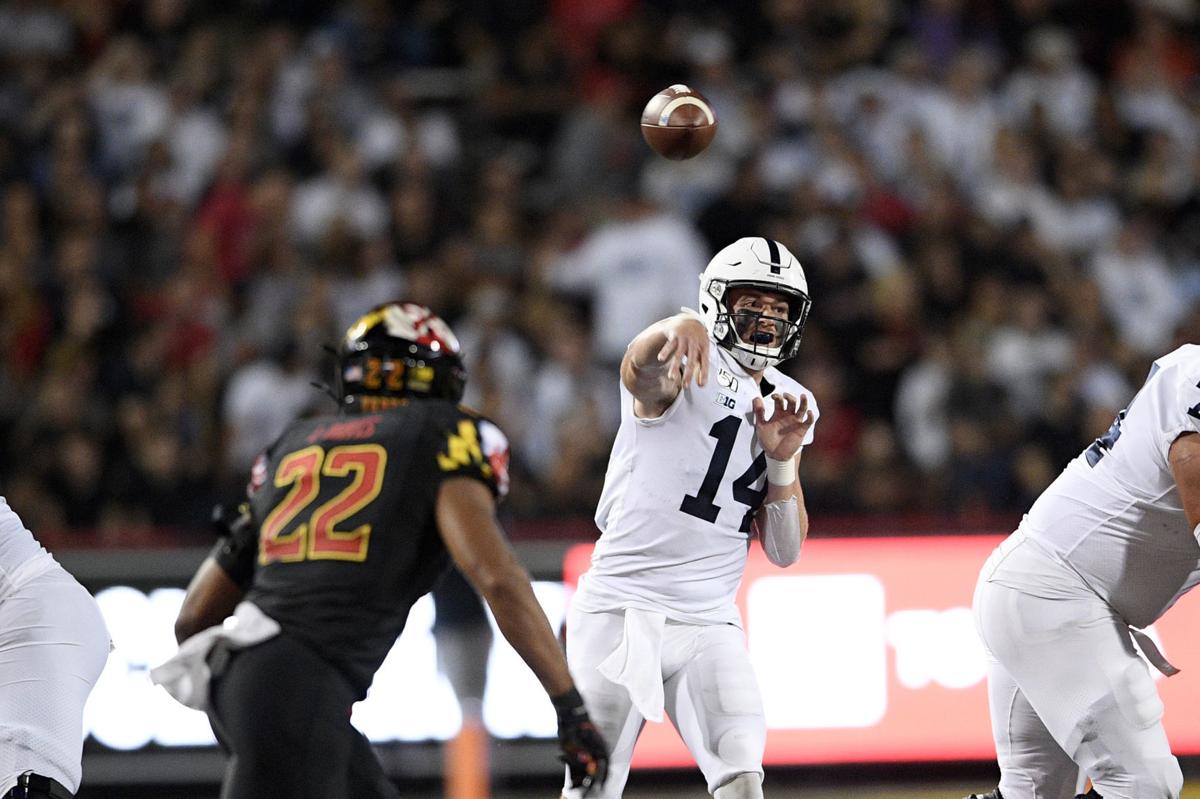 1. OHIO STATE (5-0, 2-0)
Previous: 1. Last week: W 48-7 at Nebraska.
The No. 4 Buckeyes dominated Nebraska at Memorial Stadium, racking up 580 offensive yards and holding the Huskers to 91 yards before the backups took over late in the third quarter. Justin Fields has accounted for 23 touchdowns (16 passing) through five games and has yet to throw an interception. The defense, though, is maybe the biggest difference for this OSU team compared with last year. An evening kickoff against Michigan State this week should be Ryan Day's toughest test yet.
2. WISCONSIN (4-0, 2-0)
Previous: 2. Last week: W 24-15 vs. Northwestern.
The No. 8 Badgers didn't look pretty, but they rarely do against the Wildcats. UW's offense had its first subpar day of the season so far, but a stingy defense bailed it out against struggling Northwestern and put two touchdowns of its own on the board. Paul Chryst's team is still in good shape, as it faces Kent State this weekend and then the Spartans, both at home.
Steve Sipple and Parker Gabriel share insights on Northwestern's offense from Husker defensive coaches on Oct. 1, 2019.
3. PENN STATE (4-0, 1-0)
Previous: 3. Last week: W 59-0 at Maryland.
The No. 12 Nittany Lions put an absolute beatdown on Maryland, outgaining the Terps 619 yards to 128. PSU led 38-0 by halftime and just kept going. Sean Clifford threw for 398 yards and three scores, and rushed for one of PSU's five ground touchdowns, too. KJ Hamler remains one of the most electrifying players in the Big Ten and James Franklin's defense keeps playing better and better.
4. IOWA (4-0, 1-0)
Previous: 4. Last week: W 48-3 vs. Middle Tennessee State.
The No. 14 Hawkeyes finished nonconference play in cruise control against Middle Tennessee as three players rushed for at least 91 yards and the Hawkeyes rolled up 351 yards and four scores on the ground overall. The going gets much tougher very quickly for Kirk Ferentz's team, which visits Michigan on Saturday and hosts Penn State on Oct. 12.
5. MICHIGAN STATE (4-1, 2-0)
Previous: 5. Last week: 40-31 vs. Indiana.
The Spartans trailed the Hoosiers in the fourth quarter, were tied late and needed a Matt Coghlin field goal with 5 seconds left to take a 34-31 lead before the ensuing kickoff was fumbled for another score with no time remaining on the clock. Still, Mark Dantonio's team is 2-0 in Big Ten play, and that's what counts. A brutal October looms: at Ohio State, at Wisconsin, bye week, vs. Penn State.
6. MICHIGAN (3-1, 1-1)
Previous: 6. Last week: W 52-0 vs. Rutgers.
The No. 16 Wolverines bounced back from a trouncing at Wisconsin to dismantle Rutgers. The Scarlet Knights were never likely to push Jim Harbaugh's team, but a comfortable win is still a nice change of pace. UM ran for five touchdowns and allowed just 152 total yards.
7. MINNESOTA (4-0, 1-0)
Previous: 8. Last week: W 38-31 at Purdue.
The Golden Gophers haven't won a game by more than seven points, but they're 4-0 and now have a road Big Ten win under their belts. How about this line from quarterback Tanner Morgan: 21-of-22 for 396 yards and four touchdowns. Goodness. Rashod Bateman is staking his claim as one of the Big Ten's best receivers with 466 yards (22.2 per catch) and four touchdowns through five games. Next up: Illinois at home. 
You have free articles remaining.
8. MARYLAND (2-2, 0-1)
Previous: 7. Last week: L 59-0 vs. Penn State.
See Nebraska football head coach Scott Frost, Huskers Adrian Martinez, Dedrick Mills, Cam Taylor-Britt and DiCaprio Bootle take the podium in …
The Terps have the easy, early claim as the most confounding team in the Big Ten. In opening wins, Mike Locksley's team outscored FCS Howard and then-ranked Syracuse 142-20. Since then, the Terps have lost to Temple and Penn State by a combined 79-17. The state of Pennsylvania, clearly, has not been kind. A manageable stretch — and a key one — awaits: at Rutgers this weekend, then at Purdue and vs. Indiana.
9. NEBRASKA (3-2, 1-1)
Previous: 9. Last week: L 48-7 vs. Ohio State.
The Huskers got run out of their own building Saturday night against the powerful Buckeyes. Sophomore quarterback Adrian Martinez threw for just 47 yards and NU nearly went three full quarters without a wide receiver or tight end catching a pass. Now, a crucial stretch: vs. Northwestern this weekend and at Minnesota before the first of two bye weeks, followed by Indiana and at Purdue.
10. NORTHWESTERN (1-3, 0-2)
Previous: 10. Last week: L 24-15 at Wisconsin.
The Wildcats played UW tough, but they just didn't have enough offense to really threaten the Badgers. That's been the problem all year for Pat Fitzgerald's team, which is solid on defense but is last in the Big Ten in scoring at 15.5 points per game. Fitzgerald's team entered the season having won 15 of its past 16 regular-season conference games dating to 2017 but now has dropped two straight. The Wildcats visit Nebraska this weekend.
11. INDIANA (3-2, 0-2)
Previous: 12. Last week: L 40-31 at Michigan State.
Close, but no cigar for Indiana, which seems like the way it always is in Bloomington. Tom Allen's team just couldn't quite get over the hump against the Spartans. Quarterback Michael Penix at one point completed 20 straight passes against MSU on Saturday and finished 33-of-42 for 286 yards and three TDs. Allen, the third-year head coach, is 8-0 in nonconference play and 4-16 in Big Ten play during his time with the Hoosiers.
12. PURDUE (1-3, 0-1)
Previous: 11. Last week: L 38-31 vs. Minnesota.
Quarterback Elijah Sindelar and star receiver Rondale Moore were hurt on the same play and Moore eventually needed a cart to get to the locker room. It's all part of a dreadful start to the season for Jeff Brohm's program, which already has two home losses. A bye week is up next, then a trip to Penn State.
13. ILLINOIS (2-2, 0-1)
Previous: 13. Last week: No game.
The Illini come off a bye week with a road trip to Minnesota.
14. RUTGERS (1-3, 0-2)
Previous: 14. Last week: L 52-0 at Michigan.
The Scarlet Knights got shut out at Michigan and head coach Chris Ash was fired before the weekend ended. So, too, was offensive coordinator John McNulty. Could Greg Schiano return? Either way, it's going to be a long road for Rutgers.