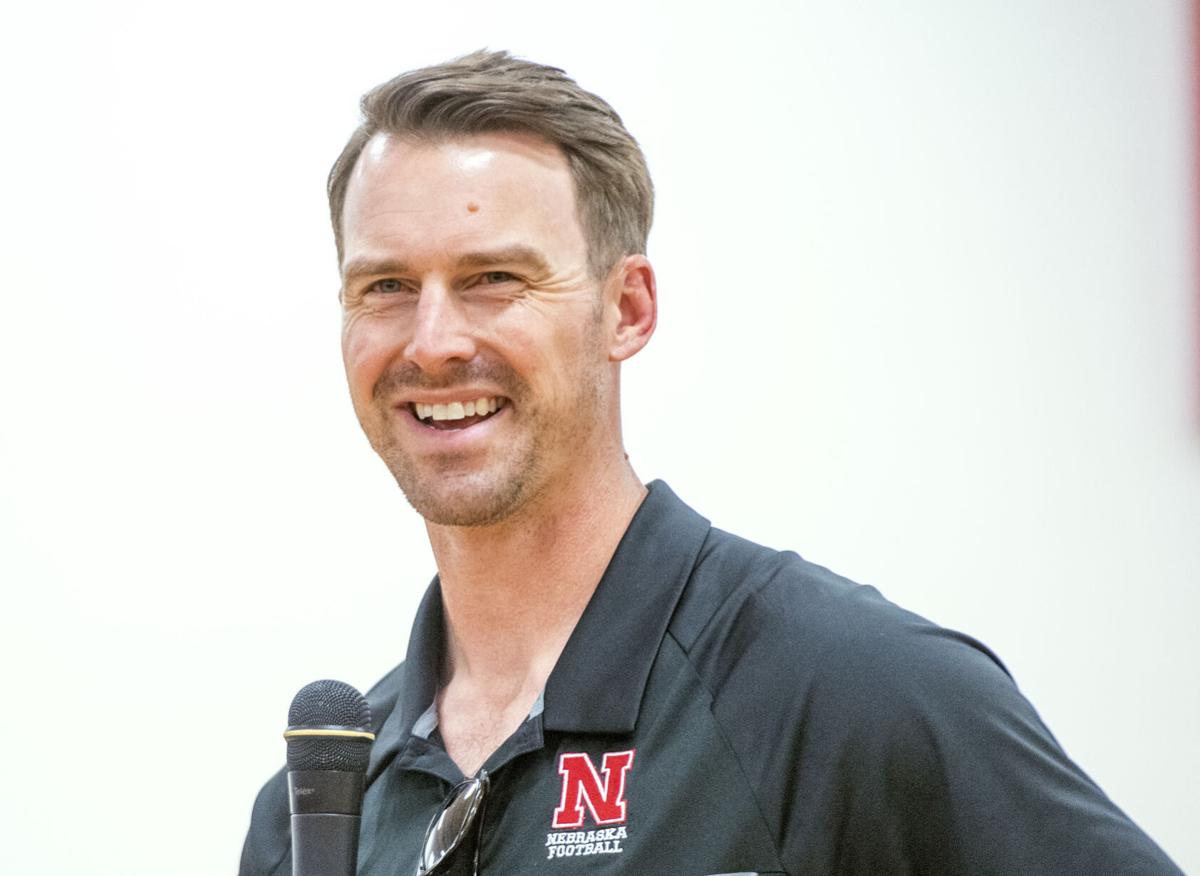 Nebraska landed an in-state verbal commitment for its 2022 class on Wednesday morning in Millard South athlete Gage Stenger, who originally had verbally committed to Kansas State in June.
Here are three observations after Stenger decided on the Huskers instead.
1. Stenger stacked together a summer and then senior film that couldn't be ignored.
The 6-foot-2, 200-pound Stenger worked out for Nebraska back in June during an unofficial visit and impressed on the camp circuit, which is what led to his KSU offer in the first place.
Since then, he's gone out in his senior season and backed up his testing numbers with strong film. He's the quarterback on the top-ranked team in Class A who put together a dominant performance against a Bellevue West team teeming with Division I talent. Stenger has shown the ability to do it all on the football field, too.
Nebraska inside linebackers coach Barrett Ruud, who coordinates NU's in-state recruiting, had a funny line, but maybe an instructive one recently when discussing Huskers sophomore linebacker Luke Reimer, who was a do-it-all standout at Lincoln North Star before accepting a walk-on offer from the Huskers
"Shows how good of an evaluator I am as a recruiter, because a guy that lived 10 minutes away we got as a walk-on and he's going to probably be an all-conference type guy at some point," Ruud said with a laugh.
Like with Reimer, though, Stenger is playing a different role on his high school team than he's likely to play in college. That means NU is essentially betting on the athlete and the person, and the exact position and finer details can be ironed out later.
2. The class of 2022 in Nebraska is deep.
The Huskers now have three verbal pledges from within the state's borders out of their nine-man class. Stenger, of course, joins Columbus linebacker Ernest Hausmann and Lincoln Southeast athlete Jake Appleget as a trio that could end up being the three-man linebacking corps in the class. That strategy worked out well for the Huskers in 2019 with Reimer, Nick Henrich, Garrett Nelson and Garrett Snodgrass.
Beyond those three, of course, Omaha Burke linebacker Devon Jackson recently committed to Oregon, Bellevue West tight ends Kaden Helms and Micah Riley-Ducker are headed to Oklahoma and Auburn, respectively, and Omaha Central offensive lineman Deshawn Woods chose Missouri. Not only that, but Columbus Scotus tight end Garrett Oakley is verbally pledged to Kansas State and others, like North Platte athlete Vince Genatone, could still end up as Power Five recruits for the cycle.
Combine that with the fact that the Huskers ended up with five scholarship players from Nebraska in their 2021 class and that they've already got five scholarship offers out for the 2023 class — and verbal commitments from Pierce tight end Benjamin Brahmer and Lincoln Southeast offensive lineman Gunnar Gottula — and it's pretty clearly a good stretch for high school football in the state.
3. Nine verbal commitments may not seem like a lot for Nebraska in mid-October and, most years, that would be the case.
This year isn't most years.
The Huskers are likely only going to end up in the low teens in terms of a high school class this year. The reason is pretty simple: There are only eight scholarship players on the roster that are guaranteed to leave after this season. Even figuring in a baseline of five more between natural attrition and decisions for players like tight ends Austin Allen and Travis Vokolek, defensive back Cam Taylor-Britt, defensive tackle Damion Daniels and quarterback Adrian Martinez, there's not likely to be much room in the class.
Coach Scott Frost has said that Nebraska will take a much smaller high school class this year. Then, the rest of the group will likely be filled out via the transfer portal depending on how many spots open up after the season.
What's left for the high school class? The focus is likely to be on defensive back. In fact, the Huskers just put out a new offer to 2022 prospect Davison Igbinosun (Union, New Jersey) on Tuesday night and have been steadily offering high school and junior college players in recent weeks. They're also slated to host three-star Jalil Martin (Chicago) on an official visit in a couple of weeks after he earned an offer this summer at NU's Friday Night Lights camp.
Nebraska wants something like three defensive backs, especially considering the attrition there in recent cycles. The Huskers also likely need to find an offensive lineman for the group, too.